Smooth And Creamy Banana Smoothie Recipe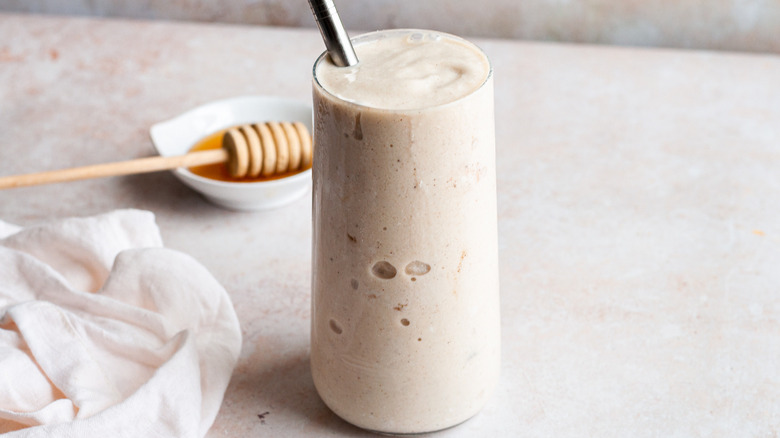 Christina Musgrave/Mashed
What's that you say, you've only got five minutes to get out the door before you'll be late for your day, so it looks like you'll have to skip breakfast? But breakfast is the most important meal of the day! Not only should you eat something, but you should eat something healthy and filling that will give you the energy you need to power through the morning. And with this banana smoothie recipe from Christina Musgrave of Tasting with Tina, five minutes is all you need to whip up a perfect on-the-go morning meal.
"This is great as a breakfast," Musgrave says. "If you wanted to add protein, you can add your favorite protein powder." Got a bit more time? Like, say, 10 minutes? Then Musgrave recommends you "Serve it with a yogurt bowl and fruit," for a more complete meal. And by the way, this tasty smoothie is a great afternoon snack, too — there's no rule saying you can only enjoy a banana smoothie during the morning rush.
Gather your ingredients for the banana smoothie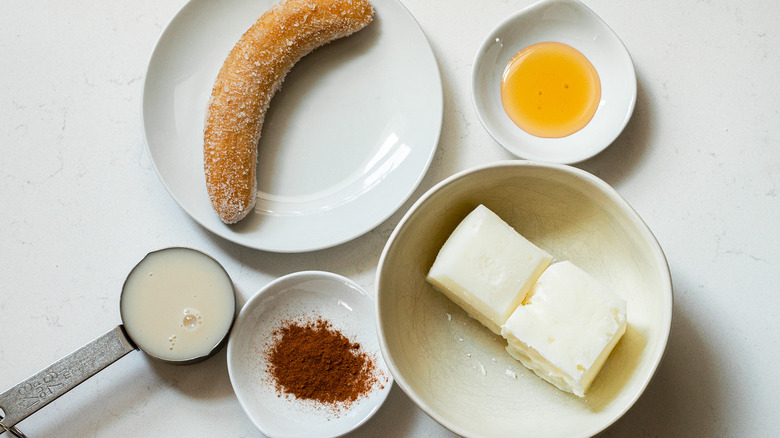 Christina Musgrave/Mashed
It doesn't take much to make a great banana smoothie, given the fruit's strong flavor and natural sweetness, especially when allowed to fully ripen before being frozen. For this smoothie, you'll need a frozen banana, some Greek yogurt frozen into ice cubes, oat milk, honey, and cinnamon.
If you're looking for ways to bulk or dress it up, Musgrave says "Protein powder, collagen powder, cacao, or chocolate chips would all be great additions."
Plan ahead for this smoothie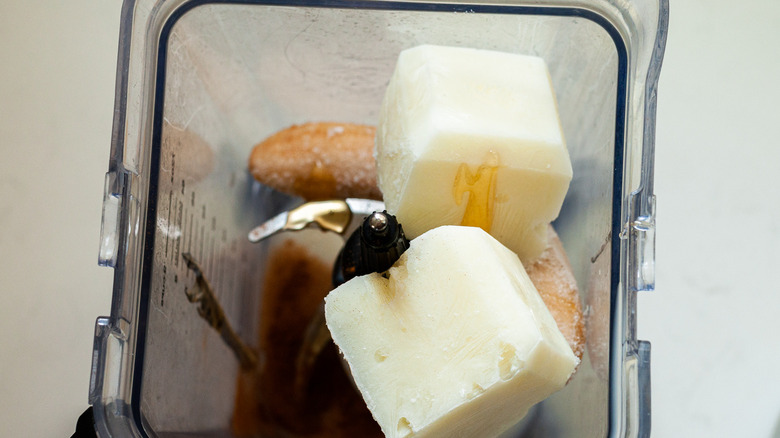 Christina Musgrave/Mashed
All told, "this recipe is pretty straightforward," Musgrave says. "The only thing I would say is that if you like your smoothies thinner, add a little more oat milk. If you like them thicker, you can add more frozen Greek yogurt."
You'll also note that this recipe uses frozen Greek yogurt ice cubes and frozen bananas in place of standard ice cubes. Not only does this keep the smoothie nice and cold, but it also prevents it from getting watered down as the ice melts, offering a smoother, creamier consistency. 
Just remember, no matter how you like your smoothies, thick or thin, you need to plan ahead for this one — it can take up to an hour for a banana to freeze properly for use in a smoothie, so it's best to plan the night before or just keep some bananas (and Greek yogurt ice cubes) frozen at all times.
Blend all the ingredients in a blender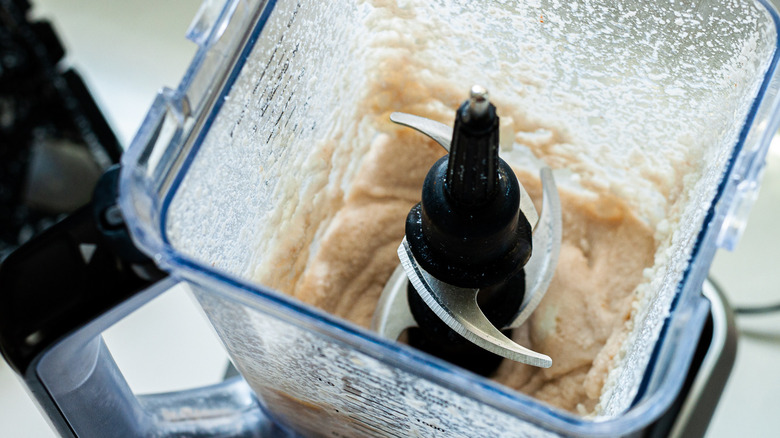 Christina Musgrave/Mashed
Add the frozen banana, Greek yogurt ice cubes, oat milk, honey, and cinnamon to a blender. Then blend until the smoothie is, well, smooth, remembering you can adjust the thickness as you like. And that's it — it's ready to be enjoyed!
How long will frozen bananas keep?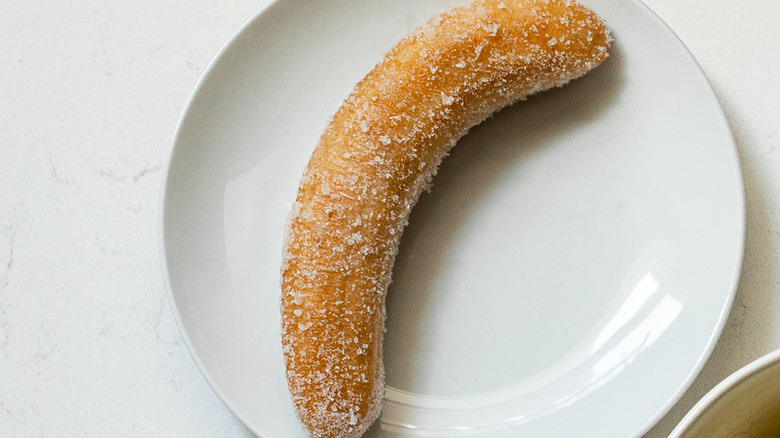 So you know that bananas are pretty freezer stable, which is why it's always good to freeze ripe bananas rather than tossing them, but how long can you keep a frozen banana? Quite a while!
According to the BBC's Good Food site, you are usually safe to assume a banana will remain safe to eat — and tasty, too — for up to 6 months in the freezer. Factors that can change this include repeated partial thawing, freezer burn, or exposure to other foods that may cause off flavors or odors. But generally speaking, a peeled banana stored in an airtight bag can be kept in the freezer for up to half a year.
Smooth And Creamy Banana Smoothie Recipe
When you're running late and don't think you have time to make breakfast, stop, regroup, and whip up this smooth and creamy banana smoothie recipe.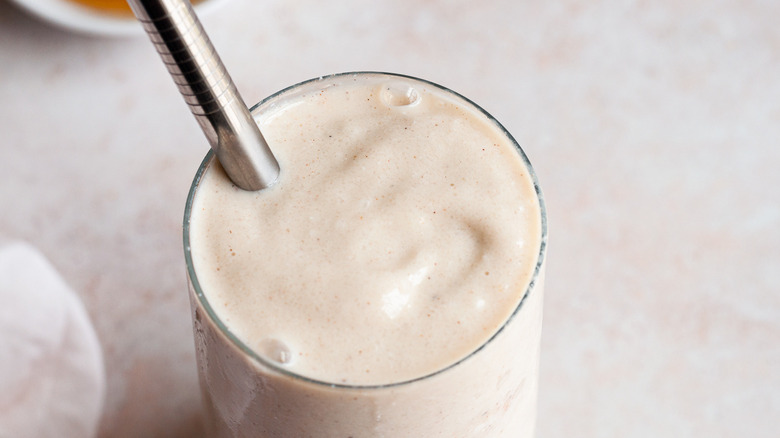 Ingredients
1 frozen banana
½ cup Greek yogurt, frozen into ice cubes
⅓ cup oat milk
1 teaspoon honey
½ teaspoon cinnamon
Directions
Add the frozen banana, Greek yogurt ice cubes, oat milk, honey, and cinnamon to a blender.
Blend until smooth.
Serve and enjoy.
Nutrition
| | |
| --- | --- |
| Calories per Serving | 302 |
| Total Fat | 10.7 g |
| Saturated Fat | 6.4 g |
| Trans Fat | 0.0 g |
| Cholesterol | 27.3 mg |
| | |
| --- | --- |
| Total Carbohydrates | 41.9 g |
| Dietary Fiber | 3.7 g |
| Total Sugars | 28.8 g |
| Sodium | 103.7 mg |
| Protein | 14.4 g |