The Disturbing Allegations That Landed A Former Blue Bell CEO In Court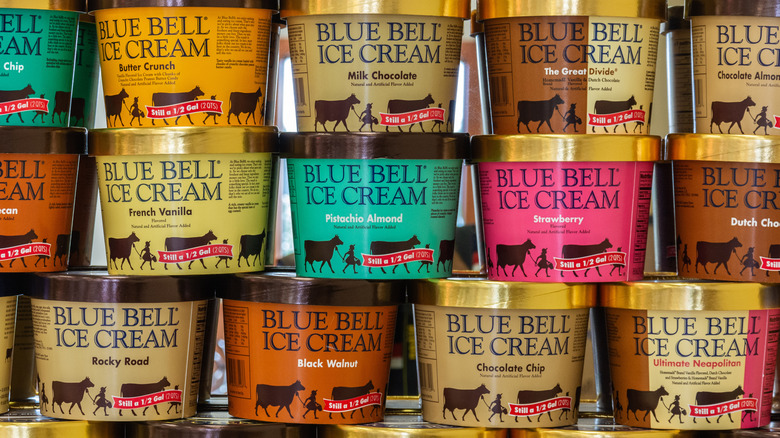 Alizada Studios/Shutterstock
With a scoop in hand and a bowl on the counter, opening an ice cream pint brings a sweet reward. From simple vanilla to indulgent mix-ins, that frozen dessert has many people screaming for more. Sometimes, however, digging into ice cream gets you more than you bargained for. Although Blue Bell ice cream might have the tagline "the best ice cream in the country," the listeria outbreak associated with its products — the reason Blue Bell had to shut down its factories in 2015 — has churned more than just a cautionary tale about food safety (via CDC).
The FDA, among other agencies, oversees foodservice companies to ensure that products are safe for consumption. Through periodic testing, food that potentially could cause illness can be removed from shelves. Frequently hearing about recalls for everything from ready-made salads to peanut butter, consumers have become well-versed in the realm of emergency notices that have people tossing containers to avoid potential health problems. 
While companies surely feel the pain of recalls in the form of empty shelves and lost profits, they sometimes see a bigger ripple effect from the fallout. For former Blue Bell CEO Paul Kruse, a federal lawsuit could have him forfeiting more than just a single scoop of his finances. Accused of putting profits before people while his company's ice cream made people sick, Kruse will appear before a jury this month to argue that he did not knowingly sell unsafe food to the public, as prosecutors say he did (via Reuters).
A jury will decide if Kruse intentionally hushed the news about the listeria outbreak
While the dog days of summer might have some people craving ice cream, a federal courtroom in Austin, Texas, is dishing up a different type of frozen dessert offering. According to court documents, prosecutors allege that Kruse conspired and defrauded the public by failing to protect consumers during Blue Bell's 2015 listeria outbreak. The prosecution seeks to prove that Kruse knowingly and willingly concealed information about the outbreak, which in turn allowed consumers to unknowingly purchase and/or consume ice cream that had potentially dangerous health impacts.
Examining Kruse's internal communications with Blue Bell and other evidence at the time of the outbreak, prosecutors' will focus on what they say was Kruse's deliberate and conscious choice to delay informing the public of the potential health hazard. A decision should be reached by September. Though Reuters called the government's decision to target Kruse "a bold move," the case sends a message to the corporations that they will likely have to answer for not only food-safety snafus, but also for attempting to conceal them from the public. Previously, Blue Bell pleaded guilty in the related listeria outbreak criminal case and paid a combined nearly $20 million in fines and settlements.