Reddit Just Spotted A Mysterious New Item At Chick-Fil-A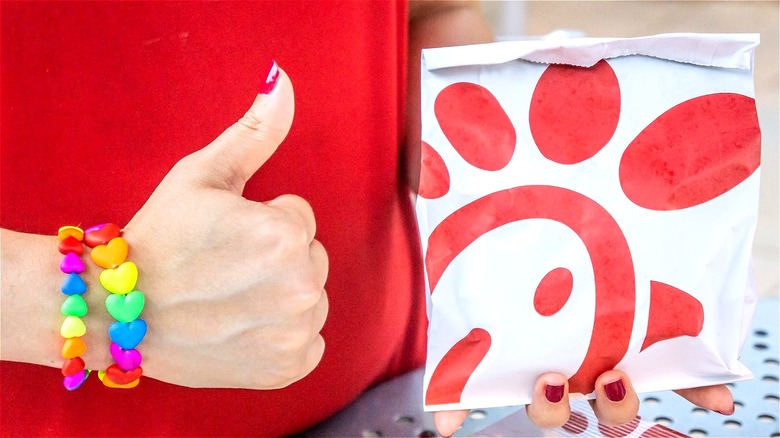 Jaimieandkyleshootstock/Shutterstock
If you're a fan of Chick-fil-A, like most loyal customers you don't need much convincing to eat there. The popular fast food chain sells itself by way of its delicious chicken and signature waffle fries alone — but that doesn't stop the acclaimed chicken empire from constantly reintroducing or debuting new menu offerings based on the seasons and customer requests.
According to the Chick-fil-A website, the beloved Peach milkshake made a return to the menu just in time for summer, but that's not the only food item that's made a much-welcomed comeback. In April of this year, the fast food restaurant brought back a longtime retired customer favorite, the spicy chicken biscuit (via The U.S. Sun).
Beyond menu updates, Chick-fil-A has shared a slew of DIY options when it comes to creating your own unique meal with various menu items products such as Buffalo Chicken Mac & Cheese and the Icedream Fruit Cup.
Menu and hidden menu updates aside, the chain has taken its standard offerings to another level at one location in the country and this never before seen food product for standard Chick-fil-A goers is creating a lot of internet buzz.
Chick-fil-A meets chicken wings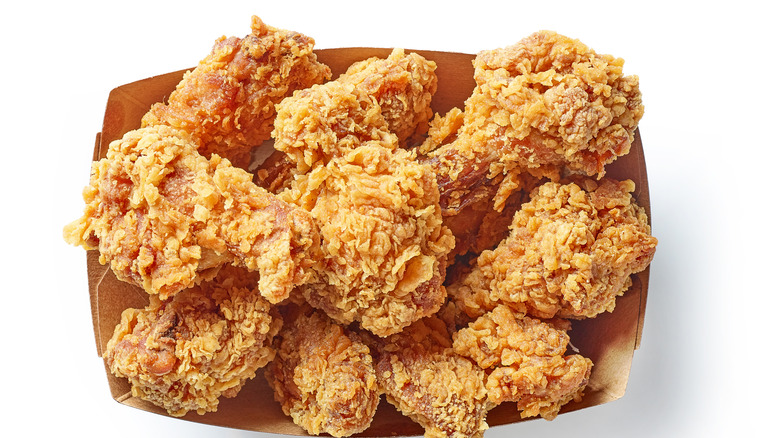 MaraZe/Shutterstock
A few days ago, one Reddit user posted a photo of bone-in wings from a TikTok video in the r/ChickfilA subreddit asking fellow users if wings were now a real item on Chick-fil-A menus. While a few commenters were hoping to see this new product at a local level, one Redditor confirmed the wings were part of the Little Blue Menu, which is a new test kitchen concept the chicken chain recently debuted in Nashville, TN.
In October of last year, Chick-fil-A opened Little Blue Menu, merging its popular standard menu with three virtual restaurants: Flock & Farm, Outfox Wings, and Garden Day. Customers are able to place orders online and mix items from each restaurant. All orders are prepared in the same location and delivered in a single consolidated order (via Main Street Nashville).
While there may be one city that houses the most Chick-fil-A locations, there is only one Little Blue Menu ghost kitchen currently up and running in the U.S. The major corporation has plans to open a virtual kitchen in Atlanta while plans are already underway for another location in College Park, Maryland. The Maryland site will deliver within a 10-mile radius using electric vehicles and will also be available for pickup orders (via The Hyattsville Wire).
Per Little Blue Menu, this new side of the Chick-fil-A business is influenced by the late founder's drive to constantly update his original menu to give customers exactly what they want. Clearly, the answer is more chicken!