Duff Goldman Brought His Daughter To Set And Instagram Can't Get Enough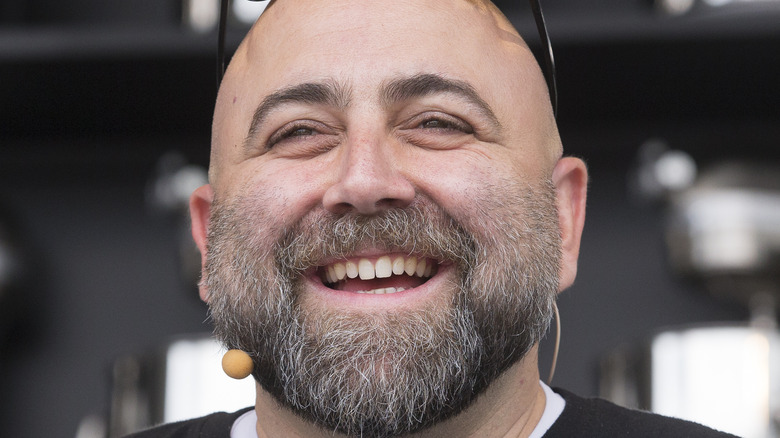 Sterling Munksgard/Shutterstock
Duff Goldman better watch out. If he's not careful, his daughter Josephine will soon eclipse his considerable level of fame! The "Ace of Cakes" star probably won't mind all that much, however, as Goldman and his wife Johnna are clearly her biggest fans, posting images and stories of the one-year-old to their social media accounts on the regular.
Whether Duff is carrying Josephine in a backpack on a hike or she's stuffing her sweet face with pancakes, the itty-bitty Goldman is something of a tiny celeb herself, garnering thousands of likes and countless comments anytime her latest escapade is posted about. It all began soon after Josephine's birth in January of 2021, when her dad first described her as "the most beautiful thing I've ever seen in the whole world," along with a rave review of his wife's "natural and intuitive" mothering abilities.
This proud papa's most recent Instagram post is further proof that young Josephine continues to enthrall. Apparently, it was "Bring Your Daughter to Work Day" on the set of "Spring Baking Championship," and all of Duff's fans are clearly here for it.
Josephine Goldman is once again stealing the show
Duff Goldman's most recent Instagram post of his daughter features a pic of the baker holding young Josephine while on the set of his Food Network show, "Spring Baking Championship." The chef is shown wearing a shirt and suit jacket, paired with what look to be camouflage cargo shorts, which he describes as "Business on top, party on the bottom."
While some of Goldman's fans commented on the duds and the show itself, many opted instead to focus their joy on Josephine. One commenter said, "sweet Josephine gets cuter every time I see her," and another called her a "sweet baby girl."
Other fans couldn't help but comment on the child's resemblance to her father, with one calling her Duff's "clone." Many more marveled over her rapid growth, with tons of commenters remarking on how big she's gotten recently. No doubt this doting dad is soaking up every possible minute. He is an expert in sweets, after all.