You Can Now Drink Assassin's Creed-Branded Whiskey
When it comes to whiskey, there might seem like there's a lot to learn, but once you know the difference between whiskey and bourbon, you're off to a great start. For people who want to become whiskey experts, we've made a list of 13 different whiskeys and what makes each one unique. But if you're looking for an extra-special whiskey and love video games, then this latest whiskey to join the market should go on your list of drinks to try.
According to FoodBeast, there's a new Assassin's Creed-branded whiskey on the market to commemorate the 15-year anniversary of the video game series. The Assassin's Creed Straight Bourbon Whiskey is the product of a partnership between Antheum Studios and the distillery Tennessee Legend. Robb Report points out that Antheum Studios is working to put more spirits on the market that are based on games, movies, and TV shows. Considering that there have already been a few other alcoholic drinks based off of video games recently (per Robb Report), fans could soon see more drinks based on their favorite games.
Where to buy Assassin's Creed-branded whiskey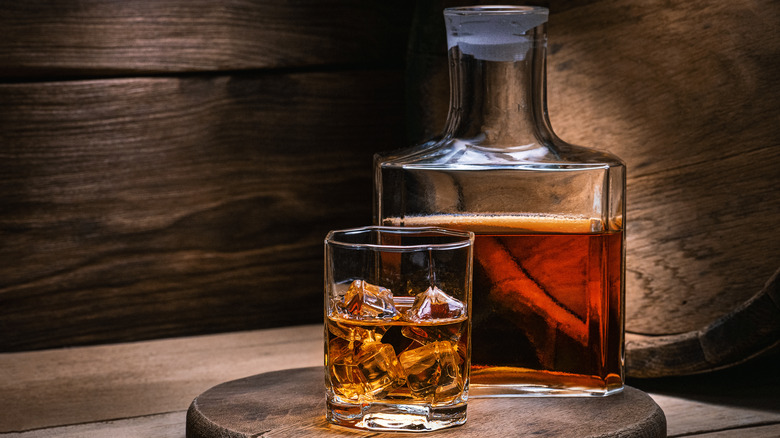 Prilutskiy/Shutterstock
You won't find this Assassin's Creed-branded whiskey sitting on grocery store shelves, so if you want to buy a bottle, you'll have to shop online (per FoodBeast). Customers can purchase this bottle of whiskey from Love Scotch for $69 each. But don't expect this to show up at your door right away, as the whiskey has an estimated shipping date of early September. So what does Assassin's Creed whiskey taste like? Love Scotch's description says the spirit is aged four years, made in Texas, and finished in Tennessee. It includes notes of, "rye spice, wheat character, and hints of cherry, vanilla and oak."
Even if you're not a whiskey drinker, there's another Assassin's Creed-branded alcohol that Antheum Studios has in the works. According to the company's website, an Assassin's Creed IV Black Flag Spiced Rum is on its way in September, and an Assassin's Creed Valhalla vodka is scheduled for release sometime this fall. If you're not an Assassin's Creed fan, there are other ways to enjoy a glass of whiskey or spiced drink this fall. Try our recipe for a spiced mulled wine, and if you're looking for a non-alcoholic option, this spiced hot chocolate recipe will warm you right up.