The Sweet Story Behind Top Chef Winner Buddha Lo's 'Marry Me' Pasta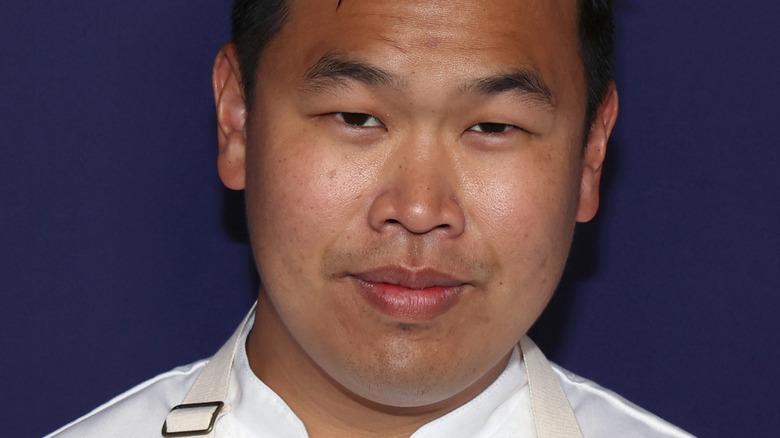 David Livingston/Getty Images
"Top Chef" Season 19 winner Buddha Lo was a clear frontrunner throughout the whole competition because of his technique and understanding of flavor (via Distractify). He has also been a fan of the show since he was a teenager and binge-watched eight seasons during quarantine, taking notes along the way to inform his strategy (per Food & Wine). In the end, his preparation, technique, and inspiration from his family created the perfect storm to lead him to victory. Family played an especially important role for Lo, whose father passed away right before he found out he was on the show (via E! News).
Every course of Buddha Lo's final meal on the show was dedicated to a family member, and the judges loved all of them (via People). Lo chose this strategy for the finale because another dish inspired by family, his wife's "Marry Me" pasta, won him a recent challenge (via Hour Detroit). "There was nothing fussy about it," said judge Gail Simmons. "There were no fancy garnishes. There was just deep, deep flavor." Not only was the dish clearly executed properly, but we are sure that the judges could taste the love because of the cute story behind the dish.
It was the first dish Lo's wife ever made for him, and she made quite the impression
If you've worked in the restaurant industry, or recently watched "The Bear," you know the importance of family meal, where the staff dines together before service. For Buddha Lo, a family meal about a decade ago at Hare and Grace in Melbourne, Australia made quite a lasting impact on his life (via Distractify). His now-wife Rebekah Pedler made a pasta amatriciana that had Lo confessing his love for her. "It was so good, I was 19 years old and I was like, if you're not married by the time you're 30, I'm going to marry you," Lo said on Daily Pop (via E! News).
The Australian chef did exactly that and proposed to her in Central Park 10 years later when she was exactly 30. Not only was Pedler thrilled when the "Marry Me" pasta won Lo a challenge, but she was very emotional when he was crowned "Top Chef." "My wife was very emotional. When I said I won, the only thing she could think about was my dad. She just kept on crying, but she's so happy for me," Buddha told Distractify. "She's always really happy for everything that we accomplish. We're a really good team."