Alfred Hitchcock's Favorite Breakfast Was A Classic French Delicacy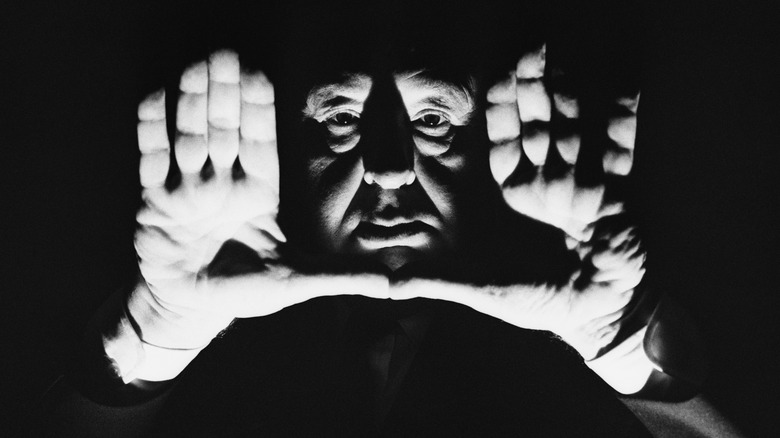 Tony Evans/timelapse Library Ltd./Getty Images
If you love thrillers and suspense movies, you're probably already familiar with the works of Alfred Hitchcock. The great director was affectionately nicknamed the "Master of Suspense" because he was an expert at producing a sense of excitement and anxiety in his movies. Some of his best work includes classics such as "Psycho," "The Birds," and "Rear Window" (via Biography). But Hitchcock could've also been nicknamed the "Master of Eating Unusual Foods" or "Master of Food Phobias," as his relationship with food was exceptional. 
For example, InsideHook reports that the famed director "hated cold meat, eggs, and cheese," while one out of those three ordinary foods terrified Hitchcock – eggs. It seems like Hitch was frightened of eggs, especially the yellow egg yolks, once they've been broken. And Atlas Obscura reports that Hitchcock once held a "blue dinner," where all the served food was blue on the inside. Pretty weird, but rather interesting as well. There were also some foods he loved, so let's quickly dial B for breakfast and see what Hitchcock's favorite morning meal was.
Alfred Hitchcock's loved eating quiche Lorraine for his morning meal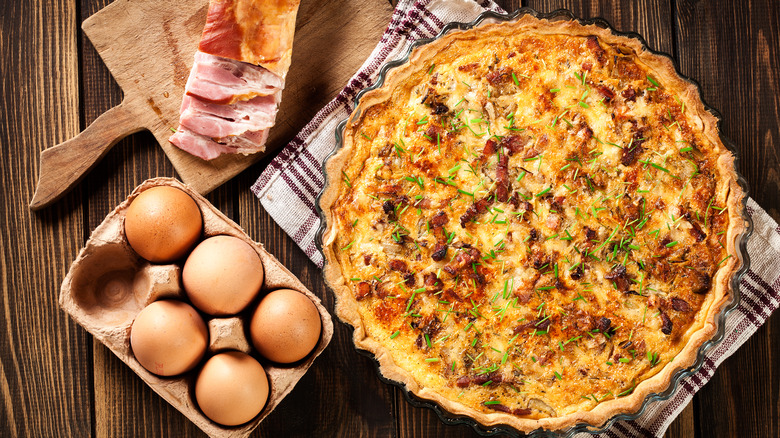 Slawomir Fajer/Shutterstock
Surprisingly enough, Hitchcock's favorite breakfast was a classic French delicacy that's beloved throughout the world. The dish is called quiche Lorraine, and Town & Country says that the dish was featured in one of his movies, "To Catch a Thief" from 1955, starring Cary Grant. Other foods were also represented in Hitchcock's movies — in "The Man Who Knew Too Much" (1956), the characters indulge in a tagine-cooked chicken in Marrakech; in "Psycho" (1960) there are simple sandwiches and milk; while in "Frenzy" (1972), one character eats "pig foot smothered in a French sauce for tripe" made by his wife (via Splendid Table). 
Luckily, Hitchock's wife, Alma Reville, was a good cook, so she incorporated eggs into the quiche Lorraine that the director loved to eat for breakfast. The quiche Lorraine recipe was later published in Frank Decaro's "The Dead Celebrity Cookbook," and we're already drooling. The crust is made with flour, butter, eggs, salt, and cold water, while the filling is a delicious mixture of ham, onions, eggs, milk, salt, cayenne, and nutmeg. Yum. Thanks, Hitchcock; we know what we're popping in the oven for our next breakfast — but will we be able to handle the suspense of waiting as it cooks?