Quiche Lorraine Recipe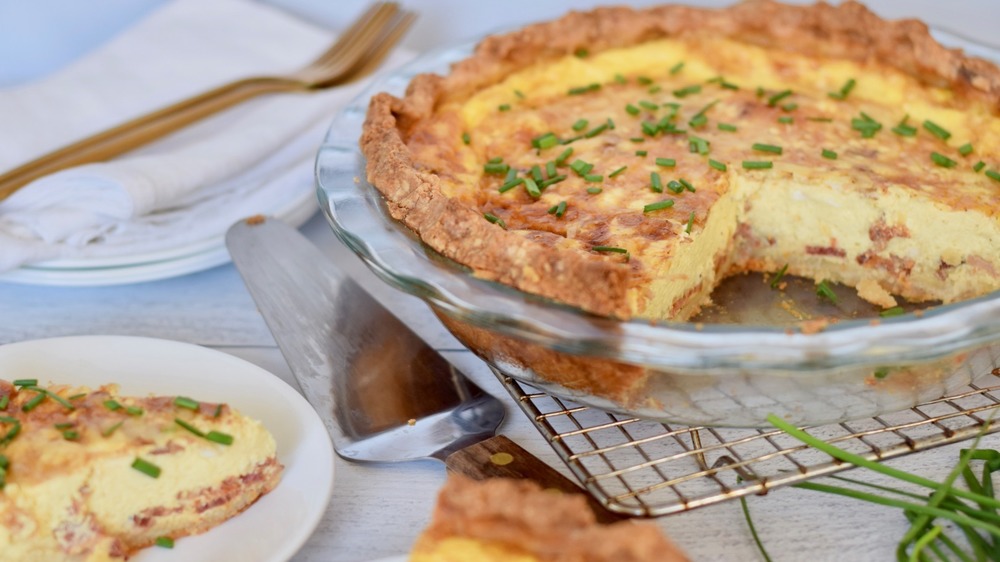 Tara Rylie/Mashed
We think quiche is the unicorn of all breakfast foods. The dish is pure magic for so many reasons. First off, a quiche is super easy to whip up and bake. Secondly, quiches can be made with practically any ingredients you have on hand, making them great for all your leftover meats and veggies. Quiches can be the whole meal deal to wow your guests, or they can simply be a side dish paired with breakfast sausage or bacon, bowls of fresh fruit, pancakes, waffles, or toast. And last but not least, quiches are great to make in advance and serve up all week, making weekday breakfasts a breeze. Plus, they're also a crowd pleaser for weekend brunch and family get togethers.
Follow along below as Chef Tara Rylie of RylieCakes walks you through how to make one of the most classic quiches of all time: quiche Lorraine. Quiche Lorraine comes from the Lorraine region in France, also known for macarons and madeleines, and the dish is known for its simple yet stunning pairing of ingredients. Now, let's get baking!
Par-bake your pie crust for making quiche Lorraine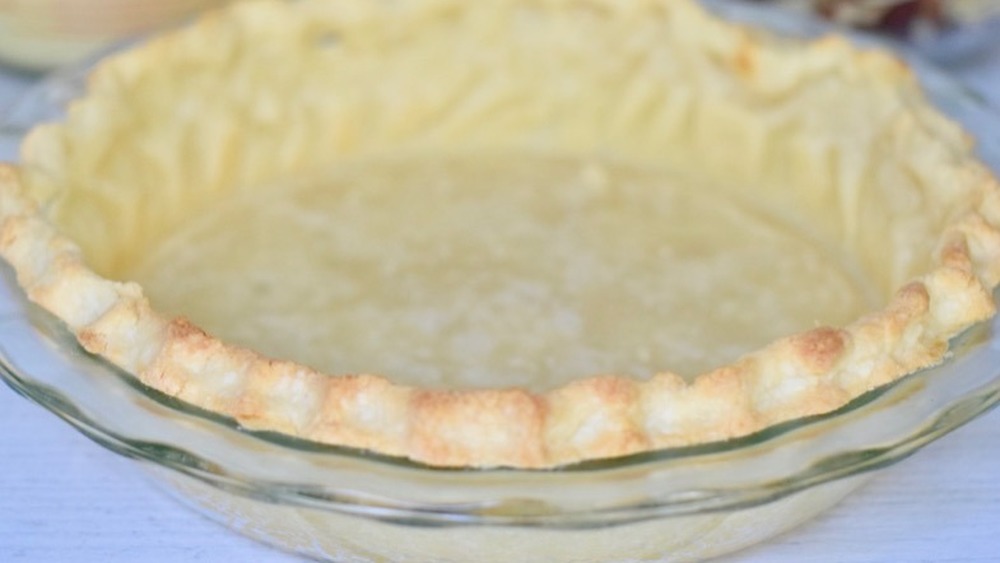 Tara Rylie/Mashed
The first step in making this quiche, or any quiche for that matter, is to par-bake your pie crust. "Par-bake" is the term for pre-baking a crust before putting your pie ingredients in it. 
And yes, you can absolutely make your own pie crust here, or you can just grab a premade crust from the grocery store — both will work equally well. The only thing to note is that the filling for this recipe is intended to fill an entire nine-inch pie pan, so if you pick up a smaller pie crust from the store or use a tart pan instead, just be prepared to have extra filling. Or better yet, you could make two smaller pies or tarts.
Gather these simple yet hearty ingredients for homemade quiche Lorraine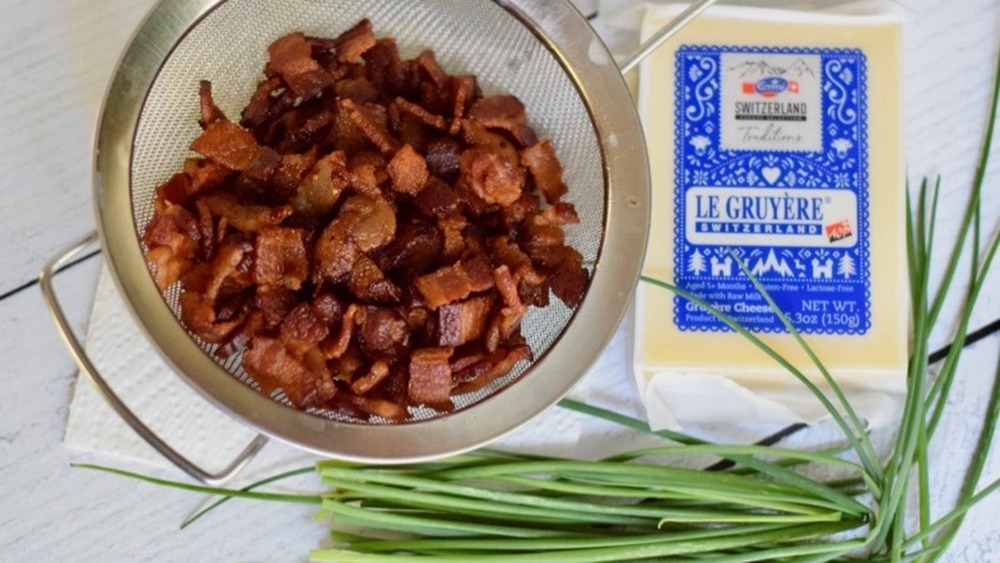 Tara Rylie/Mashed
Making a classic quiche Lorraine means you need these few simple filling and topping ingredients: bacon, Gruyere cheese, and fresh chives. If you can't find or don't enjoy Gruyere cheese, you can also use Swiss or Emmental cheese. 
One tip we have to make the best possible Quiche Lorraine is to cook your bacon up nice and crisp beforehand. This crispness will add a wonderful crunch to your final quiche and pairs perfectly with the light cheesiness of the egg filling.
Last but not least, use fresh chives to top off the quiche. Note: If you only have dry chives on hand, you can add the dried herb to your egg mixture and cook them within the quiche, rather than use fresh chives to top off your quiche at the end.
This quiche Lorraine is more than just eggs and milk and cheese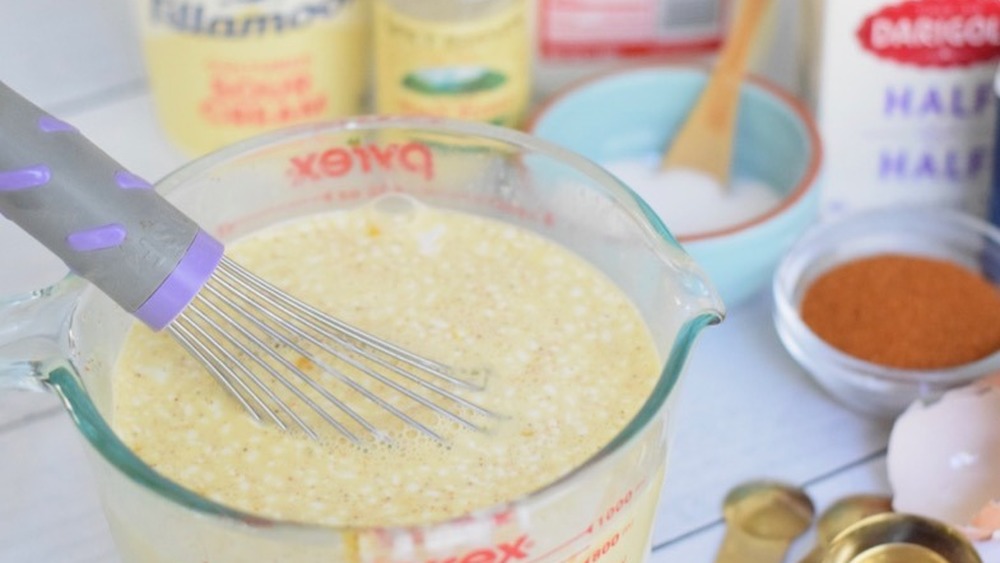 Tara Rylie/Mashed
Another distinguishing factor of Quiche Lorraine is that the egg mixture is more than just eggs and milk. Heavy cream is also added, giving this quiche a divine and silky texture. 
The egg-to-milk and cream ratio of quiche is also extremely important. Too much milk or cream, and there won't be enough protein from the eggs for the quiche to set — you'll end up with a loose, runny quiche as a result. Too many eggs, and your quiche will bake up overly firm, and it will have the texture of chewy rubber. A good ratio to keep in mind is one egg for every half-cup of dairy. We also use additional egg yolks in this quiche to make the filling extra rich and luxurious.
Fill, bake and wait for your delicious quiche Lorraine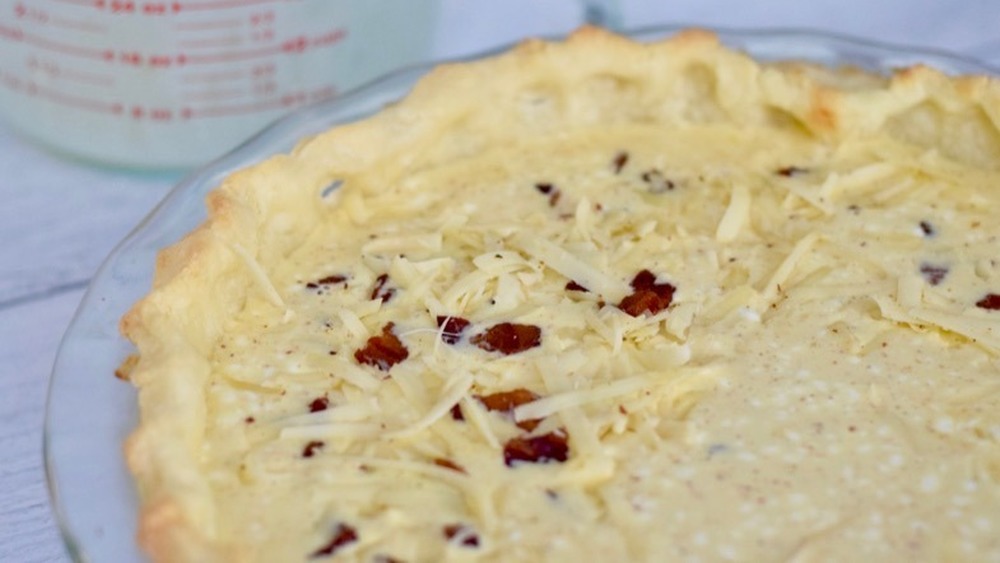 Tara Rylie/Mashed
Assembling your quiche Lorraine is the easy part. Simply place your bacon and Gruyere mixture into your par-baked pie crust. Then, pour your egg mixture over top. Use a spatula or fork to gently combine the filling and mixture in the pie crust. 
Bake the quiche for thirty minutes, and then, remove it from the oven. Afterward, sprinkle the quiche with the remaining quarter cup of Gruyere cheese. Bake another 20 minutes or until eggs are set. If your quiche is getting more brown than you desire, simple cover the entire pan with foil and keep baking. 
Keep in mind that quiches can be finicky while baking, so if you need to add an additional ten to twenty minutes, don't fret — this is totally normal! The most important thing is that your quiche is set when you choose to remove it from the oven. Let your quiche cool for at least two hours before cutting into. Better yet, recipe developer Ryle recommends you let it set overnight if possible for a perfectly firm yet delectable finish.
Quiche Lorraine Recipe
Gather some Gruyere cheese, eggs, milk, cream and seasoning for this delicious quiche Lorraine for breakfast, lunch or your next holiday brunch get-together.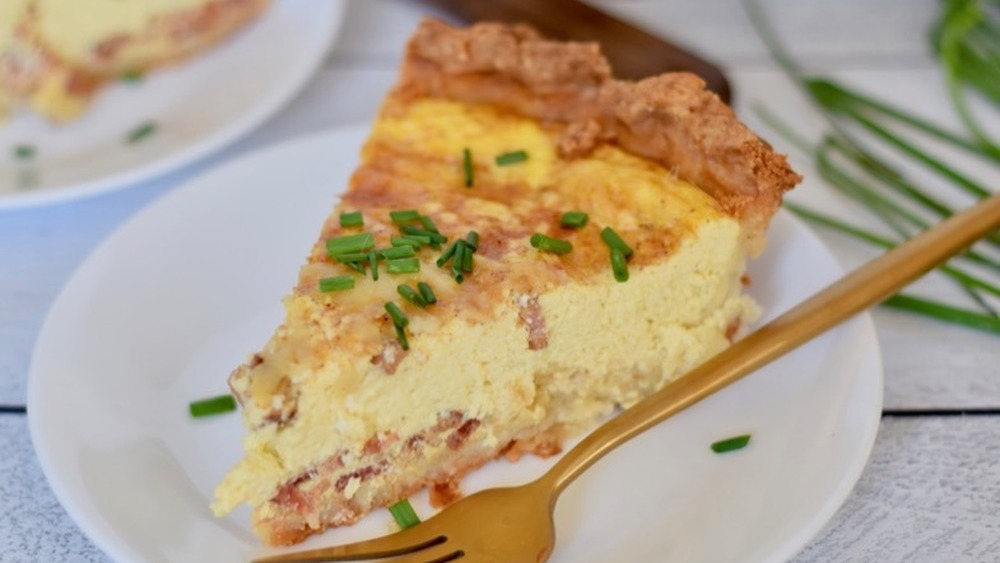 Ingredients
1 pie crust
8 slices bacon
1¼ cup Gruyere, divided
1½ cups whole milk
¾ cup heavy cream
¼ cup sour cream
5 large eggs
4 egg yolks
½ tsp cayenne
½ tsp nutmeg
¼ tsp salt
¼ tsp white pepper
Optional Ingredients
¼ cup chopped chives for topping, or dried chives for mixing into the quiche filling before baking
Directions
Preheat oven to 350 degrees Fahrenheit.
Par-bake pie crust according to instructions on box.
While crust is par-baking, cut bacon into ¼-inch pieces and place in heated sauté pan. Cook over medium-low heat until crisp; approximately 10 minutes.
When bacon is ready, use slotted spoon to remove from pan and let cool.
Once bacon has cooled, combine in a medium bowl with 1 cup of Gruyere cheese. Set aside.
In large bowl, whisk whole milk, heavy cream, sour cream, eggs, yolks, cayenne, nutmeg, salt, and white pepper until fully combined.
Once pie crust is done par-baking, spread bacon mixture on top.
Then, pour egg mixture over bacon mixture inside pie crust.
Bake for 30 minutes.
Remove quiche from the oven and sprinkle with remaining ¼ cup of Gruyere.
Bake quiche for another 20 minutes or until eggs are set. Cover with foil if needed.
Once quiche is set, remove from oven and let cool to room temperature before cutting (approximately 2 hours, or up to overnight if possible).
Top with fresh chives before serving.
Nutrition
| | |
| --- | --- |
| Calories per Serving | 520 |
| Total Fat | 41.5 g |
| Saturated Fat | 19.0 g |
| Trans Fat | 0.1 g |
| Cholesterol | 270.0 mg |
| | |
| --- | --- |
| Total Carbohydrates | 18.8 g |
| Dietary Fiber | 0.6 g |
| Total Sugars | 3.7 g |
| Sodium | 535.5 mg |
| Protein | 17.7 g |