Chocolate Martini Cocktail Recipe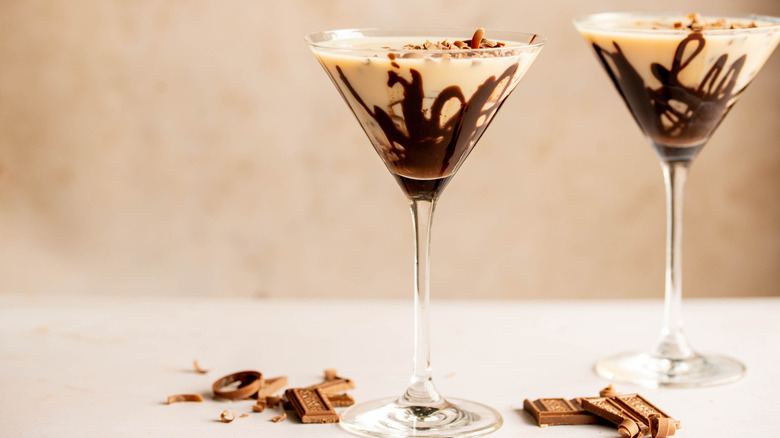 Michelle McGlinn/Mashed
There's something about the sweet, smooth sensation of chocolate that's perfect for wrapping up a long day, and when you pair the flavors of chocolate with a little alcohol, too? You've got a recipe for relaxation. So when you're looking for a dessert-like nightcap to enjoy with a good book (or good company) as a way to settle down before hitting the hay, consider this chocolate martini cocktail. "There are lots of variations on chocolate martinis. This version is creme de cacao and Bailey's, which offers the same chocolatey taste and cream as the Godiva [version], but with spirits you may already have on hand," says recipe developer Michelle McGlinn. "I also really like using creme de cacao because it has a subtle vanilla flavor, so the drink is not as richly chocolatey, and instead tastes like a balanced dessert drink." 
One thing McGlinn warns is that even though this recipe makes two cocktails, they're very strong, as the 1:1:1 ratio of the three liquors (vodka, Bailey's Irish Cream, and creme de cacao) means that each cocktail ends up with a hefty dose of the hard stuff. So as tasty and dessert-like as the cocktail is, it's best to reserve it for the end of the night, rather than loading up on several early on in the evening, which could set you up for a hangover.
Gather the ingredients for chocolate martini cocktails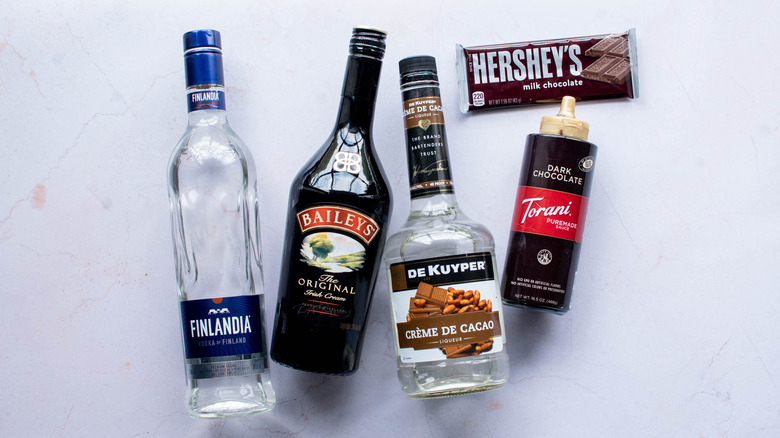 Michelle McGlinn/Mashed
You won't need much to make this chocolate martini cocktail, and you may even have all the ingredients on-hand (depending on how well-stocked your liquor cabinet is). You'll need chocolate syrup or sauce (preferably in a squeeze bottle), a chocolate bar of your choice, and vodka, creme de cacao, and Bailey's Irish Cream. 
Make the chocolate shavings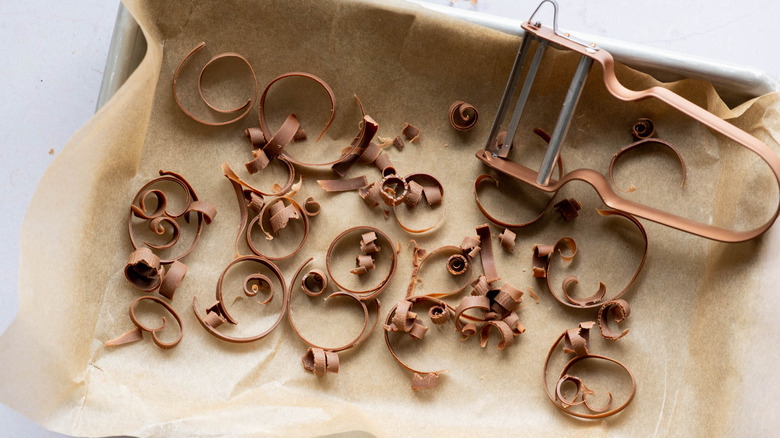 Michelle McGlinn/Mashed
The "hardest" part of making this martini is preparing the chocolate shavings for the garnish. And really, it isn't hard — it may just take a little experimentation to get the chocolate curls and swirls to your liking. 
Using a vegetable peeler, peel very thin slices down the long end of a chocolate bar. Try different lengths and thicknesses to attain the ribbon-like loops. And if you don't have a peeler, you can use a knife instead, but with "extreme caution," warns McGlinn. Or, if you'd prefer, you can skip the ribbons and use a box grater to make small shavings, instead. 
As far as how much chocolate you should prepare? It's really based on personal preference. "I shaved almost the entire chocolate bar because I wanted a lot of shavings and they sink after a few minutes. You can easily use half of a chocolate bar or however much feels suitable," says McGlinn. Regardless, once you feel you've prepared enough chocolate garnish, place the ribbons onto parchment paper and put them in the refrigerator until you're ready to use them. 
Prepare the martini glasses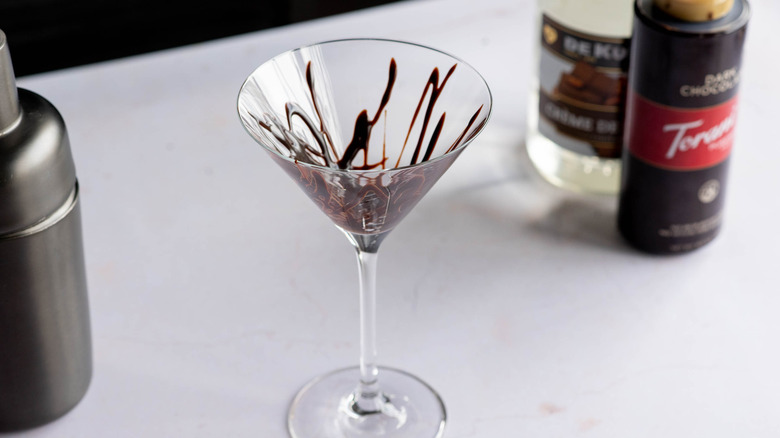 Michelle McGlinn/Mashed
You also want to prep your martini glasses before you mix your drinks to give them time to chill in the freezer. Simply use your squeeze bottle of chocolate syrup to create drizzles along the inside edges of both glasses. How much you use is up to you. When you're satisfied with the amount and appearance, transfer the glasses to the freezer until you're ready to use them. 
Build and shake the chocolate martinis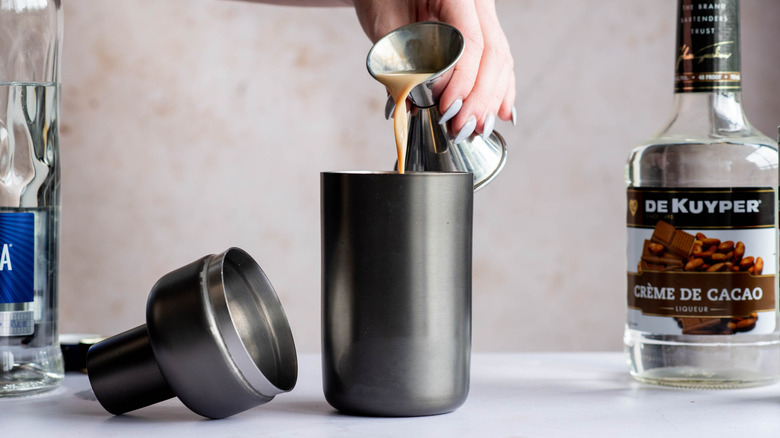 Michelle McGlinn/Mashed
Now you're ready to mix your martinis. Fill a cocktail shaker with ice, then add the vodka, creme de cacao, and Bailey's Irish Cream in that easy-to-remember 1:1:1 ratio. Cap the shaker and shake until the liquids are cold — about 15 seconds. 
Strain, garnish, and serve the chocolate martinis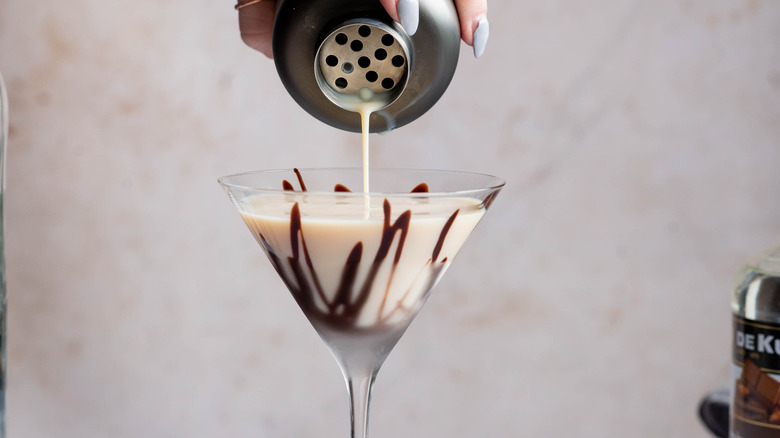 Michelle McGlinn/Mashed
Your chocolate martinis are now ready to be served! Go ahead and pull the cocktail glasses from the freezer and the chocolate shavings from the fridge. Strain the cocktails evenly between the two martini glasses and garnish with the chocolate shavings, as desired. "The toppings can be extravagant and fun or you can serve it sans chocolate shavings for something simple. You can also garnish with a piece of chocolate on the rim, or cocoa powder," McGlinn suggests. 
Chocolate Martini Cocktail Recipe
If you're looking for a cocktail that also doubles as dessert, this chocolate martini will definitely suffice.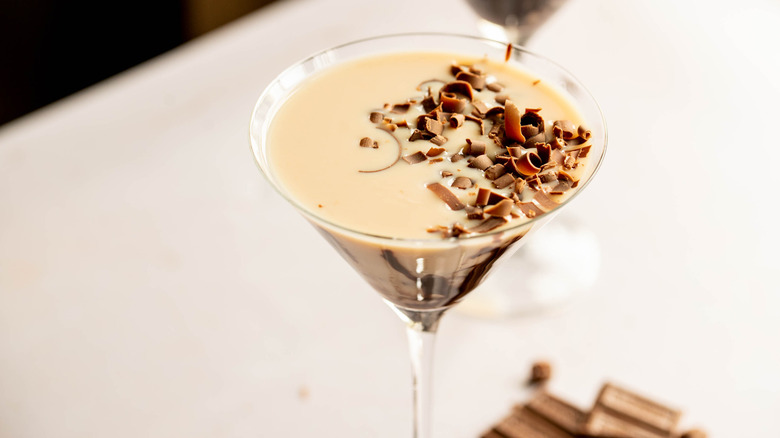 Ingredients
1 chocolate bar
2 tablespoons chocolate syrup or sauce
4 ounces vodka
4 ounces crème de cacao
4 ounces Bailey's Irish Cream
Directions
Using a vegetable peeler, peel very thin slices of chocolate from the long end of the chocolate bar. Place the chocolate on parchment and reserve it in the refrigerator until ready to use.
Drizzle the chocolate sauce into the martini glasses. Store them in the freezer until ready to use.
Fill a shaker with ice, then pour vodka, crème de cacao, and Bailey's over the ice. Cover and shake until chilled, about 15 seconds.
Strain into the reserved martini glasses.
Garnish with chilled chocolate shavings to serve.
Nutrition
| | |
| --- | --- |
| Calories per Serving | 642 |
| Total Fat | 15.4 g |
| Saturated Fat | 9.3 g |
| Trans Fat | 0.0 |
| Cholesterol | 32.9 mg |
| | |
| --- | --- |
| Total Carbohydrates | 55.4 g |
| Dietary Fiber | 1.7 g |
| Total Sugars | 49.9 g |
| Sodium | 73.0 mg |
| Protein | 2.9 g |