How Rachael Ray Hilariously Stunned The Cake Boss
Astrid Stawiarz/Getty Images
Food Network host Rachael Ray is an iconic figure in the global culinary community. While the celebrated chef makes a mean Pasta Carbonara, when it comes to the delicate task of baking, Ray can be a lovable mess. In an attempt to familiarize her audience with fault line cake, she invited Cake Boss legend Buddy Valastro to join her on "The Rachael Ray Show" for a collaborative demonstration. 
Fault line cakes are characterized by thick layers of icing, some of which are carved out around the circumference to create an indention for toppings like sprinkles, fruit, or, for a particularly sinful treat, more icing. The cake is named after its resemblance to an earthquake fault line and is perfect for special events, like weddings and anniversaries. 
While they are a complicated task that requires a steady hand, fault line cakes are no match for Valastro, who truly earned his title as the world's "Cake Boss." But when Ray tried her hand at Valastro's fault line cake, she couldn't quite match his natural finesse.
Rachael Ray's fault line cake was a natural disaster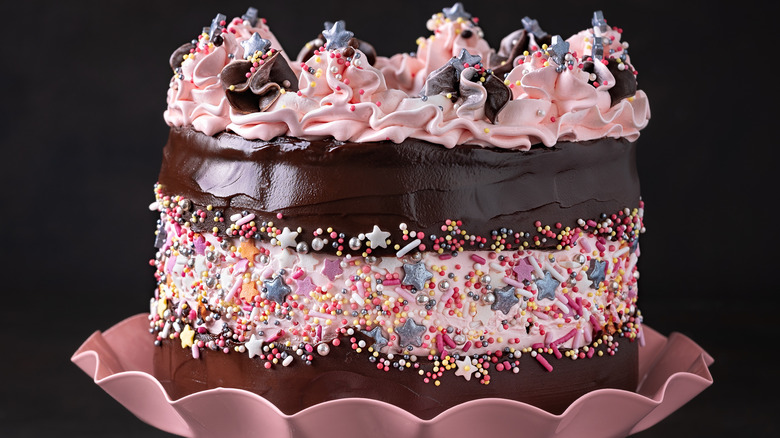 Mila Bond/Shutterstock
Once celebrity chefs Buddy Valastro and Rachael Ray were ready for their collab tutorial on fault line cakes (per The Rachael Ray Show), things go awry almost immediately. Seconds after the pair begins to decorate their cakes, Ray bursts into laughter as she breaks her cake stand before even touching the freshly-baked cake. The mess continued for the Food Network star, as sprinkles toppled like confetti from the base of her cake. The duo giggled their way through the rest of the recipe, while Ray smeared colorful icing across her disgruntled cake. Simultaneously, Valastro expertly crafted his fault line delicacy as if it would be served at a royal extravaganza. Before it was all said and done, Ray stabbed her palette knife straight into the cake like a white flag.
Certainly a humbling experience for the esteemed chef, Ray kept her shortcomings lighthearted and downright goofy for viewers, who have grown to love her eccentric cooking style. Although you might not want Ray crafting your next event's fault line cake, you can order any of Valastro's baked goods from Carlo's Bakery straight to your door with nationwide delivery (per Buddy V's Cake Slice). Or better yet, try out your baking skills with these cake recipes for any occasion.