We Finally Know When 7-Eleven Is Holding Bring Your Own Cup Day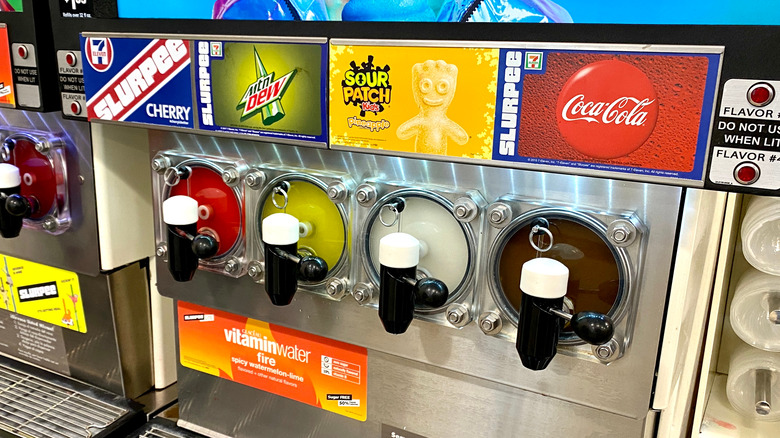 ZikG/Shutterstock
7-Eleven has been around since 1927 and has grown to include more than 81,000 stores worldwide. The convenience store chain/gas station is perhaps the perfect embodiment of America's "bigger is better" ethos, offering products like the iconic Big Gulp, a prodigious 32-ounce fountain soft drink introduced in 1976 (per Britannica).
It's also credited with a series of firsts, including being the first convenience store to sell gas and the first to sell fresh coffee in to-go cups. But the company has also had to overcome some daunting obstacles along the way. 7-Eleven has survived two separate bouts of bankruptcy during its 95-year existence, including a takeover by 7-Eleven Japan in the 1990s that gradually helped revive the faltering business and turn it around (via Linkedin).
Today 7-Eleven has continued to adapt to an ever-changing market and evolving consumer habits, launching a delivery app called 7NOW in 2018 that contributed to helping them survive the pandemic. While customers appreciate the convenience of having food and other essentials delivered, they might want to get out of the house for 7-Eleven's Bring Your Own Cup Day, which celebrates one of the chain's most popular items, the brain freeze-inducing Slurpee.
How much Slurpee can you handle?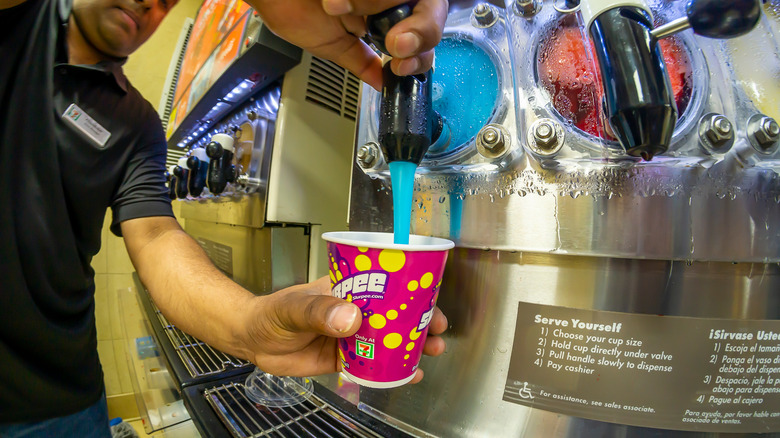 rblfmr/Shutterstock
7-Eleven's Bring Your Own Cup Day arrives on Aug. 27, providing fans of Slurpees a one-day only opportunity to fill up the container of their choice with their favorite flavor(s) of the frozen carbonated self-serve sweet treat for $1.99 (via PR Newswire). The promotion encourages Slurpee devotees to get creative and think outside the standard cup, floating the idea of cookie jars and fish bowls.
You're only limited by your imagination, as well as a couple of ground rules that honestly should be self-explanatory. The cup you carry into the store is clean, watertight, and must fit under the Slurpee drink dispenser. So, while it's okay to dream big, trash cans and barrels probably aren't practical. Once you've picked out your preferred vessel, you can take it into a participating 7-Eleven, Speedway, or Stripes store and delight in all the Slurpee goodness you can handle.
You can mix and match to find your perfect Slurpee blend from among the classic flavors of Coca-Cola, cherry, blue raspberry, piña colada, and other limited-time creations such as mango lemonade. Whether you bring in an iced tea pitcher or a beer boot, this is your chance to load up on some serious summer slush.