The Best Meat Grinders Of 2022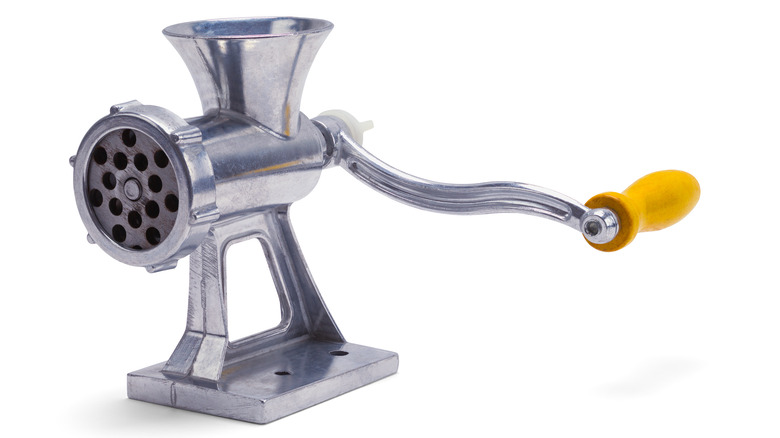 Mega Pixel/Shutterstock
We may receive a commission on purchases made from links.
Grinding your own meat can seriously elevate your grill game. In terms of flavor and texture, there's no doubt that freshly-ground meat blows the premade stuff out of the water. That's in part because pre-made ground meat at the grocery store often sits in the same package for several days, submerged in a puddle of its own juices, which tends to induce both mushiness and compression (via Portland Press Herald). Freshly ground meat, on the other hand, retains a more delicate consistency that's deeply flavorful and irresistibly tender.
With a good meat grinder at the ready, freshly made burger patties, customized sausages, and homemade falafel all await you. Your new meat grinder can reward you with all kinds of tasty treats, blended exactly to your own specifications. That's the beauty of using a meat grinder: You're in complete control of the final result. All told, the only thing standing between you and an ideal fire-kissed meal is a top notch meat grinder. The good news? We've taken the time to provide you with a wide range of high-quality models to choose from.
How we selected products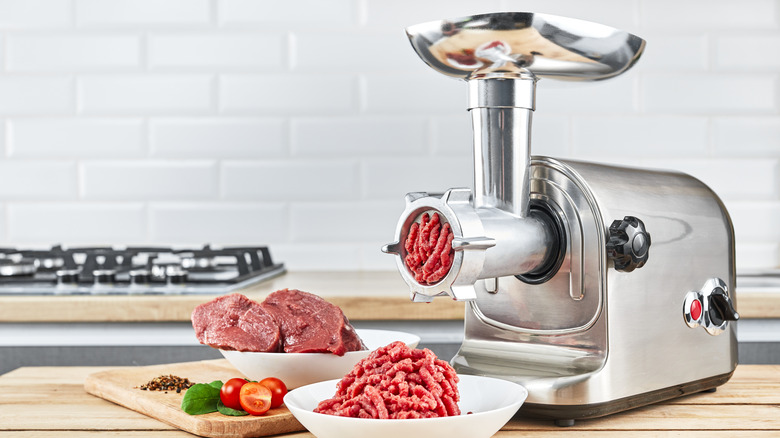 wertinio/Shutterstock
We took several factors into consideration while making this list. One of the most important priorities was variety — we wanted to make sure that there was a high-quality meat grinder on here for everyone, regardless of budget or experience in the kitchen. Customer reviews played a crucial role too, since user feedback provided honest insight into a product's performance.
We also prioritized affordability. There are plenty of reasonably-priced meat grinders on this list, all of which can deliver exceptional results. The end result is a top-level assortment of meat grinders that offers variety in sizes, prices, cutting blades, and horsepower. Whether you're a home cook working with a modest budget or a professional chef in need of something that can help you put on a large-scale meat grinding extravaganza, you'll be sure to find plenty of options in this collection. Here are the best meat grinders of 2022.
Best overall meat grinder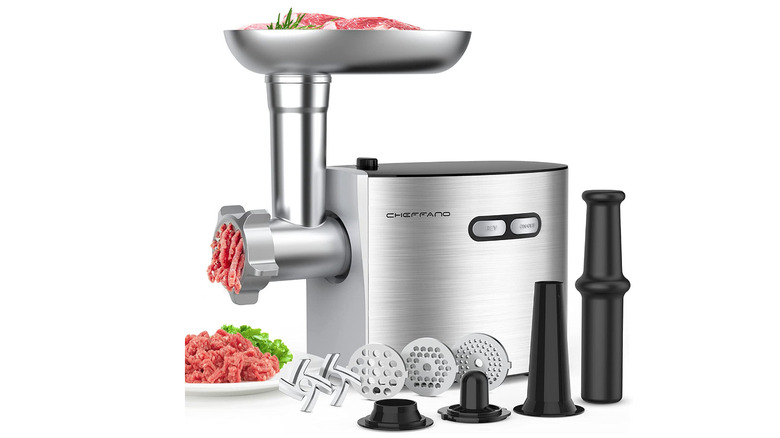 Cheffano
If you're looking for a high-quality meat grinder that's reliable, well-designed, and fairly priced, this model from Cheffano should fit the bill. The size of this grinder is just about perfect, for one. It's large enough to handle bigger projects and sizable chunks of food, yet compact enough for easy storage on just about any kitchen counter. Made with durable stainless steel and capable of grinding 180 pounds of meat per hour, this model is efficient and built to last.
This meat grinder also comes with an extra grinding blade, just in case you need a replacement later on. This model has three grinding plates that come in different sizes so that you can grind meat down to your preferred diameter, whether that's fine (2 mm), medium (5 mm), or coarse (7 mm). It also comes with a tube attachment to make homemade sausage and has a reverse switch to help clear blockages. 
This model strikes the perfect balance between cost and quality. And with over 1,600 positive reviews on Amazon, you can feel some real confidence in your purchase.
You can buy the Cheffano stainless steel electric meat grinder on Amazon for $90.
Best budget meat grinder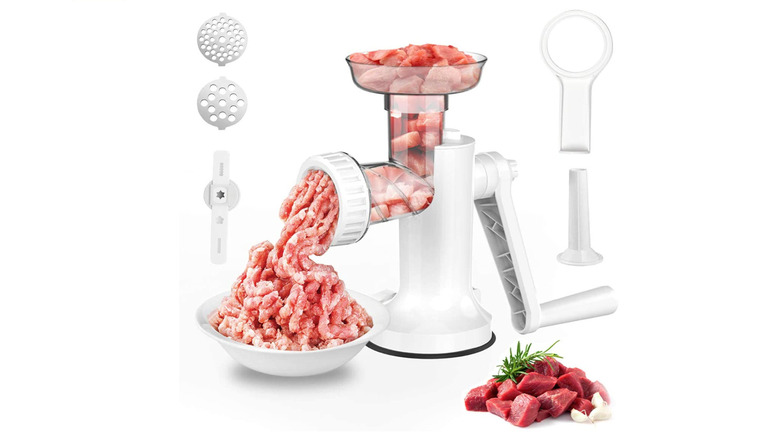 LHS
New appliances for the kitchen can be pricey, as anyone trying to upgrade their gear can tell you. The good news? We tracked down plenty of amazing deals that won't break the bank, including this manual meat grinder from LHS. This model is only about 30 bucks out of your wallet and comes with an assortment of features that make it worth every penny.
This meat grinder is accompanied by an array of sturdy stainless steel grinding plates, a tube for sausage stuffing, and a cookie cutter attachment that offers four different shapes. It also comes with clamp so you can firmly secure the grinder to your table or countertop. It's also got a heavy-duty plastic exterior and operates in near-total silence thanks to its smooth hand crank. Grinding meat, mincing vegetables, making baby food — there's a lot that this modestly-priced deal can do for you. One thing's for sure: You're only a couple clicks away from one of the most affordable meat grinders on the market right now.
Purchase the LHS manual meat grinder on Amazon for only $32.
Best electric meat grinder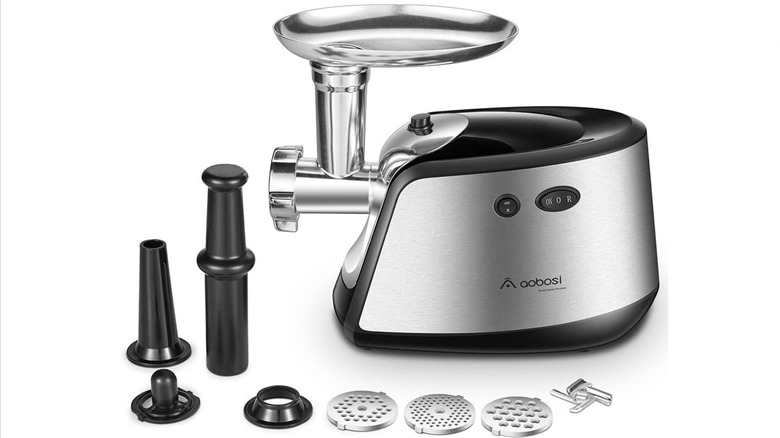 Aobosi
Electric meat grinders have some obvious advantages over manual models. For one, they offer a more efficient way of breaking down food at a much faster pace than what your aching arms could achieve with a hand-operated grinder. To achieve that feat, this electric meat grinder from Aobosi has a powerful copper motor that comes equipped with overheating protection. It's also earned nearly 3,000 glowing reviews from satisfied customers on Amazon.
This model comes with an upgraded auger that's designed to grind meat in three steps, ensuring efficient granulation. With three grinding plates of varying sizes, this machine provides you with everything you need to process your food just the way you want. This model is great for home cooks, since it isn't as big or bulky compared to other grinders. All of these useful features converge to offer one of the best electric meat grinders out there right now. Once you see for yourself how efficient and easy to use this model is, you'll wonder where it's been all your life.
You can buy the Aobosi electric meat grinder on Amazon for $80.
Best manual meat grinder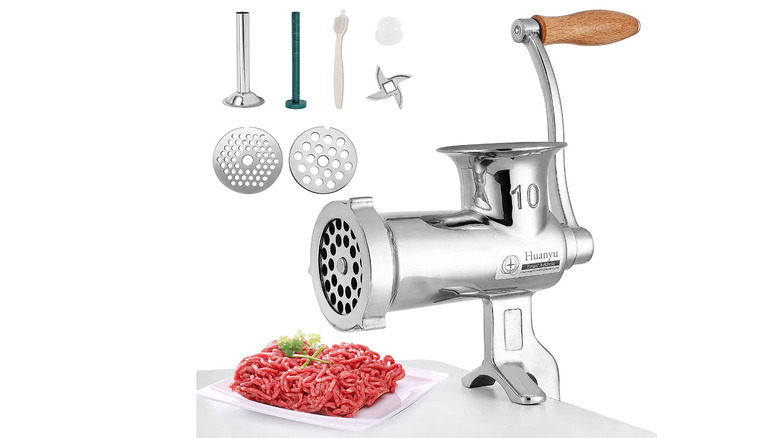 Huanyu
There's no doubt that manual meat grinders offer considerable advantages compared to electric models. While electric grinders offer a high level of convenience, they also tend to be much heavier and bulkier and often take up large amounts of real estate on your kitchen counter. Manual models, on the other hand, are much more compact. Manual meat grinders also operate more quietly, since they don't have a motor. If you just need a grinder to help you occasionally, there's probably no need for a big electric model, considering a manual one can produce great results more quietly while taking up less space.
This manual meat grinder from Huanyu has an extended ergonomic handle to maximize comfort during operation. Made with a beautiful polished stainless steel, this model has a classic aesthetic that's sure to add a touch of style to any kitchen. Its rust-resistant grinding plate is built to last, the open port is wide enough to handle bigger chunks of meat, and it has removable blades for easy cleaning. This is one deal that you don't want to let pass you by.
Purchase the Huanyu stainless steel manual meat grinder on Amazon for $149.
Best meat grinder bundle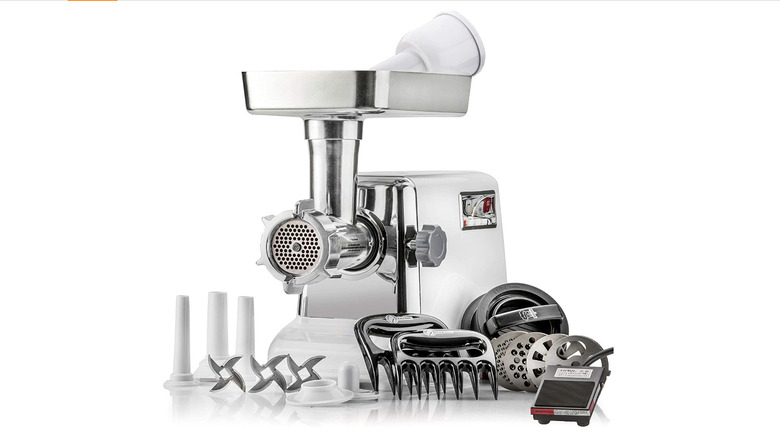 STX International
If you're looking for a meat grinder that comes with a bunch of useful accessories, then you can stop here. This electric meat grinder from STX International comes with a set of cutting blades, four different grinding plates, sausage stuffer tubes, meat claws for easy shredding, a burger maker and burger press, and even comes with an optional pedal for hands-free grinding. The meat hopper on this model is generously-sized and can accommodate three pounds of meat at a time. If you're looking to make a lot of burgers or sausage, it can grind up to 240 pounds of meat per hour.
Made with attractive polished cast aluminum, this meat grinder has nearly 4,500 satisfied reviewers backing it up on Amazon. It's no wonder so many customers are singing its praises, considering how beautiful and well-designed this model is, not to mention that useful foot pedal. Still not convinced? With a 30-day unconditional money back guarantee, you have nothing to lose!
You can buy the STX electric meat grinder bundle on Amazon for $170.
Best meat grinder for sausage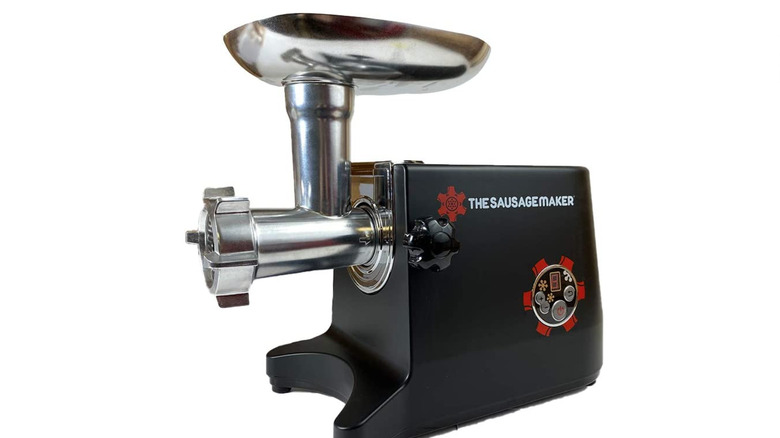 The Sausage Maker
If you're in the market for a meat grinder, then there's a good chance you're interested in making your own sausage. But there can be a lot of variation between meat grinders, meaning that some of them are better designed than others for the sausage making process. What makes this model especially well-suited to crafting sausages is the fact that it has eight different speed settings to choose from, so that you can stuff sausage at a customized, comfortable pace at the touch of a button.
With a powerful motor, an auto-reverse function for dealing with blockages, and three durable stainless steel grinding plates, this meat grinder is optimized for ultimate efficiency. Think of all the different kinds of delicious sausages you can crank out with this beauty, like chorizo, bratwurst, and kielbasa. Of course, when you've mastered the basics, you can also create your own blend with the help of this beauty. 
Purchase the Sausage Maker meat grinder on Amazon for $100.
Best mid-range meat grinder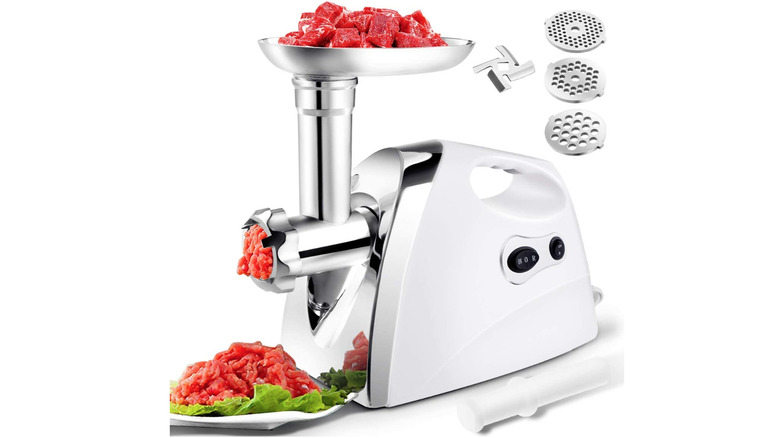 Giantex
When it comes to prices, sometimes aiming for the middle can be your best bet. Investing a lot of money upfront can be intimidating or even risky, depending on your financial circumstances. On the other hand, shooting too low and wasting money on a cheap product that ends up falling apart can be equally frustrating. The place in between can prove to be the sweet spot, offering a well-designed product for a fair price. This electric meat grinder model from Giantex fits nicely within that realm, considering its top notch design and reasonable cost.
Made with durable stainless steel, aluminum alloy, and ABS plastic, this model is easy to clean and comes with three grinding plates, cookie accessories, and a sharpened cutting blade. With a powerful 2,800-watt motor, this model makes breaking down meat a breeze. Once you get this grinder in your kitchen, you'll be whipping up steak tartar and some of the best homemade meatballs made from scratch that you've ever had.
You can buy the Giantex electric meat grinder from Amazon for $50.
Best portable meat grinder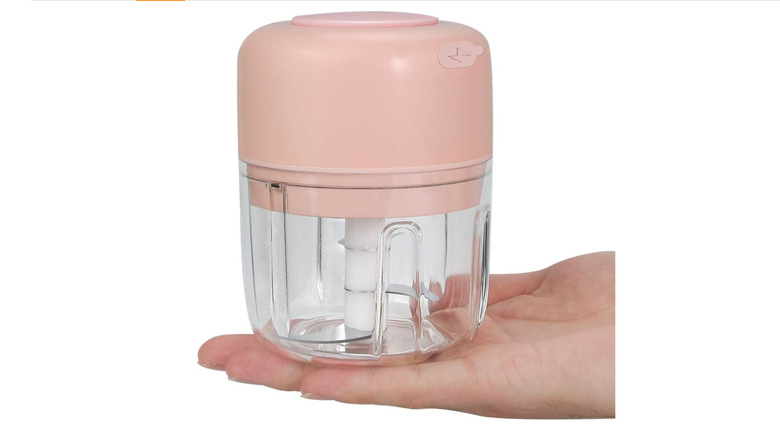 FUHUIM
Having a portable meat grinder can be surprisingly helpful, depending on your lifestyle. Being able to easily pulverize different ingredients like nuts and vegetables on the go can take your lunches, camping trips, and picnics to the next level. This model from Fuhuim was designed with plenty of features to maximize portability, making this a great choice for anyone looking for a grinder that can travel from place to place with a minimum of fuss.
So, what kind of amazing features does this model offer? For starters, it's compatible with USB ports, and it only needs a few hours to fully charge. Another bonus is its size. This grinder is only about 3.5 inches wide and can fit in the palm of your hand. Though it's small, the entire piece is washable and easy to clean. Meanwhile, it can hold up to 250 milliliters of ingredients and it has a one-button start that couldn't be easier to use. Even though this meat grinder is on the smaller side, it's still incredibly sharp and efficient, with durable stainless steel blades. If you're looking for a model that can tag along on all of your adventures, then rest assured that this was made with you in mind.
Purchase the Fuhuim electric grinder on Amazon for $20.
Best meat grinder for hunters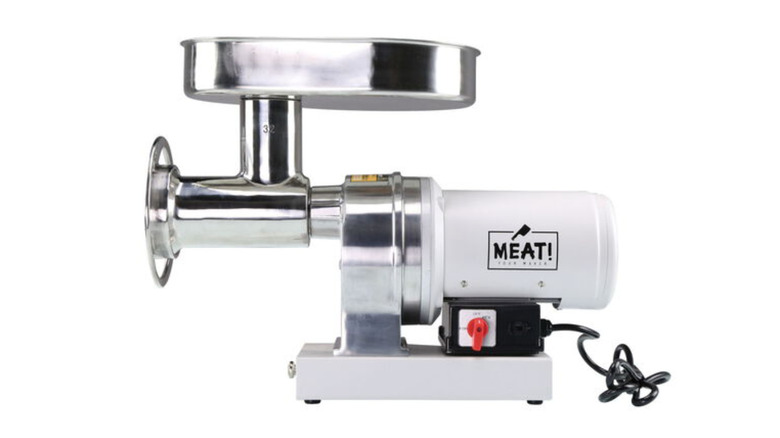 Meat Your Maker
If you're into hunting, then you know that taking care of wild game, like venison, requires short time frames and plenty of hard work. Neglecting to properly butcher your game can result in a gamey flavor that's highly unpleasant (via Outdoor Life). The bottom line? The sooner you can process that fresh meat, the better. Enter this heavy-duty meat grinder from Meat Your Maker, a model with a 1.5 horsepower motor that can grind an impressive amount of ingredients with remarkable speed.
Just how fast can it go? This meat grinder can process up to 18 pounds of meat per minute. And while it's true that this model is quite large, it's also very powerful, which is a fair tradeoff if you have a serious amount of meat to process. This stainless steel grinder is designed for a lifetime of use and comes with coarse and fine grinding plates, a stuffing tube for sausages, and a safety filter to prevent injuries. If you're a serious hunter looking for a serious meat grinder, then we think that this is a match made in heaven.
You can buy the Meat Your Maker 1.5 HP meat grinder on Meat Your Maker for $700.
Best meat grinder for professionals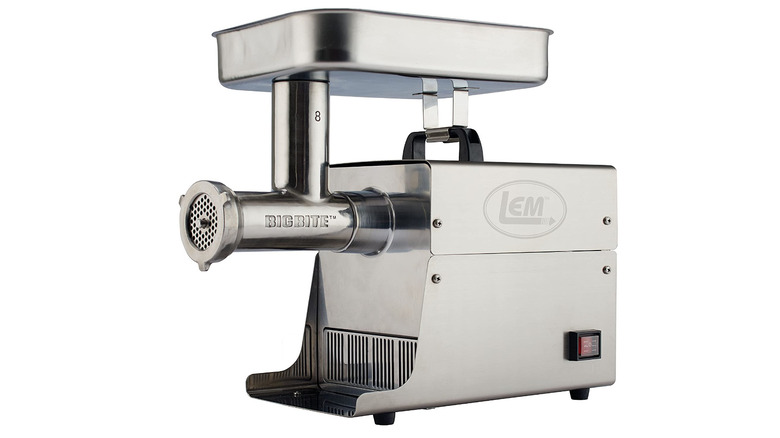 LEM
Professionals in the kitchen need appliances they can count on. This model has a lot to offer for the pros and home cooks alike, considering its near-perfect five-star Amazon rating after more than 2,000 customer reviews. Heavy-duty and built for serious regular use, this model is best suited to commercial kitchens and professional culinary settings that need to churn out a high volume of food products.
Capable of grinding seven pounds of meat every minute, this model comes with a steel knife, a stuffing plate, two different sizes of grinder plates, and a meat pan. Even though this meat grinder is heavy-duty and weighs nearly 30 pounds, it still manages to operate with a low level of noise, making it easier on the ears than other models. Another cool feature: a space-saving tray in the body of the grinder that stores the knife and stuffing plate. It also comes with lifetime customer support and a five-year warranty.
Purchase the LEM stainless steel meat grinder on Amazon for $349.
Best mini meat grinder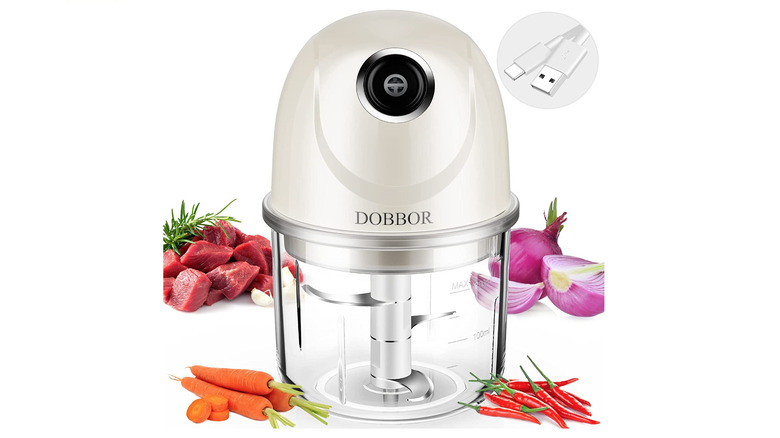 DOBBOR
Whenever kitchen space is an issue, every inch of real estate counts. One good way to save space is by stocking up on smaller appliances that can still get the job done. And it doesn't get much smaller than this mini electric grinder from Dobbor, which is only eight centimeters wide.
Even though this grinder is tiny, it can still hold up to 200 milliliters of stuff, making it great for anyone interested in smaller portions and single servings. It's USB compatible with a cordless option; a two or three hour charge can provide enough power to use this grinder over 30 times. With a sharp stainless steel blade, it's equipped with a child safety lock to keep little ones safe. Whether you want to mince up ginger for curry, garlic for spaghetti, or whip up a fresh burger patty, this little grinder will deliver consistently great results — all while going mostly unnoticed, thanks to its humble proportions.
You can buy the Dobbor mini electric grinder on Amazon for $26.
Best meat grinder for stability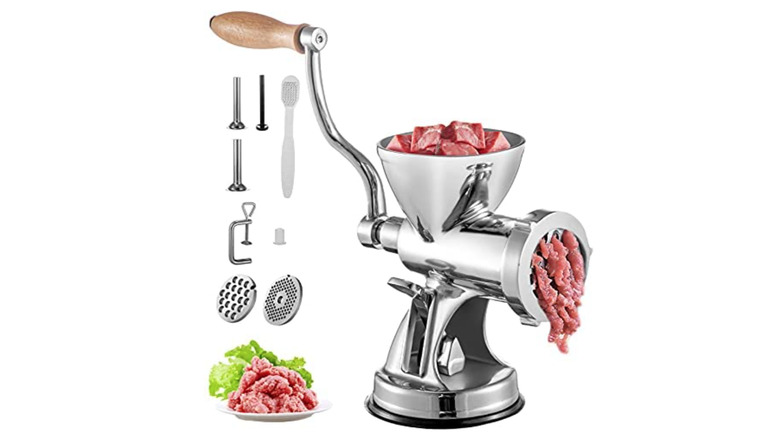 VBENLEM
An accident is the last thing you want when you're in the middle of using an appliance with sharp, spinning blades. So, it's important to buy a meat grinder that's designed for stability. Here's the good news: This manual model from Vbenlem comes with a metal clamp and a suction cup on the bottom of the base for extra adhesion.
Made with stainless steel, this meat grinder is remarkably sturdy and comes with two different grinding plates and two sausage-stuffing tubes Every piece on this model is detachable, a big boon for the cleaning process. This meat grinder also comes with a few practical accessories, like a meat pusher to assist with inserting meat into the machine and a brush to help clean. At the end of the day, there's no doubt that this manual meat grinder is firmly secure.
Purchase the Vbenlem manual meat grinder on Amazon for $113.