The DIY Cajun Burrito That's Taking Popeyes Lovers By Storm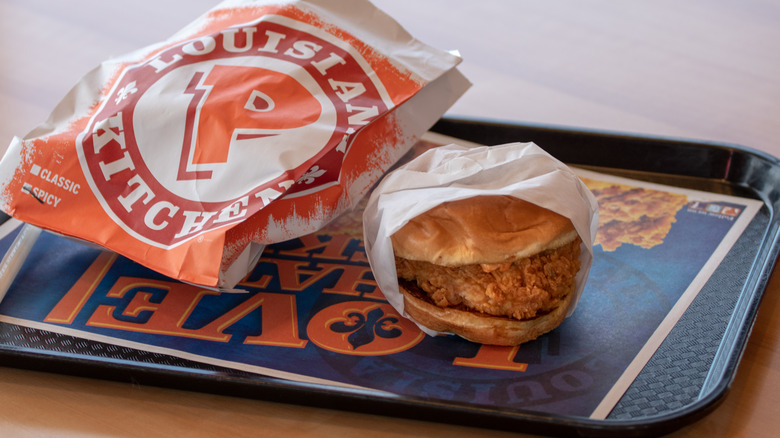 Tony Prato/Shutterstock
Everyone loves a good restaurant hack. What's better than adding a special touch to make your takeout order taste exactly how you dreamed it would?
Whether you're adding your own sauces, swapping toppings on a sandwich, or completely altering your fast food order to make an entirely new dish, there are plenty of ways you can modify restaurant food to your liking. TikTok user Danny Kim has created a series where he gives fast food items to a roster of chefs, who then transform them into gourmet meals.
Of course, you might not be looking for something that fancy. You can still get creative with your fast food while keeping it simple, like with this DIY Popeyes chicken bowl recipe — which uses Popeyes chicken to make a buffalo chicken salad of sorts — that made the rounds on Instagram earlier this summer.
The latest Popeyes recipe hack started on Twitter, when author and photographer Bria Celest asked in July 2022 if anyone had ever tried cutting up Popeyes chicken and wrapping it in a tortilla with the chain's red beans and rice and Cajun fries to make a Cajun burrito. The next day, Popeyes responded with its take on the idea.
Popeyes shows you how to get creative with its chicken
The video Popeyes posted on Twitter the day after Bria Celest tweeted about a DIY Popeyes burrito shows that yes, with a couple extra ingredients, you can transform your chicken tender meal into a Cajun burrito. The recipe involved loading up a flour tortilla with Popeyes Cajun rice, chopped up fried chicken, and the restaurant's Cajun fries, paired with some fresh greens, sour cream, and guac to top it off.
Fans online loved it. One user responded to the tweet saying they were won over in 25 seconds. Other users were glad to see that Popeyes had brought back its Cajun Rice. Users on TikTok were also thrilled to see the Cajun rice return after Popeyes uploaded the burrito-making video to that platform as well. 
The chain has been using its TikTok page to show off other DIY hacks for its fried poultry offerings. In addition to the chicken burrito and the buffalo chicken bowl that got so popular, Popeyes also has a video about how to combine its chicken tenders with a sandwich from Publix to make a fried chicken sub, or use Popeyes chicken to recreate the southern staple of chicken and waffles. But perhaps most daring, the chain even posted a video showing how to sneak a chicken meal into a movie theater and add its signature dipping sauces to popcorn. How's that for dinner and a show?