The Best Pour-Over Coffee Makers In 2022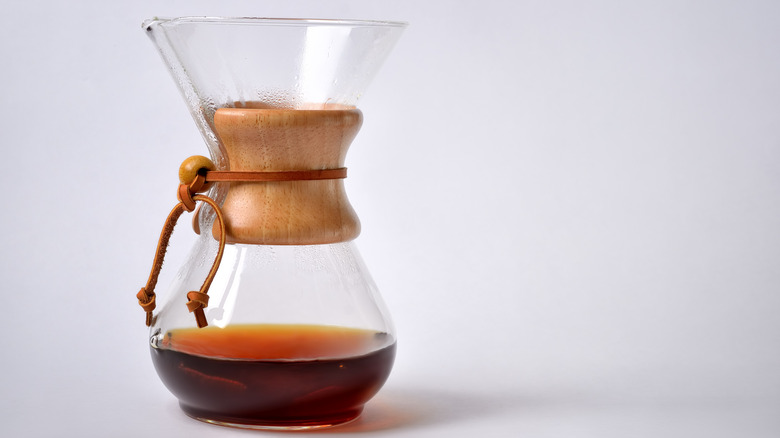 Oleg Romanko/Shutterstock
We may receive a commission on purchases made from links.
The pour-over (also called a coffee cone or coffee dripper) is a fundamental tried and true method to brew your morning cuppa java. To make a fresh brew, all you need is ground coffee, a paper or cloth filter (if necessary), a filter cone, and a mug or vessel to catch your precious brainpower juice. If properly brewed, the end result is a perfect cup of coffee. Though it sounds simple, using a pour-over device entails following a few steps. (You can't just dump in coffee grounds, pour hot water over top, and hope for the best.)
For starters, water temperature plays a big part in making a proper cup. According to the National Coffee Association, the standard temperature for a pour-over should be between 195 F and 205 F. You're also going to need to use the correct coffee grind and filter size, which will both vary depending on the type of pour-over you're using (and if your dripper even needs a filter). The pour-over capacity should also fit the mug you're brewing into, or else you're going to quite literally have your coffee pour over. It's also worth noting that the mouth size of your mug also makes a difference — some vessels will only fit a certain diameter. 
How we chose the following pour over brewers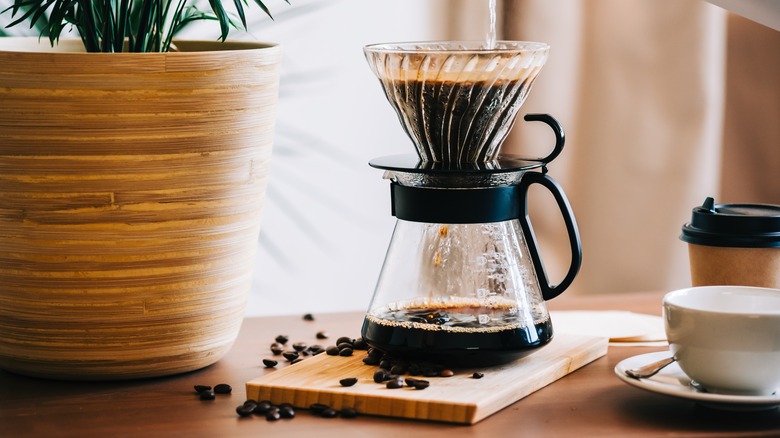 Nikki Meel/Shutterstock
It's always important to take individual — albeit reputable — reviews into account when seeking out what we deem to be the best of the best. In addition to authentic customer input, we also sourced reviews from large-scale global retailers like Amazon, Walmart, and Bed Bath & Beyond. We sought out product insights provided by independent small businesses and websites specializing in the coffee, tea, food, and hospitality industry.
The materials used for each product — metal alloy, silicone, BPA-free plastic, borosilicate glass, etc. — as well as strength and durability were also taken into consideration. Capacity (how much java fuel) each pour-over can brew was integral in our choosing. (So never fear — there's a little something for everyone.) Lastly, the almighty dollar plays a substantial role in determining what makes this list. Our goal, as always, is to source coffee drippers and pour-over brewers that are financially affordable to pretty much everyone. But there are always a few exceptions. (Which is why we have the best splurge section.) 
The following selection of pour-over coffee makers will help you in your quest for what might be the most crucial coffee-making decision of your life. (Maybe not the most important, but you get the idea.)
Best single serve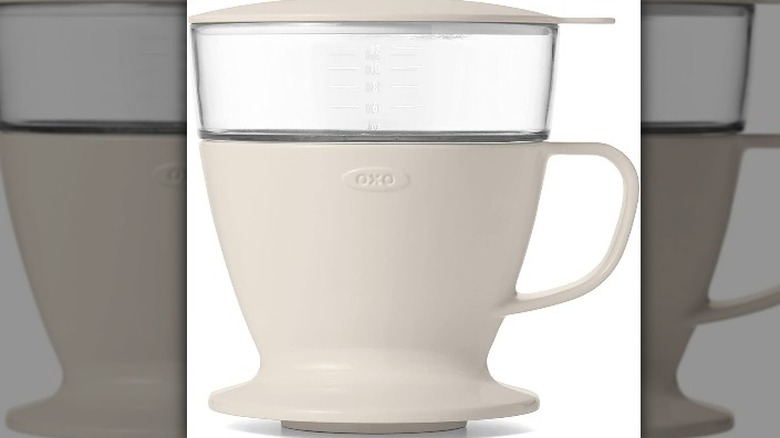 OXO
The OXO single serve pour-over wins the spot for best single serve, not because the name says so, but because of its unique manual built-in water chamber. This compact BPA-free coffee dripper sits atop your mug, uses a traditional No. 2 filter, and makes approximately 12 ounces of coffee in 75 seconds. The removable water reservoir acts like a mini auto-brew feature, which Amazon reviewers mention favorably.
In an independent CNN review, staff noted that the OXO single serve pour-over removes most of the prep work and takes a no-frills approach to brewing coffee. There's no need to pour the water a specific way or worry that you've added too much or too little. However, the reviewers did admit there was a bit of a learning curve as to what grind size to use and the exact coffee-to-water ratio. Meanwhile, the folks at Low Key Coffee Snobs note that OXO's single serve pour-over makes a solid cup, but if you're more hands-on and like being in control of the water flow, you're going to have to give that up.
If you're searching for a no-frills, set it and forget it style dripper, you can find OXO's single serve pour-over starting at $17.95 on Amazon.
Best for big drinkers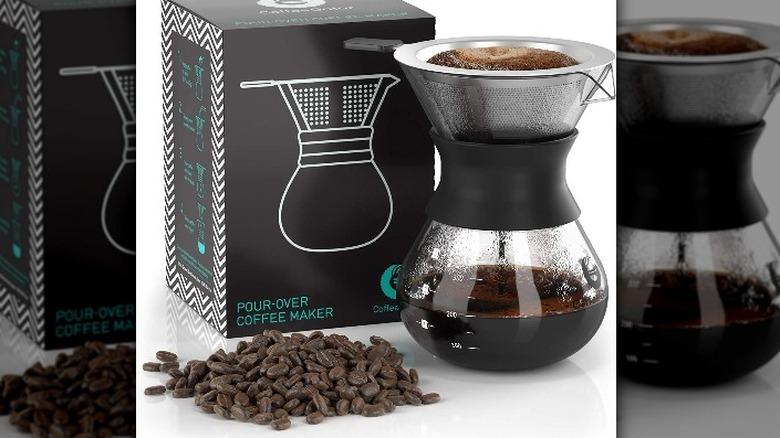 Coffee Gator
Coffee Gator's pour-over is great for solo coffee drinkers who enjoy more than just one cup. This slow-drip brewer comes in a few sizes including 10.5, 14, and 27 ounces (via Roasty Coffee). Coffee Gator's pour-over is aesthetically pleasing and super cute, details that are mentioned more than a few times by Amazon customers. It's also an eco-friendly option because this mini pour-over comes with a reusable stainless steel mesh filter. Amazon coffee drinkers love that it's great for the environment (less landfill waste) and also benefits your wallet (because you're not spending extra money on filters).
It is important to note that individual reviews on Don't Waste Your Money, Amazon, and Roasty Coffee all mention that the carafe is rather fragile. So if you're worried about any possible breakage, don't use it in the dishwasher and wait for it to cool down completely before handwashing it in warm, soapy water.
If you're looking to start a new, more mindful morning coffee-related ritual, float on over to Amazon, where you can find Coffee Gator's 10.5-ounce pour-over starting at $13.84.
Best ceramic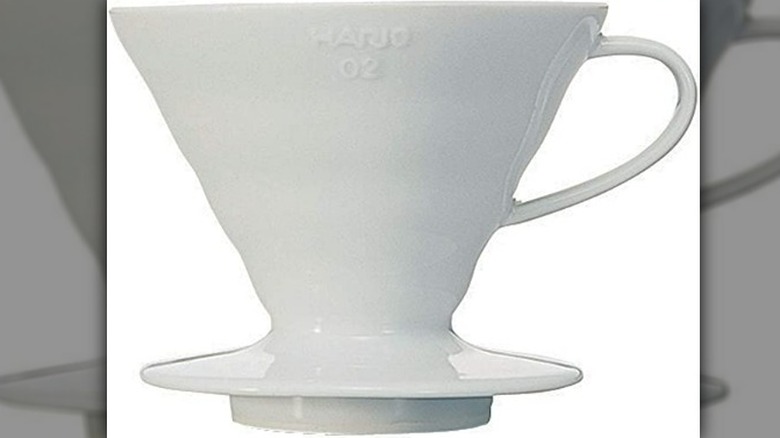 Hario
Known for its beautifully functional and durable craftsmanship, Hario is a Japanese heat-resistant glass manufacturer with over 100 years of glass-blowing experience. While not made of glass, its V60 coffee dripper is made with Arita-Yaki, a type of Japanese ceramic that's been around for over 400 years.
According to the independent coffee blog Acquired Coffee, the Hario V60 consistently stands out among the multitudes of brewers on the market, although it may be a bit difficult for pour-over novices to use. That being said, the Hario V60 is designed to give you complete control over your pour, which is facilitated by using a gooseneck kettle, per the brand's recommendation. Amazon reviewers note that watching the YouTube tutorials is incredibly helpful to understanding how to work on your precision pour. Because it's ceramic, the Hario V60 holds heat incredibly well, which is mentioned multiple times by customers on Seattle Coffee Gear.
If you're looking for a sturdy, traditional, minimalist coffee dripper and don't mind the learning curve, you can find the Hario V60 on Amazon starting at $22.95.
Best eco-conscious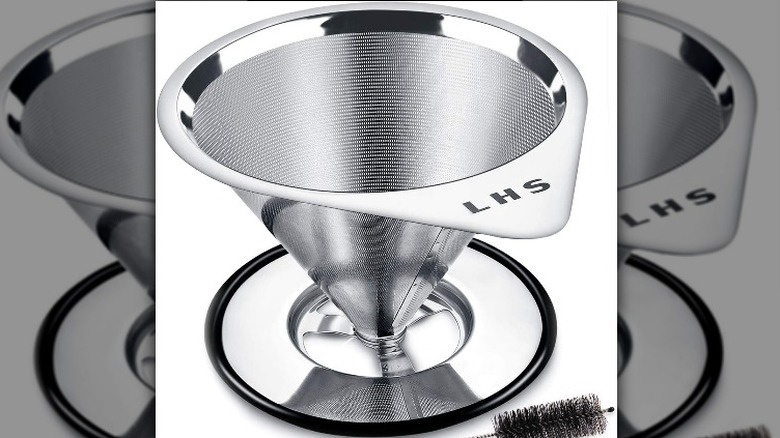 LHS
If you're looking for a coffee dripper that's easy to clean, compact, and doesn't require paper or cloth filters, then the LHS stainless steel pour-over is calling your name. This eco-friendly coffee cone is made with high-quality stainless steel and will provide you with one to two cups of morning happiness. It also includes a brush for cleaning, as well as a stand to hold the cone when you're finished using it. Best Views Reviews rates it 9.2 out of 10 based on over 690 individual reviews, and more than 8,570 Amazon customers give it a 4.5 for overall satisfaction. 
Amazon brewers also mention that the coffee produced using this LHS pour-over tastes fresh, with no trace of bitterness that some pour-over coffee leaves. On the flip side, some individuals on Amazon cite that sediment is a major issue with the LHS stainless steel pour-over. This can be resolved easily by simply using the correct grind for the actual filter hole size.
If you're looking for an affordable and eco-friendly way to enjoy your morning coffee, check out the LHS stainless steel pour-over on Amazon, starting at $13.99.
Best budget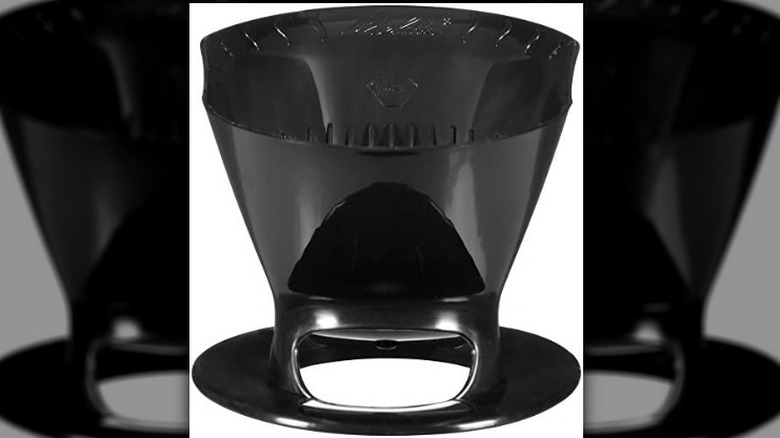 Melitta
Melitta's single cup pour-over is probably the most recognizable coffee cone on the market and with good reason. The brand is backed by over 110 years of experience and was originally the brainchild of a German housewife turned entrepreneur, Melitta Bentz. She patented her first coffee filter cone on December 15th, 1908, and has been a household name ever since.
The Melitta single cup pour-over is incredibly easy to use and clean, as frequently mentioned by Amazon reviewers. It's great for those who are testing pour-over coffee for the first time because it requires no expertise and very little training. Some Amazon consumers made the switch from a coffee maker to a Melitta single cup pour-over and now swear by it. It's also considered to be a universal fit, which means that there is no cup too big or too small for this super affordable coffee dripper. Individuals on Bed Bath & Beyond rate it 4.8 out of 5 stars, and 97% would recommend it to a friend. The device is made out of BPA-free plastic, which makes it a healthy option to have in your kitchen.
If you're looking for a lightweight, durable, and easy-to-use coffee dripper, you can find the budget-friendly Melitta single cup pour-over on Amazon for $6.90.
Best splurge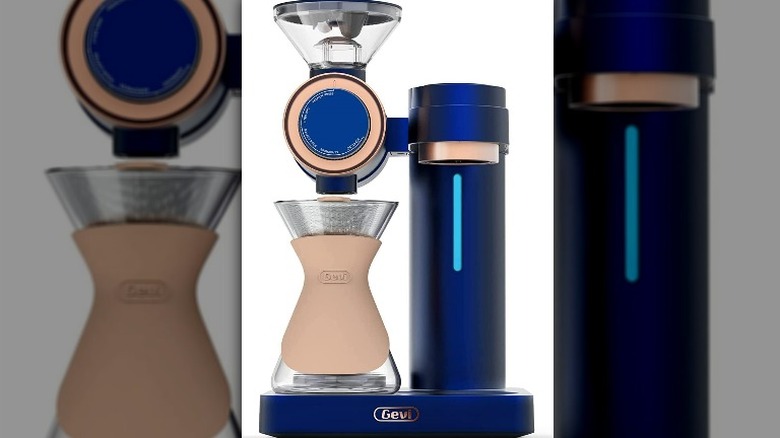 Gevi
This brewer totes all the features of a semi-automatic coffee maker, but stays true to the pour-over taste. The Gevi Smart pour-over is not only sleek and visually stunning, but it actually combines four essential pour-over elements into one compact machine: a coffee scale, grinder, water kettle, and brewing decanter. On top of that, it also has a built-in timer, 51 grind settings, and is fully programmable so you can save your own pour-over recipes. You'll also get three different filter types (stainless steel, PCTG reusable, and paper), a coffee spoon, and a brush.
Amazon customers are highly impressed with the Gevi Smart pour-over's ability to self-clean (including descaling), and the fact that it easily replaces pod or classic coffee makers. It's also important to note that this magical contraption produces incredibly flavorful coffee. According to one consumer, it actually extracts the coffee in such a way that you can taste the flavor nuances of the bean. 
If you're looking for consistency, quality, and an incredibly eye-catching coffee maker — with cost being the least of your concerns — you can buy the Gevi Smart pour-over on Amazon starting at $799.99.
Best to contain the mess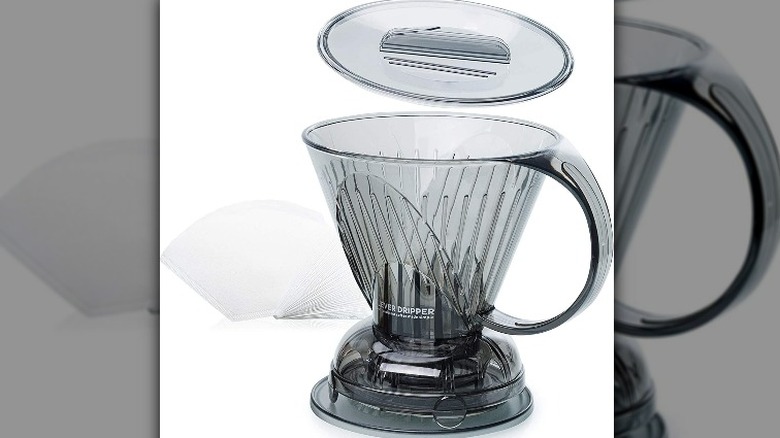 Clever
This compact brewer lives up to its namesake by producing a brew that's reminiscent of what you would get with a French press but without the mess. The lid even doubles as a coaster to prevent any stains. The Clever coffee dripper is made with BPA-free plastic and is available in two capacities (11 and 18-ounce), with six color options to choose from. The kit also sets you up with 100 paper filters to start.
The coffee blog Home Grounds notes that the Clever coffee dripper produces java juice similar to what you'd get with a French Press (minus the mess), making t somewhat of a hybridized coffee (a cross between drip and immersion). That being said, Amazon reviewers also explicitly warn that you need to follow the video instructions before you first use the Clever coffee dripper since it's not a typical pour-over. Other Amazon consumers warn to pay attention to the size of your mug since the dripper only fits a mouth between 1.5 and 3.75 inches.
If you enjoy a good French press but hate the mess that you'll inevitably have to clean up, it's probably a good idea to invest in the Clever coffee dripper. You can find it on Amazon starting at $36.95 depending on the color and capacity.
Best for travel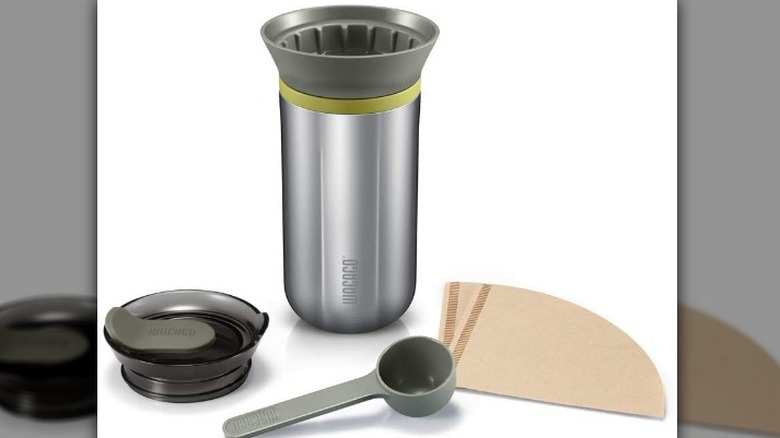 Wacaco
The Cuppamokka is a convenient isothermal stainless steel travel mug with a 10-ounce capacity. It stays hot for up to three hours and also comes with a coffee scoop and 10 paper filters. What makes Wacaco's Cuppamokka so different from other travel mugs and pour-overs is that the filter holder is actually built into the mug itself. (Technically, it attaches to the mug.) You'll be glad to know that the filter holder is made with BPA-free plastic.
Overall, Amazon customers consider Wacaco's Cuppamokka to be an excellent choice for frequent travelers who still require a fresh cup of liquid brain power as part of their daily ritual. Accordingly, it has earned a 4.6 out of 5 for overall customer satisfaction on Amazon. Independent reviewer Home Grounds notes that the Cuppamokka is definitely targeted at individuals who constantly experience wanderlust, however, it's not the best option for taking into the backcountry; a reusable filter would make it more suitable. The Gadgeteer notes that it would be nice to have a larger size available for those who consume more than 10 ounces of coffee at a time.
All in all, the brand excels at providing fresh pour-over coffee for its target market. So if you find yourself regularly traveling on the road (or in the air or by sea), then you can swing by Amazon and pick up Wacaco's Cuppamokka, starting at $34.90.
Best for camping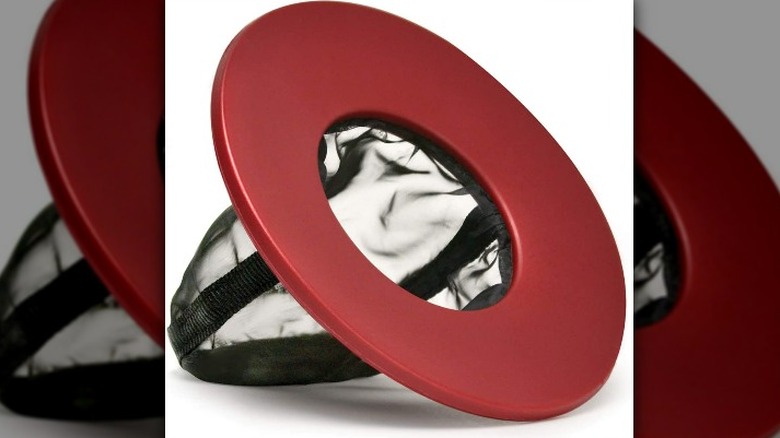 Primula
When you're on the road or roughing it in the great outdoors, it's integral to have a coffee dripper that is durable, affordable, eco-friendly, versatile, and most importantly doesn't take up much real estate in your travel bag. Primula's Brew Buddy checks off on all the above. This single-serve coffee filter weighs in at 1 ounce, with a 4-inch diameter (which fits most standard mugs) and a low profile. It comes highly recommended by outdoor enthusiasts on Amazon, plus it doubles for brewing hot tea. That being said, some Amazon customers note that the Primula Brew Buddy isn't as easy to clean as they had imagined.
Testers at the Outdoor Gear Lab give it a 75 out of 100, citing that it's not great for groups of people (which is fair considering it is a single-serve filter) and that the result sometimes lacks taste. The flavor issue is also brought up on Amazon, where individuals claim their brew isn't strong. That issue could simply be chalked up to the pour speed; per Primula's specifications, the slower you pour, the darker your brew will be.
If you're an avid outdoors person but also require caffeine to function like a normal human being, check out Primula's Brew Buddy on Amazon, starting at $9.99.
Best for heavy sleepers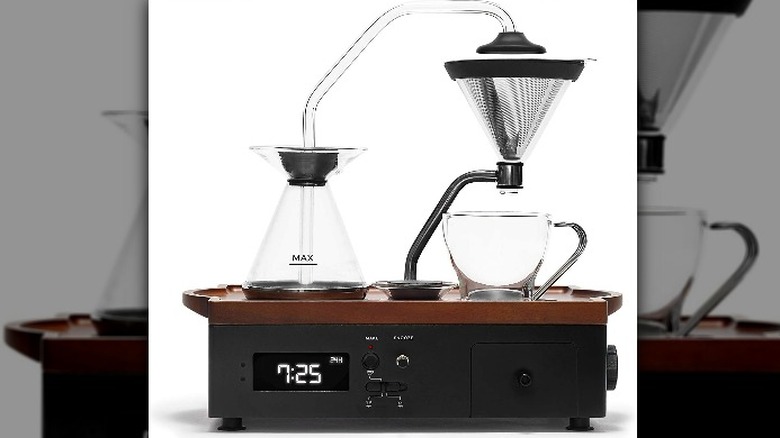 Barisieur
If you've ever dreamt of having your own personal barista but are also seriously committed to your bed (and consider the snooze alarm to be your BFF), then your prayers have been answered. This pour-over coffee maker not only fulfills your morning motivational juice requirement but also doubles as an alarm clock. You could now wake up to the sound and smell of coffee. (And an alarm, if you'd like to wake up to that, too.)
The Barisieur coffee alarm clock is available in walnut or white oak and comes equipped with a mini milk cooler, coffee ground holder,  scoop, and a serving tray. It also includes a USB charger port for whatever you need to charge. For those of you who aren't fully onboard with team coffee, this beautiful piece of craftsmanship can also brew tea. While the Barisieur coffee alarm clock has overall favorable reviews on Amazon, it's worth noting that replacement parts can be a bit pricey, as stated in an independent review on Fatherly. 
If you love the idea of waking up to coffee (as long as you set it up each evening), you can grab the Barisieur coffee alarm clock on Amazon starting at $439.
Best overall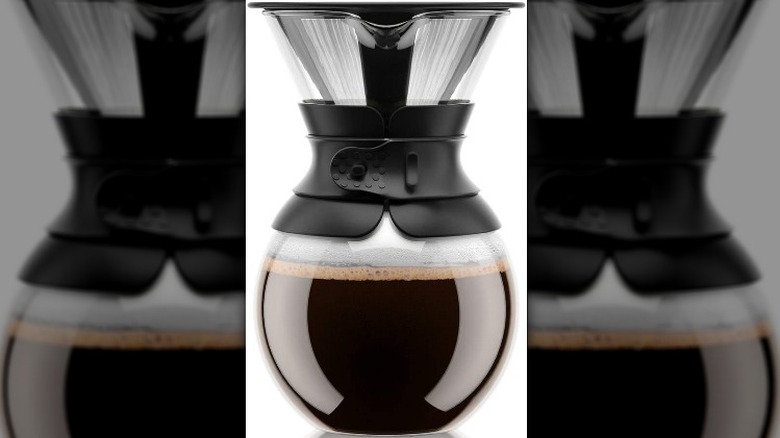 Bodum
The Bodum pour-over earns the spot for best overall for various reasons, including the fact that it uses a metal filter (which means no paper filters required) and can hold up to 34 fluid ounces of java juice. It's also dishwasher safe, incredibly affordable, and ranks first on Amazon for pour-over coffee makers.
The Bodum pour-over is made with heat-resistant borosilicate glass and is available in three different capacities (17, 34, and 51 fluid ounces). There are four different cuff color options to choose from too so you can personalize your selection. Black Ink Coffee notes that the Bodum pour-over is a more economical version when compared to a Chemex while having pretty much the same features. 
Independent reviewers at The Coffee Folk claim that the mesh filter included doesn't work with all types of coffee grounds and that the flavor tends to be a bit muted. This watered-down extraction is also mentioned by Amazon customers, though others state the exact opposite — that the flavor is smooth and full. (Remember that watered-down coffee can be attributed to a number of different factors, but the decanter — which is manually operated — is typically not to blame.)
If you're in the market for a pour-over that yields a higher volume of coffee, is super affordable, and most importantly does its job (and does it well), you can find the Bodum pour-over on Amazon starting at the low price of $19.21.