Homemade Hoisin Sauce Recipe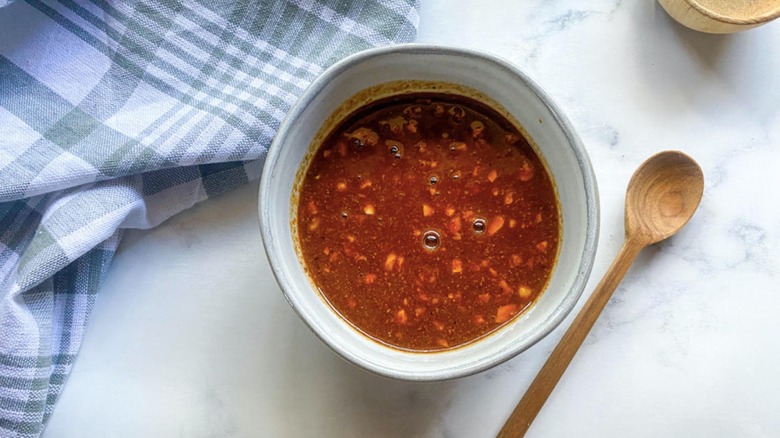 Miriam Hahn/Mashed
While it is incredibly tempting to buy prepared sauces and condiments, they taste so much better when they're homemade. For the most part, sauces are ridiculously easy to prepare and don't require a whole host of odd-ball ingredients, making them quick and simple to whip up. This homemade hoisin sauce, courtesy of recipe developer and wellness coach Miriam Hahn, is the perfect example of a sauce that isn't difficult to make at home. "I make Asian food frequently and love to serve this anytime I make an Asian dish and I need a quick sauce," Hahn says.
Hahn is an expert in vegan cooking and typically eats meat-free. "I often pair this with tofu," she elaborates. "You can add the sauce to cooked tofu or you can actually add it to the skillet when you are pan frying tofu." This hoisin sauce truly adds the perfect pizzazz to your plate, especially with otherwise neutral foods, like tofu or any unseasoned meat. Vegan or not, this sauce shines! Follow our step by step guide below to make your own hoisin sauce at home.
Gather your ingredients for homemade hoisin sauce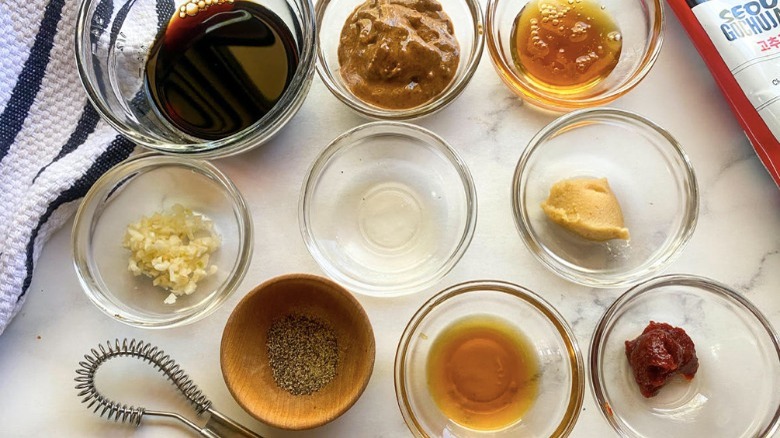 Miriam Hahn/Mashed
To make this homemade hoisin sauce, you can start by gathering your ingredients. For this recipe, you will need soy sauce, peanut butter, honey, rice vinegar, sesame oil, garlic, black pepper, miso paste, and gochujang sauce. Hahn wants to point out "if you want to make this and have a nut allergy, you can easily substitute sunflower seed butter or tahini and it works just fine!"
"I have been on a gochujang kick lately and have been adding it to lots of things," Hahn says of the special ingredient. It is a type of red chili paste that is very savory but also has a hint of sweet and salty. It is a fermented sauce which also gives you the umami flavor that a miso would." She also notes that "a little goes a long way," so just a small amount of gochujang will really help spice up the hoisin sauce.
Add all ingredients to a bowl and whisk to combine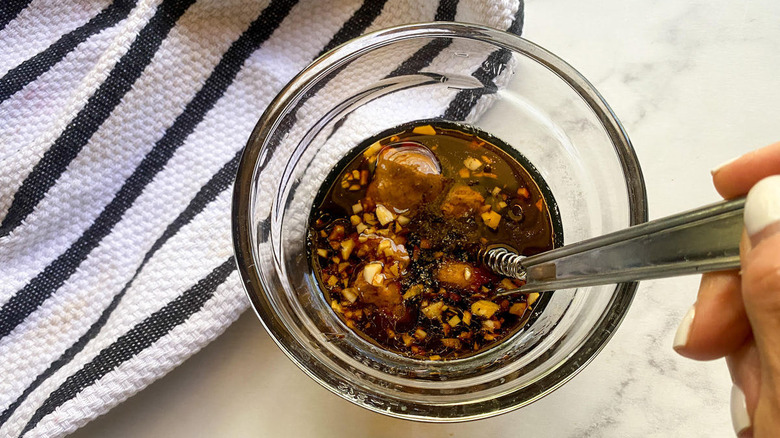 Miriam Hahn/Mashed
In a medium-sized bowl, add the soy sauce, peanut butter, honey, rice vinegar, sesame oil, garlic, black pepper, miso paste, and gochujang. Then, using whisk, mix these ingredients until they are combined. Make sure that all of the ingredients are well-incorporated into one fluid consistency.
Serve this alongside your favorite dishes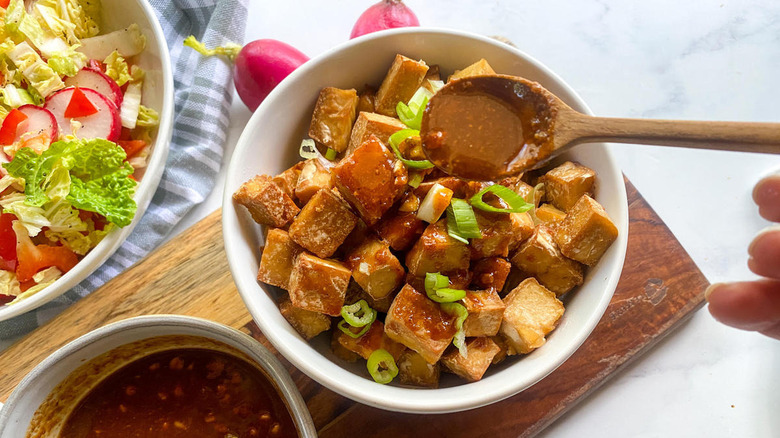 Miriam Hahn/Mashed
Once combined, you are ready to serve this sauce. Hahn recommends serving it alongside some eggrolls, spring rolls, or with any type of stir fry. This recipe makes about four servings, but if you have extra, Hahn tells us that "leftovers keep well for up to a week. I just store it in a mason jar with a lid in my fridge."
Homemade Hoisin Sauce Recipe
This hoisin sauce perfectly complements fried tofu or egg rolls.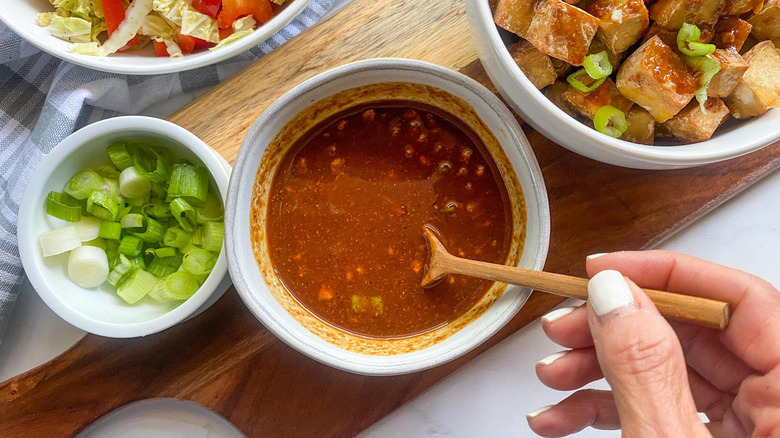 Ingredients
¼ cup soy sauce
2 tablespoons peanut or almond butter
1 tablespoon honey
2 teaspoons rice vinegar
2 teaspoons sesame oil
1 clove garlic, finely minced
⅛ teaspoon black pepper
1 teaspoon miso paste
1 teaspoon gochujang sauce
Directions
In a medium-sized bowl, combine the soy sauce, nut butter, honey, rice vinegar, sesame oil, garlic, pepper, miso paste, and gochujang sauce.
Stir well with a whisk.
Serve the sauce with tofu, egg rolls, or as desired.
Nutrition
| | |
| --- | --- |
| Calories per Serving | 101 |
| Total Fat | 7.0 g |
| Saturated Fat | 0.7 g |
| Trans Fat | 0.0 g |
| Cholesterol | 0.0 mg |
| | |
| --- | --- |
| Total Carbohydrates | 7.7 g |
| Dietary Fiber | 1.2 g |
| Total Sugars | 4.9 g |
| Sodium | 983.2 mg |
| Protein | 3.4 g |