Easy Shrimp Roll Recipe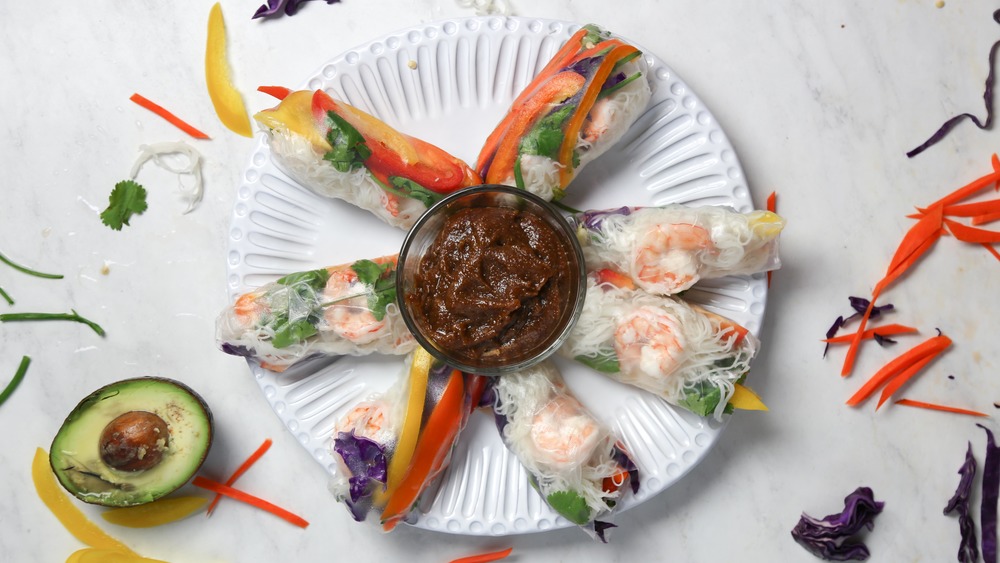 Maren Epstein/Mashed
The best appetizer is one that's light, so it won't fill you up before the main course, but also rich in flavor. Few things fit the bill like shrimp spring rolls. Though you're likely more familiar with eating shrimp rolls at a restaurant, with this shrimp roll recipe from Maren Epstein, the certified holistic health chef behind Eating Works, you can create this ideal appetizer in your own kitchen.
"Shrimp rolls are the perfect appetizer because they're small and light," Epstein says. "The rolls hold the ingredients really well, so they make a great dish to pass around a gathering."
The recipe is also a quick one to whip up before dinner or a party. It only takes around 15 minutes of prep work and about four minutes of cooking to make 10 shrimp rolls. The recipe also includes a homemade peanut sauce that's the perfect match for your new favorite appetizer.
Gather your ingredients for the easy shrimp roll dipping sauce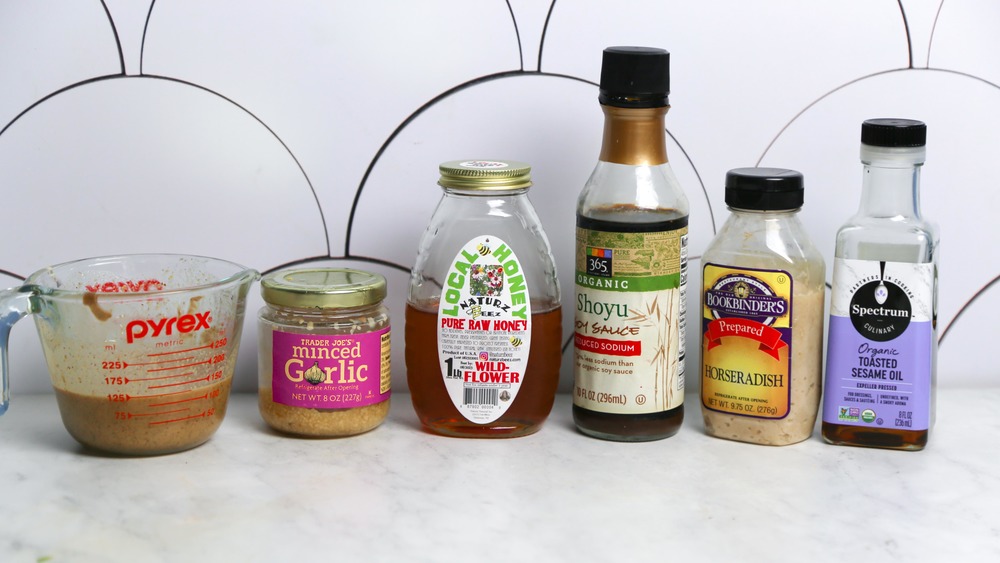 Maren Epstein/Mashed
There are two sets of ingredients you need to gather for this recipe. The first set you'll need to assemble are the ingredients for the peanut dipping sauce. There is a good chance that you already have much of what you will need in your pantry: peanut butter, soy sauce, minced jarred garlic, honey, horseradish, and toasted sesame oil. Together, these ingredients will create a sauce with a consistency that's thick enough to stay on your shrimp spring roll when you dip it, but not so thick that it is hard to get out of the bowl. Plus, a dose of garlic is good for you.
Peanuts are the most classic base to use for a shrimp spring roll sauce, but they aren't the only option. If you have a peanut allergy or you are making this recipe for someone who does, there are a number of substitutions you can make, Epstein says. "If you're allergic to peanuts you can swap out the peanut butter for almond or cashew butter," Epstein says. "But if you're allergic to nuts all together you can try tahini, which is seed-based."
Gather your ingredients for easy shrimp spring rolls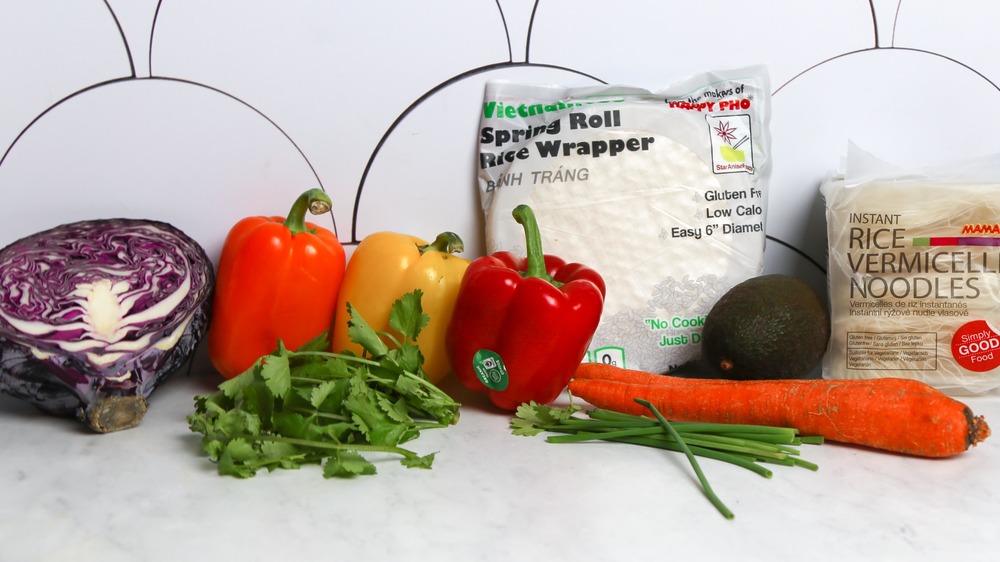 Maren Epstein/Mashed
Though there's a good chance you already had the ingredients for the peanut sauce, you may need to make a trip to the grocery store for the ingredients necessary to make the rolls themselves. You will need bell peppers, shrimp, chives, red cabbage, fresh cilantro, carrots, a bag of vermicelli noodles, and a package of rice paper wraps.
The type of noodles make a big difference here, so try your best to get vermicelli rice noodles. There are two types of vermicelli that you may see at the grocery store. There are the Italian vermicelli noodles, which are typically made with flour and egg, and then there are rice vermicelli noodles, which are similar in thickness and shape but are made with rice flour.
"Vermicelli noodles are classically used in Vietnamese spring rolls, so why reinvent the wheel?" Epstein says. "These noodles are neutral in flavor and are so tender and fine that they remind me of angel hair pasta! If you're avoiding rice you can use kelp noodles instead."
Cook the shrimp and noodles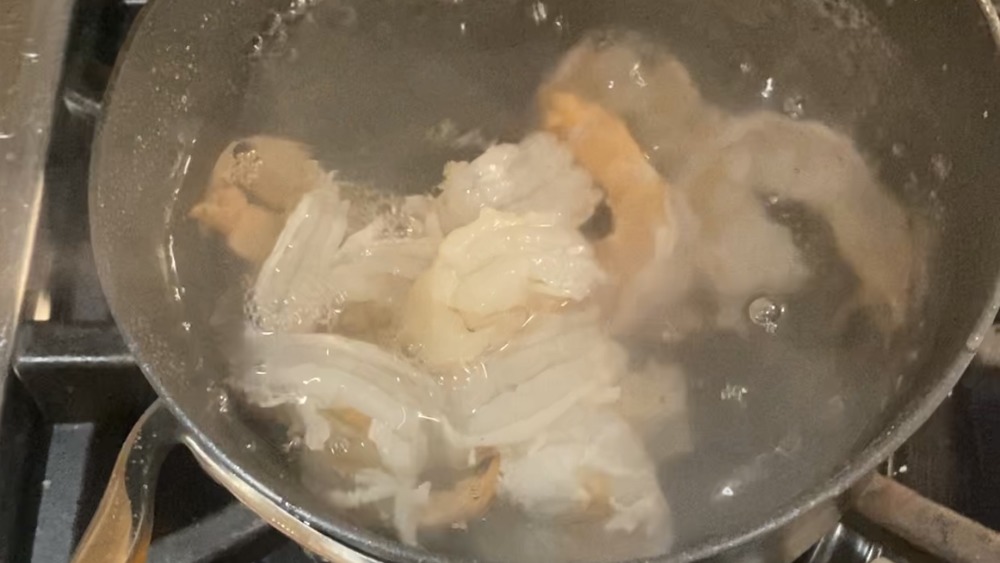 Maren Epstein/Mashed
Once you have your ingredients for both parts of this recipe, it's time to get to cooking. To start, grab two pots, fill with salted water, and put them on the stove to boil. A watched pot never boils, as the saying goes, which is fine because there's a bit of work to do while you wait. If you purchased fresh shrimp, take this time to shell, clean, and devein them by removing the long dark string that runs down the shrimp's back. Deveining shrimp doesn't actually take out a vein, as the name suggests, but instead removes the animal's digestive tract. As you may guess, that digestive tract is full of stuff you probably don't want to eat.
Once the pots of water are boiling, put the cleaned shrimp in one to cook for four minutes. Pay attention to how the shrimp are faring in the pot. It's important to get the timing and texture right, as no one likes overcooked, rubbery shrimp.
"As soon as the shrimp is opaque it's done," Epstein says. "Run it under cold water immediately to prevent it from cooking further and getting chewy."
In the second pot, add the noodles and boil them for two minutes before straining and removing the noodles from the water.
Wrap the easy shrimp spring rolls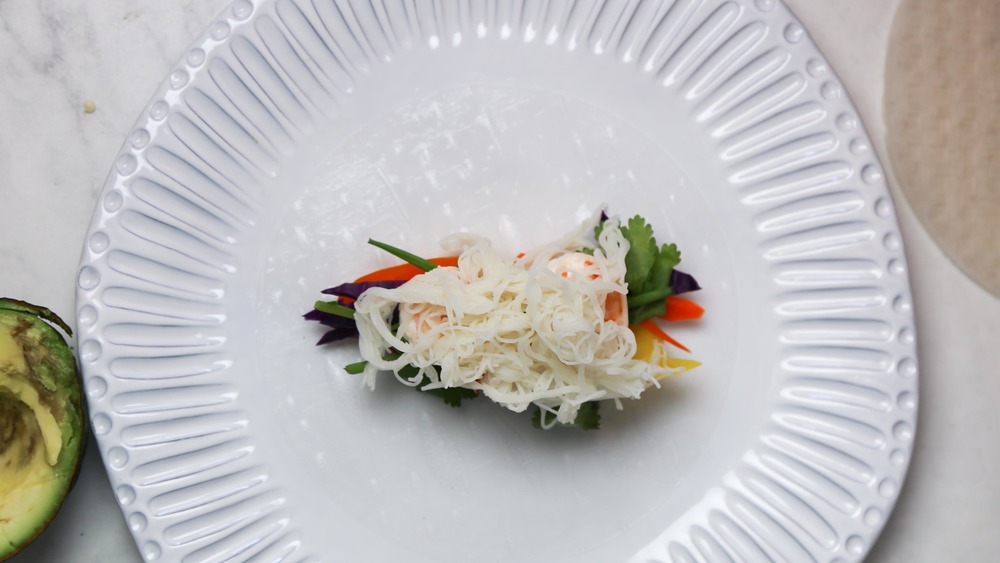 Maren Epstein/Mashed
If your vegetables aren't sliced yet, you will need to cut your bell peppers, chives, cilantro, and red cabbage into thin strips. Then you're ready to assemble those ingredients, along with the shrimp and noodles, into your spring rolls.
Using rice wraps is easy even if you've never done it before. First, fill a bowl with warm water and put the rice paper wrapper into the bowl for about 30 seconds to soften it. Then, remove the wrap, let the excess water drip off, and lay the wrapper out flat, being careful to not let it fold over on itself. Portion out a small amount of the ingredients onto the wrapper.
"Try to fill up no more than a third of the wrap," Epstein says. "If you use too much, the wrap won't close and it will fall apart. But, if you use too little of the filling ingredients, the wrap will look anemic."
To wrap it, take one side and fold it over the ingredients, then roll, tucking the corners in as you go. "I like the ingredients to be pressed firmly along the entire wrap," Epstein says. "A loose wrinkly wrap just doesn't look as appealing as a fat, juicy one."
Make the easy spring roll dipping sauce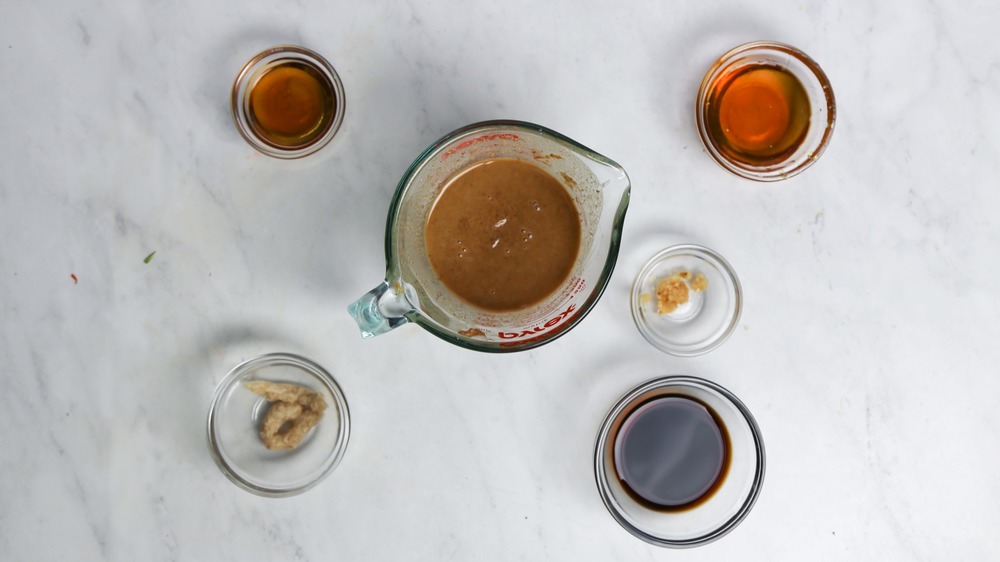 Maren Epstein/Mashed
The peanut dipping sauce for the shrimp spring rolls you just wrapped is quick and easy to make. In fact, once you have all of the ingredients, it's just a matter of combining them in a bowl and whisking it all to the right consistency.
Simply add the peanut butter (or other nut butter or tahini) to a bowl with the soy sauce, garlic, honey, horseradish, and toasted sesame oil. Beat the ingredients together with a whisk until each ingredient is completely incorporated into the whole. The finished sauce will have a perfect balance of flavors in each bite, with a bit of spicy horseradish to add some fire.
While it doesn't take long to put this dipping sauce together, there's a way you can simplify the process and make it even easier to get the appetizer out of the kitchen as fast as possible. Instead of making the sauce just before wrapping or shortly after wrapping the spring rolls, simply make it ahead of time. As Epstein puts it: "You can absolutely make the dipping sauce days in advance!"
Enjoy your easy shrimp spring rolls right away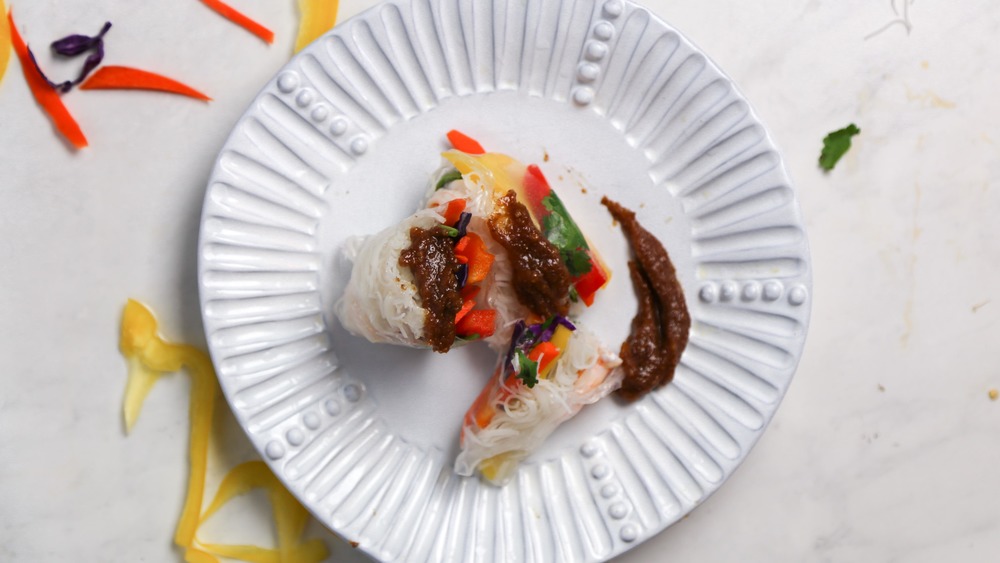 Maren Epstein/Mashed
The best time to enjoy these shrimp spring rolls is as soon as they're finished. While the sauce can be prepped and made beforehand, the shrimp rolls themselves have a more specific timeline for optimal flavor and texture. There are a number of reasons for this, the first being that produce like bell peppers and cabbage simply tastes better when it's freshly sliced. Giving cut produce too much time in the refrigerator will often leave it limp. It would be a shame to miss out on the vitamin C in bell peppers, too, simply because they've gone wilted and sad.
That said, there's nothing inherently wrong with saving a shrimp roll or two if you have leftovers. Just be sure you keep the rolls separate from moisture and other ingredients before sealing them in an airtight container.
"Of course this recipe tastes best when it's fresh so that the produce is still crisp," Epstein says, "but if you don't get the ingredients wet you can store them in the fridge for up to three days." 
If you have peanut sauce leftover, that's easy to store as well. Extra peanut sauce can be used for any other type of dish that could use a boost of a savory peanut and soy dipping sauce, like in marinades, on salads, or in sandwich wraps.
Easy Shrimp Roll Recipe
These easy shrimp spring rolls are light but rich in flavor. This recipe also includes a homemade peanut sauce that's perfect for your new favorite appetizer.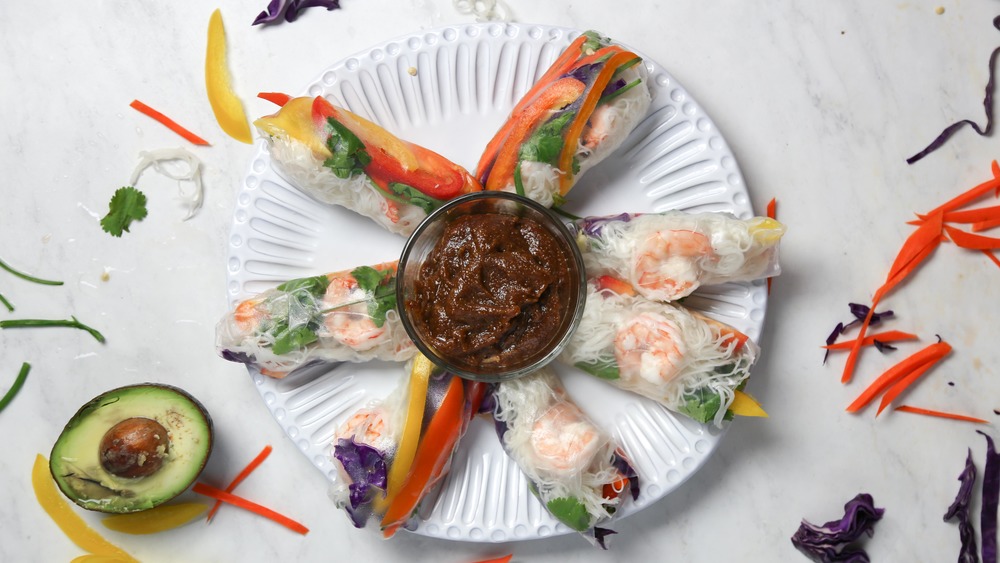 Ingredients
½ cup peanut butter
2 tablespoons soy sauce
¼ teaspoon minced jarred garlic
2 tablespoon honey
¼ teaspoon horseradish
1 tablespoon toasted sesame oil
8-10 rice paper wraps
2-3 bell peppers, thinly sliced
½ pound shrimp
1 bag of vermicelli noodles
⅓ cup chives
1 red cabbage, thinly sliced
⅓ cup fresh cilantro
½ cup carrots, thinly sliced
Directions
Combine peanut butter, soy sauce, garlic, honey, horseradish, and toasted sesame oil in a small bowl or cup. Use a spoon or whisk to evenly combine ingredients.
Set two small pots of salted water to boil. Meanwhile, clean and devein the shrimp. Once boiling, place the shrimp into the water for 4 minutes. Strain and remove. Add noodles to the second pot and allow to boil for 2 minutes, then strain and remove the noodles.
Fill a bowl with warm water. Place a rice paper wrap into the bowl for 30 seconds or until it softens. Remove and allow the excess water to drip off. Place the wrap flat on the counter and load it with a few pieces of cabbage, bell peppers, noodles, chives, cilantro, carrots, and shrimp. Lift one side of the wrapper and fold it over the ingredients. Tuck in the corners as you roll.
Nutrition
| | |
| --- | --- |
| Calories per Serving | 171 |
| Total Fat | 8.4 g |
| Saturated Fat | 1.6 g |
| Trans Fat | 0.0 g |
| Cholesterol | 28.6 mg |
| | |
| --- | --- |
| Total Carbohydrates | 18.4 g |
| Dietary Fiber | 1.8 g |
| Total Sugars | 6.7 g |
| Sodium | 327.3 mg |
| Protein | 6.9 g |