The Bizarre Number Of Hell's Kitchen Contestants Who Have Spent Time In Jail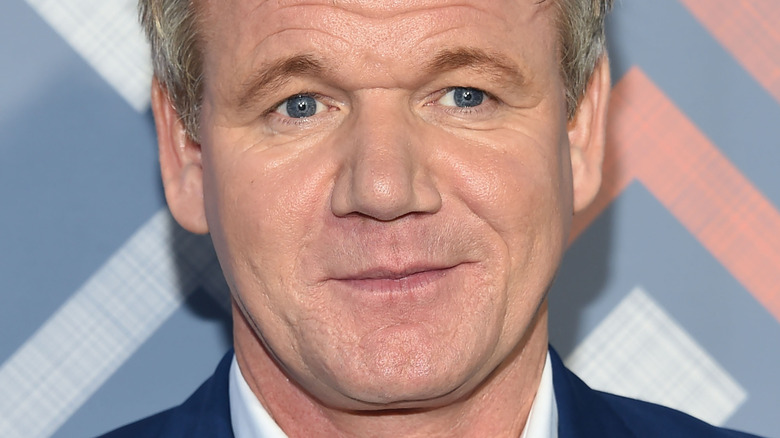 DFree/Shutterstock
Several reality television shows have witnessed their current or former cast members being hauled off to jail, but this shouldn't come as a huge surprise. After all, these are real people with character flaws, who, like many, can have a lapse in judgment and are not unlike those found in the never-been-in-front-of-the-camera general public. 
For instance, fans of "Dog the Bounty Hunter" are aware of Duane "Dog" Chapman's less-than-stellar past. Before entering the public eye, Chapman was charged with first-degree murder while driving the getaway car after his friend killed an alleged drug dealer during a cannabis purchase gone bad (via The Sun). He served 18 months. People magazine shares that Teresa and Joe Giudice of the "Real Housewives of New Jersey" were found guilty and imprisoned for bankruptcy fraud, shocking the franchise's watchers. "19 Kids and Counting" viewers looked on as Josh Duggar was convicted of possessing "material depicting child sexual abuse" and sentenced to over 12 years (per CheatSheet).
Yes, many reality TV series have been associated with convicted criminals, but it seems that "Hell's Kitchen" and Gordon Ramsay's band of wannabe head chefs have seen more than their fair share. The sheer number of past contestants that have spent time in prison will shock you.
A former contestant assaulted her boyfriend
Unless you're an avid follower of "Hell's Kitchen's" contestants and where they are now, you will likely be surprised to learn that some very familiar faces have had brushes with the law. Sara Horowitz (above, left) was the fourth place finisher in season 2, but in 2013 she was arrested for assault and charged (via TMZ). Why? ABC's KVIA reports that during a fight with her boyfriend, she emptied a cooler filled with food all over the inside of the car, and punched and kicked him. As a result, he suffered scrapes and his glasses were broken. 
Season 6 winner, Dave Levey (above, right), was arrested in 2014 after being in a friend's car that contained a mélange of illegal substances including "heroin, hypodermic needles, prescription drugs, and other paraphernalia," (via NJ.com). He was charged with "being under the influence of a controlled substance" and given bail but was later found innocent. 
Garrett Telle placed fifth in season 2 but has been plagued with arrests. Hell's Kitchen Fandom shares that between 2012 and 2016, he has been arrested four times for driving without a valid driver's license. Season 5 winner, Danny Veltri, was charged with driving his Dodge Neon while seriously intoxicated. TMZ shared that his blood alcohol level was an astonishing .12. The runner-up for season 15, Kristin Barone, admits to also getting caught drinking and driving in her late teens (per Entrepreneurial Chef). That's not all. 
A contestant was charged with drug trafficking
Season 18's third-place finisher, Bret Hauser, was arrested for drug-related crimes following a police search of a Florida home in 2018. Hauser (above, left) told the Palm Beach Post, "I'm a cannabis user and everyone knows it. I am far from a drug trafficker." But with THC-infused candies and cookies weighing in at more than a kilogram, he was charged with a felony.  Michael Wray (above, right) was the very first winner of the inaugural season of "Hell's Kitchen." After a back injury left him addicted to opioids, he broke into a pharmacy with an ax and stole drugs. He, later, turned himself into the police and did a one-month stint in prison. Wray told BBC, "I felt I had to answer for my crime and make it right." 
The list goes on. Ben Caylor, the ninth-place finisher in the series' fourth season was arrested in 2019 for assaulting a woman (per Reality Revisited). And season 9 tenth-place contestant, the late Jonathon Plumley, was nabbed for "disorderly conduct and resisting arrest" in 2018. 
Yes, it seems that "Hell's Kitchen," the show that may have changed reality TV forever, has a knack for casting former or soon-to-be convicts. It's not uncommon for reality TV shows to see a few cast members go astray, but Ramsay's cooking contest has an unusually large number. Perhaps, this adds to the drama — something that is never in short supply on this long-running show — keeping fans coming back for more.