Here's Where Chick-Fil-A Keeps Its Chicken Sandwich Recipe
Americans love Chick-fil-A. According to the 2022 American Customer Satisfaction Index survey, Chick-fil-A was the winner of America's favorite fast food chain for the eighth consecutive year. And while there are plenty of Chick-fil-A hacks and secret menu items, its classic chicken sandwich remains the most popular sandwich, according to Chick-fil-A.
Many people have speculated about the ingredients in the chicken sandwich, wondering what makes it so delicious. According to the company's website, the start of a good sandwich has to do with choosing the best chicken. The chickens are raised cage-free and the chicken breasts have "never been separated or ground." The chickens are also claimed to be free from antibiotics or added steroids.
Some fans have speculated that the secret ingredient in the fried chicken is pickle juice. According to The Kitchn, pickle juice is great at tenderizing meat that can easily dry out. However, in 2019, Lifehacker debunked that myth, claiming that Chick-fil-A's secret ingredient is actually MSG.
With all the speculation, it's comforting to know that the original recipe is still used, although it is kept under tight security.
The secret recipe is kept in a safe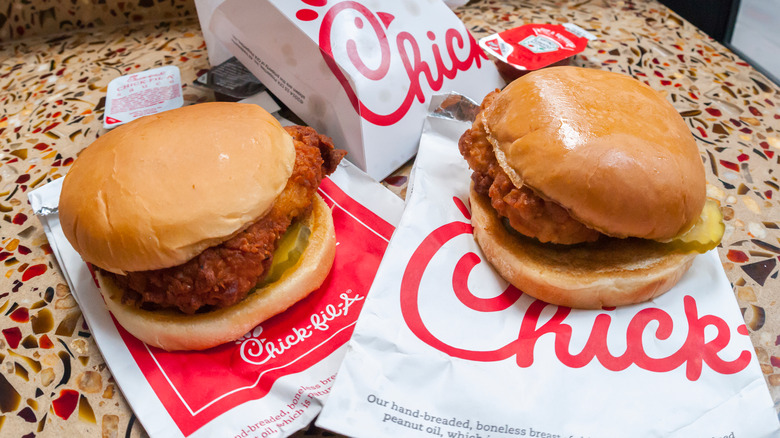 rblfmr/Shutterstock
Chick-fil-A means business when it comes to protecting its secret recipes. Truett Cathy's original recipe is hidden in a safe at Chick-fil-A's home office in Atlanta, Georgia. Loyal fans can attend a backstage tour to see Truett's office and learn about the history and core values of the company. Visitors can book a deluxe tour and even get a peek inside the test kitchen to see potential future menu items.
In a 2018 Facebook post, Chick-fil-A announced the location of the secret recipe and also confirmed that "The recipe has not changed in 50 years." The fast food chicken chain does post the ingredients for its chicken sandwiches on its website and while there's an extensive list of seasonings, it would be virtually impossible to perfectly recreate it without Truett's original measurements and recipe.
If you want to try some Chick-fil-A delicacies in your home, we've got you covered with our copycat spicy chicken sandwich recipe and copycat chicken strips recipe. These will get you pretty close to the taste of these chain favorites.