How To Take Your Margarita's Salted Rim To The Next Level, According To Martha Stewart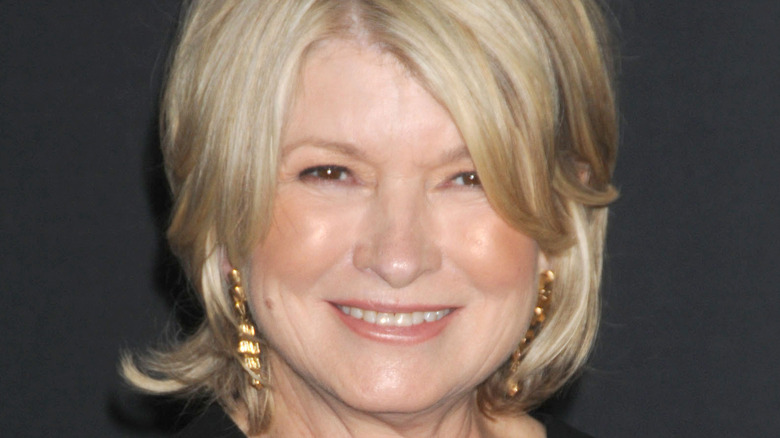 Featureflash Photo Agency/Shutterstock
Creating a great cocktail is all about balance, according to Popular Mechanics. And an important factor in creating that balance starts with the rim of the glass you will be serving your drink in. Thrillist spoke to Aviram Turgeman, a beverage director for the Chef Driven Restaurant Group in New York, who explained the rim of a cocktail can appeal to our senses, heightening our sight, smell, and taste of the drink. 
Of course, we consulted the website of the O.G. of cocktails who gave us the Martha-Rita, and according to the Domestic Goddess, rimming your cocktail glass with salt is truly an art that involves juice, salt, and a little creativity if you want to take your margarita cocktail recipe to the next level.
We don't know about you, but a classic margarita is like chicken noodle soup for the soul, only it's made with tequila, triple sec, and lime. So, what's the abracadabra magic incantation you need to mutter to make the rim of your margarita speak to your gastronomic senses as you sip? As Martha Stewart reveals, once you get the basics down, it might be easier than you think regardless if you are making your margarita frozen or on the rocks.
Blend your salt with spices and edible flowers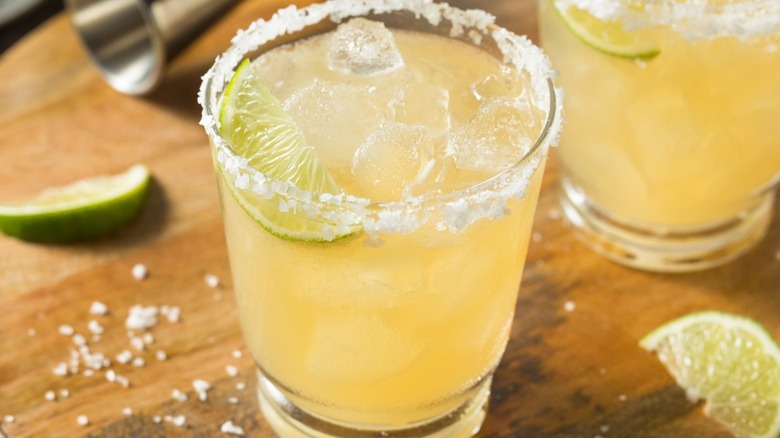 apolonia/Shutterstock
Per Martha Stewart, rimming a margarita glass starts with juice. The site explains that it can be any citrus with lime and lemon being the most popular. However, Stewart notes you shouldn't limit yourself because orange and grapefruit can also help form the sticky surface for your salt and spices while changing both the taste and what your drink looks like. But she also reveals that if you want something that will truly mesmerize the drinker, try pomegranate juice as your base.
Next up is the salt and when it comes to this savory ingredient, Stewart explains that it offsets the citrus flavor, and according to Mixly, the general consensus is you want to use Kosher sea salt or Pink Himalayan salt. But the celebrity chef suggests trying Maldon salt which not only tastes good, it looks good, too. She also shares that if you want to really up the taste, consider chopping up some rosemary, zest from a citrus fruit, edible flowers, sumac, or something spicy. In fact, per Thrillist, one restaurant manager recommends using Japanese spice togarashi, which is a blend of "chili pepper, ground sansho, roasted orange peel, black and sesame seeds, hemp seed, ground ginger, and nori," to rim your margarita glass.
Any of these suggestions will take your margarita to the next level, although we can't promise the accompanying grandeur of the Martha-Rita.