Reddit Is Confused By Starbucks' Drive-Thru Window Sill 'Rules'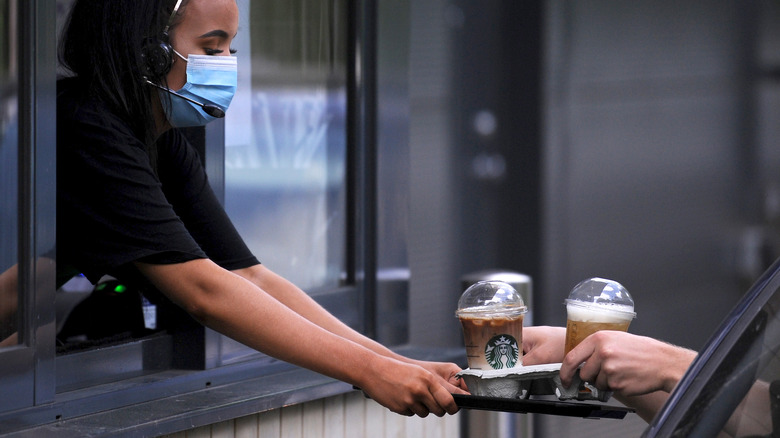 Alex Burstow/Getty Images
From their iconic Frappuccinos to seasonal offerings like their pumpkin spice latte and Irish cream cold brew, Starbucks is the most popular coffee shop in the world (per Business Wire). With more than 33,000 stores operating worldwide, the wildly-successful franchise is fueled by fans from all walks of life. When Starbucks enthusiasts aren't waiting in line for their morning lattes and sous vide egg bites, they can engage in all things Starbucks discourse on Reddit.
With 229,000 members ranging from Starbucks employees to everyday coffee addicts, the Reddit thread is dedicated to dissecting new menu additions, sharing memes, and offering advice to aspiring baristas. While much of the discourse is lighthearted, members of the group don't hold back when it comes to critiquing the popular coffee retailer. One Reddit user took to the forum to share concerns about the company's tipping policy. The post included a photo of a Starbucks drive-thru window lined with branded to-go mugs, tumblers, and water bottles. While it's a solid marketing tactic to boost merchandise sales, the post bashes Starbucks for a certain store's policy that doesn't allow tip jars in the drive-thru window.
Some Reddit users argue that drive-thru tip jars may be stolen
In a Reddit post questioning Starbucks' window sill rules around tip jars, showing cups lined up in a drive-thru window, the poster included the caption, "No tip jars allowed outside but we can have cups lined out?" According to Indeed, the average hourly income for a Starbucks barista in the United States is $14.25 an hour. But like anyone, the original poster is eager to make more money while on the clock. However, many comments on the thread were critical of the original post, arguing that the store's policy was likely implemented as an anti-theft protocol. One comment read, "last time we did that our tips got stolen so we stopped" and another person added that it's, "better cups than the tips, we don't get paid from the cups!"
While Starbucks employees are not prohibited from accepting tips, it's ultimately up to the store manager to determine where exactly tip jars are placed within the store. Although you may or may not be able to leave a dollar for your barista at the drive-thru window, tipping will soon become easier at Starbucks. Quartz reports that patrons will be able to leave tips on debit and credit transactions by late 2022.