Big Changes Are Coming To Starbucks' Famous Cups
Starbucks fans have long been passionate about the coffee juggernaut's iconic cups, from festive red holiday cups to reusable Valentine's tumblers. And while the occasionally controversial cups have made headlines in the past, Starbucks' most recent announcement is guaranteed to change the company's cup culture forever.
According to CNBC, the world's largest coffee chain has unveiled ambitious plans to eventually eliminate the use of disposable plastic and paper cups in coffee shops worldwide by offering a more sustainable packaging option. The company, which currently utilizes around 7 billion disposable single-use cups every year, announced that it will begin running over 20 different tests in Starbucks locations around the world in order to determine the most effective method for eliminating the use of the disposable cups company-wide. 
The planned changes have the potential to massively reduce Starbucks' waste footprint; Currently, disposable cups and lids make up 40% of the chain's yearly packaging waste and 20% of its overall waste. The coffee chain recently announced that it has begun a 100% reusable cup program inside of its Seattle, Washington headquarters. Employees who order a drink from the in-house SODO 8 Starbucks cafe will be served drinks in reusable cups through the company's "Borrow-a-Cup" program or in their own reusable containers.
Starbucks is testing a 'Borrow-a-Cup' program at some locations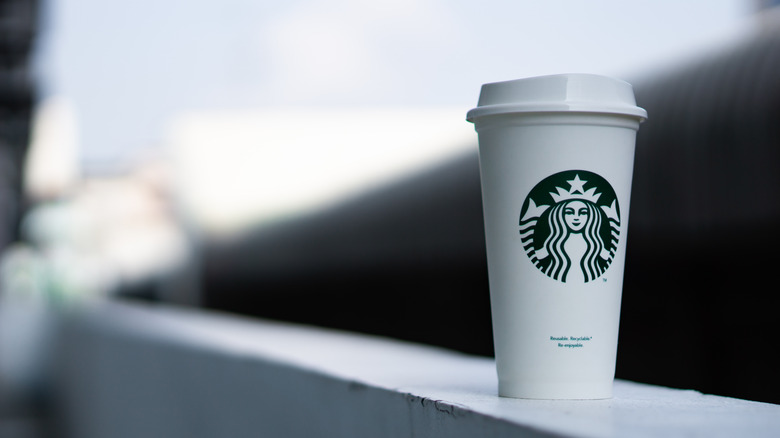 PETCHPIRUN/Shutterstock
According to Starbucks, the "Borrow a Cup" program, which debuted in 2021 and is currently being tested at a handful of Starbucks locations in London, Singapore, Japan, and Seattle, may eventually become available across the world. In the meantime, customers that bring their own clean reusable cups to Starbucks locations will continue to receive a 10 cent discount on their beverage, a long-standing policy that was temporarily put on hiatus for over a year during the peak of the COVID-19 pandemic (via USA Today).
The pilot "Borrow a Cup" program will be available for both hot and cold drinks in all three of Starbucks' signature sizes. Customers who order a drink at the SODO 8 cafe are served their beverage of choice in a reusable cup. When they're finished with their beverage, customers return the cup to one of multiple kiosks located throughout the corporation's headquarters. The reusable cups are then commercially washed and sanitized for re-use at the cafe. At the Singapore "Borrow a Cup" test location, customers have been asked to pay a deposit of $1 when they receive the cup, which is refunded when the reusable cup is returned (via CNBC). 
In addition to eliminating the use of single-use cups, the reusable cups, which are made from 100% recyclable materials, are formed from an innovative material that doesn't require a cardboard sleeve for hot beverages, which helps even more in reducing the chain's waste output. 
The elimination of cups is part of Starbucks' wider sustainability plans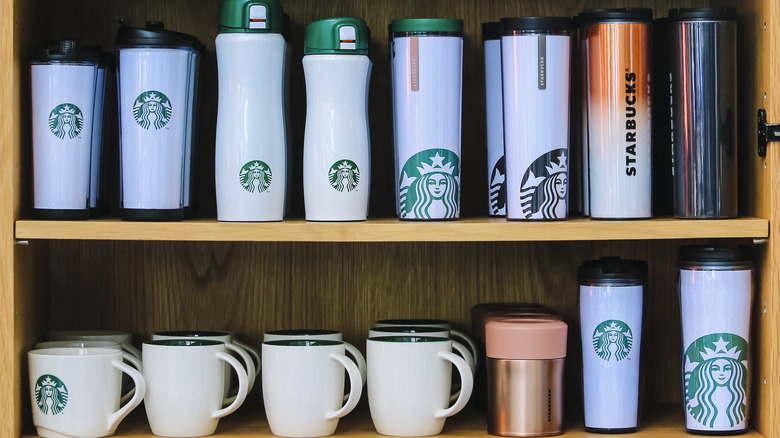 Abdul Razak Latif/Shutterstock
"We set a bold aspiration to become a resource positive company — to store more carbon than we emit, to eliminate waste, and to conserve and replenish more freshwater than we use," the company said in a press release. "Making it easier for customers to use reusable cups is one part of our plan to reduce single-use cup waste." 
"This [cup] is Starbucks' icon all around the world, and if we can replace this disposable cup, this symbol of waste, with this reusable [cup], we completely change people's mindset," Michael Kobori, Starbucks' chief sustainability officer, told CNBC. "At Starbucks, we can really set an example and change the whole industry."
While it's unclear if and when the "Borrow-a-Cup" program, or another test program altogether, will be expanded to Starbucks locations around the world, in the meantime the company has announced that customers will be able to use personal reusable cups for all orders (including the currently excluded drive-thru and mobile orders) placed at Starbucks cafes in Canada and the United States by the end of next year.