Cracker Barrel's New Fried Chicken Uses Three Different Kinds Of Ranch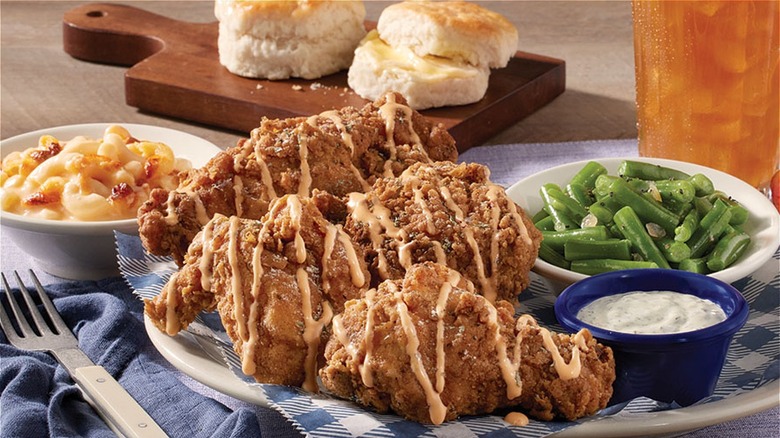 Cracker Barrel
Cracker Barrel, the homestyle restaurant chain dotting the interstate, has been a beacon for traveling families for over 50 years. With an old country store featuring vintage candy and toys from your grandparents' childhood, and a restaurant exuding Southern charm, every Cracker Barrel location feels like it was preserved in time. Meant to feel like your home-away-from-home, according to its founder Dan Evins, the chain prides itself on cooking from scratch and sourcing quality ingredients.
Found in 45 states, each of its 664 rocker-lined stores turns on its gas lamps promptly at 5 p.m., keeps the same peg game on each table, and lights its fireplaces at the first sign of Autumn, making sure there is consistency nationwide. The menu offers breakfast all day and is heavy on comfort foods. Cracker Barrel serves over 200 million biscuits annually and offers family-style fried chicken meals, mac 'n cheese, and its best-selling item, a hash brown casserole. According to Today, 90% of the ingredients used to prepare these dishes are sourced in the U.S.
Although the restaurant preserves a bygone era, it's trying to respond to new market demands. In 2021 the chain opened its first ghost kitchen in Los Angeles and launched its first virtual brand, "Chicken 'n Biscuits," responding to a post-pandemic shift in the restaurant industry. In a nation consumed with putting ranch on everything, Cracker Barrel has reacted to that too, upping the ante and using three different kinds of ranch dressing on its new fried chicken dish.
Ranch is everywhere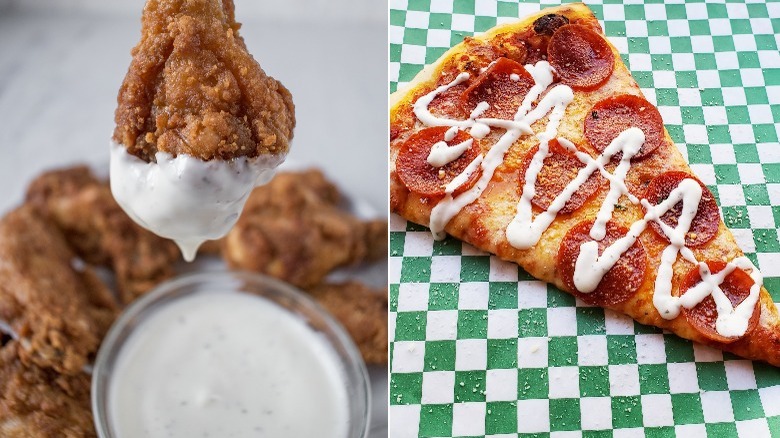 Sinclaire Adams & Lynne Ann Mitchell/Shutterstock
Cracker Barrel's Kick'n Ranch Fried Chicken is bone-in fried chicken seasoned with ranch, topped with buffalo ranch sauce, and served alongside a pickle ranch for dipping (plus two sides and a biscuit) for a hefty 1730 calories. It may sound like ranch overkill, but according to the New York Times, America's favorite salad dressing has been a hit since it was invented in the 1950s, reaching cult-like status when Doritos launched "Cool Ranch Doritos" in 1986.
In 1994, ranch dressing had another resurgence when Domino's began sending cups of the dressing with wing orders. The cooling effect of ranch dressing was matched with spicy buffalo wings, replacing blue cheese. Soon people were dipping pizza crust into the dressing, and although controversial ("It's a crime against nature," per food writer Ed Levine) a new group of ranch lovers was born. The rest of its rise in popularity can be attributed to the internet. With pop culture status, there are ranch memes, YouTube videos, a memorable Melissa McCarthy skit on SNL, and ranch fountains at weddings, replacing chocolate ones.
As Hidden Valley Ranch discovered, there are limitations to the iconic dressing. What started as a joke on Twitter – the company pitched Kellogg's a ranch-filled Pop-Tart — was rejected. Although relieved, it does leave us wondering what people will put ranch on next and whether restaurants will compete for how many different ways they can use it. Cracker Barrel has three; could there be a dish with four?