GBBO Fans On Reddit Can't Get Enough Of Noel Fielding's Cool Shirts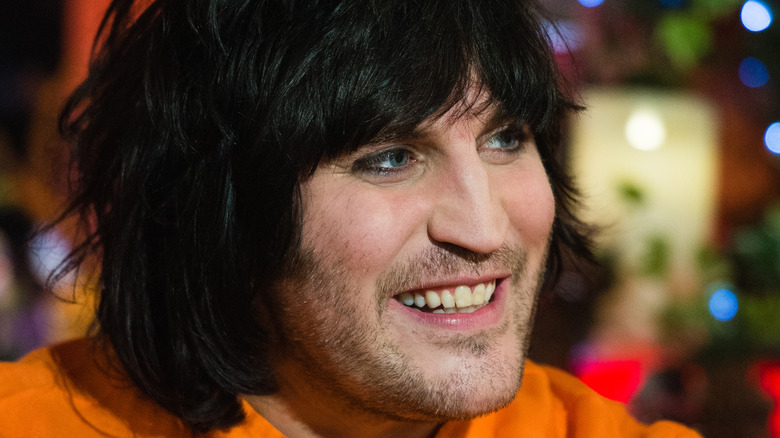 Jeff Spicer/Getty Images
"The Great British Bake Off" — which goes by a different name in the U.S. — features an eccentric co-host, Noel Fielding, who has worn many hats throughout his career as an actor, musician, comedian, artist, and now a father of two (per Fielding's official website). As one of the baking show's main faces, he also wears many unique and eye-catching outfits that have fans scouring the internet to figure out where to find these garments after every episode (via the U.S. Sun). Fielding's style can be best described as designer goth with a splash of vivid, artsy patterns that he always manages to pull off with ease, matching his quirky and charmingly weird personality perfectly.
When Fielding first accepted his role on "GBBO," viewers weren't quite sure what direction the show would go in based on his dark and absurd comedic style. However, he has no doubt been a breath of fresh air on the popular British baking program, entertaining audiences, and always keeping the bakers on their toes with his witty jokes and heartfelt words of encouragement. For his fans, it's always fun to see how the 49-year-old will showcase his style in each new episode. His coolness has erupted across the internet, and Reddit in particular seeks out help to determine how they can match Fielding's eccentric fashion sense with ease.
Where does Noel Fielding get his clothes?
In the search for where to get their hands on one of Noel Fielding's colorfully patterned shirts or wacky sweaters, a user created a Reddit thread where similarly minded individuals can look for Fielding's unique pieces. The original creator was looking for a particular sweater the "Mighty Boosh" star wore on an episode of "The Great British Bake Off." The post shows a photo of the comedian sporting a bright yellow sweater that features a simple graphic of a drum set and microphone on the front. Fellow Fielding admirers were quick to agree with his good taste, adding comments like, "Sick shirt. I want it too," and "I want the Noel with it."
A few users included helpful links to the sources and designers of each of Fielding's ensembles, which has been kindly compiled into an entire Instagram account dedicated solely to cataloging his fashion choices. His stylist, Ameena Kara Callender, features a highlight on her own Instagram account that displays some of her work with Fielding as well. One Redditor commented sincerely in the thread, "God I'd love to meet Noel. He's one of those guys that has influenced my life at different stages in different ways. Really seems like a good and fun bloke." The London native's bold and strange clothing choices are a testament to his authenticity, so it's no wonder fans have come to love him so much over the years.