Here's How Noel Fielding Got Involved With GBBO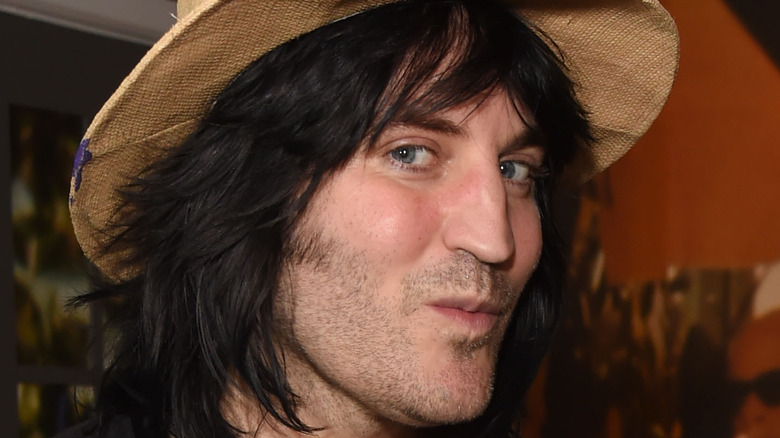 David M. Benett/Getty Images
As any longtime fan of "The Great British Bake Off" will know, the beloved U.K. show has gone through several hosts over the course of its 12 seasons on the air, as IMDb details. For the first few seasons, fans relished the dream team of Mel Giedroyc and Sue Perkins. Then, producers mixed things up and brought on a new comedy powerhouse duo, Noel Fielding and Sandi Toksvig in 2017. The latter eventually parted ways with the show in 2020 and comedian Matt Lucas was brought on to serve as Fielding's counterpart. However, some fans may be perplexed as to how the goth-inspired comedian ever ended up on the wholesome family baking show in the first place. It turns out that his path to baking superstardom is a little more rock and roll than you might expect.
As Digital Spy details, Fielding is friends with guitarist Serge Pizzorno of the band Kasabian, so when Pizzorno suggested that Fielding get a role on the show as a presenter, Fielding did a bit of binge-watching and discovered that he adored the baking-centric program. Recounting his first impressions, he said, "I just thought, this is such a nice vibe ... I was just a big fan."
Fielding ended up getting offered one of the co-presenting roles, and the rest, as they say, is history. He now brings his whimsical, slightly chaotic energy to the competition, week after week.
Fan reactions are mixed — but Fielding definitely gets attention
Noel Fielding seems to have become such a fixture on the show that his absence, even for a single episode, is noticed. In this past season, as Hello Magazine reported, many fans took to Twitter to share their concerns when Fielding was missing from a single episode due to feeling "under the weather," as co-presenter Matt Lucas revealed.
Fielding has received plenty of love online for everything from his use of silly sidekicks, such as the legendary Mr. Spatula, who has popped up on several episodes, to his choice of wild attire and attractiveness, with one Twitter user sharing a GIF from the show of the comedian and then co-presenter Toksvig moonwalking out of frame, writing "is it weird to have a crush on #noelfielding? Asking for me." However, that doesn't mean that Fielding is universally beloved. This past season, as Decider reported, some questioned whether his jokes in a certain caramel-filled episode got a little too cruel for the wholesome show.
Regardless, ever since snagging the presenter's spot thanks to the urging of his rock star pal, Fielding has delivered some major personality to the show and delighted many of the contestants with his bake-off tent antics. Fingers crossed that he'll carry on for seasons to come!