Jack In The Box Is About To Change In A Big Way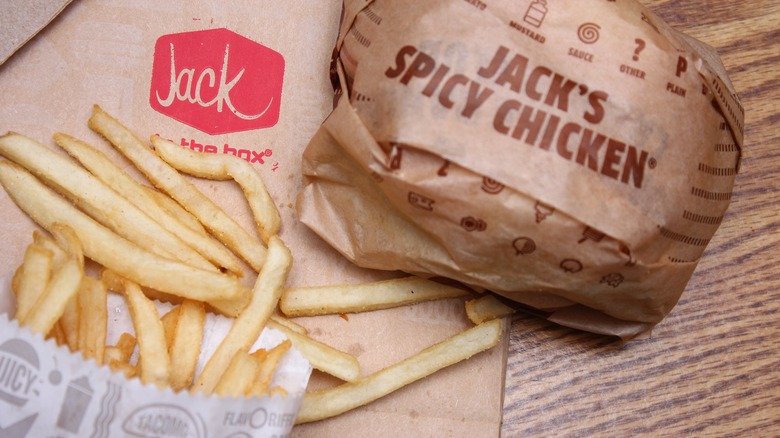 Birch Photographer/Shutterstock
Jack in the Box has always marketed itself as "different" from other fast food restaurants. The chain features a clown mascot in a similar style to McDonald's former mascot Ronald McDonald. However, "Jack" is more brash and spontaneous (for lack of a better word) than old Ronald was, as evidenced by some of the chain's more outrageous commercials (via Eat This, Not That). Jack in the Box also openly markets to those who enjoy recreational marijuana, such as offering a special "Merry Munchie Meal" promotion in 2017 to celebrate California legalizing cannabis (via Fortune). After all, what says California more than being stoned on a beach with a box of mini tacos?  
Even the chain's menu options seem to fly in the face of conventional fast food items, offering everything from cheeseburgers with grilled cheese in lieu of buns to egg rolls. Everything Jack in the Box does for consumers seems to try and prove that the company are the cool, hip uncle who lets you stay up late and eat burgers at midnight unlike the older, conservative fast-food restaurants. For what it's worth, it seems like the marketing tricks get results, since Jack in the Box has over 2,200 locations across the United States, and even one located in Guam (via Jack in the Box).
Jack in the Box's newest venture focuses on making sure the chain is keeping up with the times — although in a much more technological sense than any wild or zany marketing stunt has previously.
Jack in the Box is pushing for more technology-focused stores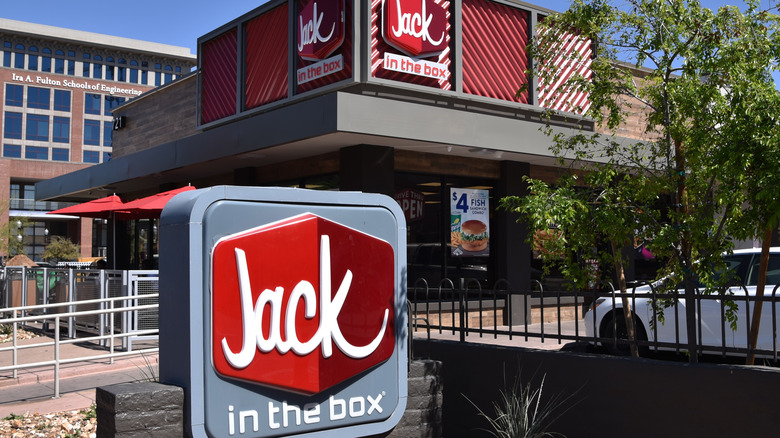 Thomas Trompeter/Shutterstock
According to Nation's Restaurant News, Jack in the Box is not only overhauling its entire color scheme and packaging design, but it's also introducing what the chain refers to as a "Crave store prototype." The "Crave model," in short terms, will combine the ease and convenience of the conventional drive-thru with technological innovations such as digital menus and express pickup options. Perhaps most interesting about Jack in the Box's plans for the future is that the chain plans to incorporate robots into its operations. This includes testing out a burger-flipping robot and an automated drink-dispensing machine. 
While the consequences of Jack in the Box's shift toward technological drive-thru models and automated convenience have yet to be seen, the chain seems to be taking a page from other sit-down restaurants that have begun to focus on drive-thru oriented operations. Applebee's, for example, has started to "aggressively lean" into drive-thru models compared to its post-pandemic focus on dining rooms and casual dining (via Forbes). Meanwhile, IHOP has plans to reintroduce "Flip'd," a fast-casual restaurant that offers quick take-along meals rather than full pancake platters (via Restaurant Business Online). 
As many restaurants, both fast-food and sit-down, begin to focus on fast-casual models, Jack in the Box seems to be staying ahead of the game. The restaurant chain is no stranger to revolutionizing the fast-food industry, so perhaps this overhaul may work out in the long run.