Here's How Jack In The Box Revolutionized The Fast Food Drive-Thru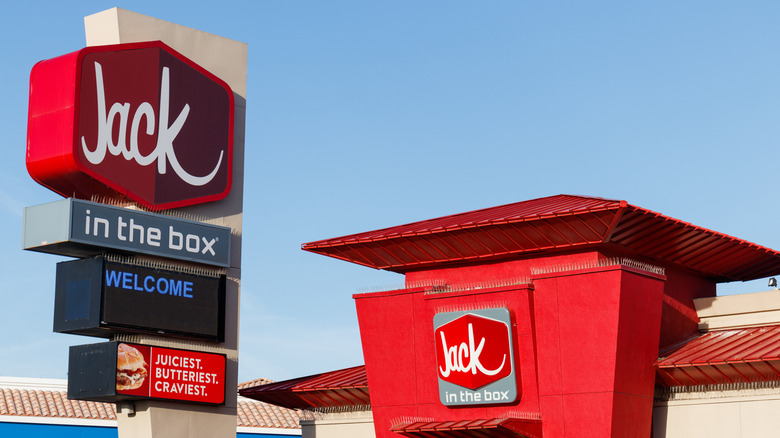 Shutterstock
Drive-thrus were the fast food industry's secret weapon during the pandemic, allowing quick service chains to continue operating even as mandatory closures brought many full service and fast casual restaurants to a halt (via CNBC). It is worthwhile, then, to take a moment to look back at the fast food drive-thru's history. It all began in 1951 with a burger shack on El Cajon Boulevard in San Diego, California, going by the name of Jack in the Box.
Funnily enough, "Jack in the Box" wasn't even the restaurant's original name: for 10 years it had been "Topsy's Drive-In," a link in a popular San Diego chain of drive-in restaurants. As The Daily Meal tells us, Topsy's was owned by Robert Oscar Peterson, who founded the chain in 1941 as the drive-in model was becoming more common, per History. The drive-in restaurant was succeeding due to its affordability and convenience: by offering off-premises dining and cutting staff counts, it generally lowered restaurant expenses and increased profits. The drive-in restaurant phenomenon reached its Golden Age (and most recognizable form) in the 1950s, with famous locations like Mel's Drive In and Bob's Big Boy using roller-skating carhops (via CNN).
Beyond the drive-in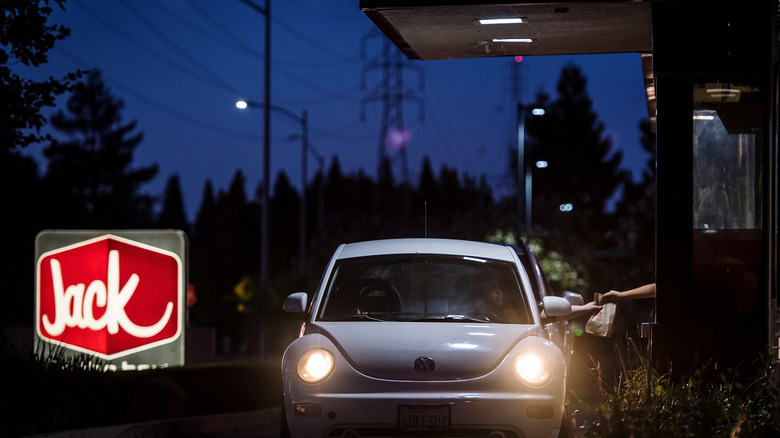 Bloomberg/Getty Images
Drive-ins and roller skates were big in the '50s, but Peterson was onto something bigger. As The Daily Meal recounts, in 1951 Peterson converted his El Cajon Topsy's location into a new, drive-thru-focused burger restaurant which, through the ingenious use of a two-way intercom, offered superior delivery times. Properly speaking, neither the drive-thru concept nor the use of an intercom in fast food sales were original to Jack in the Box. According to History, the title of "first drive-thru restaurant" actually belongs to In-N-Out Burger, which had implemented the model as early as 1948. The intercom, meanwhile, was first used in an Anchorage, Alaska restaurant. Peterson's lasting contribution to the quick service industry was to –– apparently for the first time –– equip the drive-thru model with the two-way intercom, allowing orders to be placed well in advance of the customer's arrival at the drive-thru window. The quick fix sped up service time considerably, and is now an industry standard.
Next time you're stuck in the drive-thru line, then, spare a thought for Oscar Peterson and his inspired idea. Despite its occasional inefficiency, the drive-thru can be, in many ways, an exhilarating experience –– and we have Jack in the Box to thank for that.