The Real Reason It's So Cheap To Open A Chick-Fil-A Location
With a total number of 2,732 stores in 2021, Chick-fil-A came in third place in the top 50 fast food restaurants of the same year, according to QSR. The fast food chain made about $16.7 billion in sales last year, and out of all of its stores, only 82 are corporate, and a whopping 2,650 are franchised locations. The franchise fee to open a Chick-fil-A location is only $10,000, which is really cheap compared to other popular fast food options. It costs $50,000 to franchise a Wendy's, $45,000 to franchise a McDonald's, and $50,000 to franchise a Burger King.
Keep in mind that the fees for Wendy's, McDonald's, and Burger King are just initial franchise fees. You'll also need to account for startup costs and ensure your liquid assets and net worth are well into six figures. However, Chick-fil-A takes care of everything for you, including acquiring land, building, and furnishing the restaurant, via Business Insider. Let's see why it's so cheap to open a Chick-fil-A location.
Chick-fil-A has a very in-depth franchisee selection process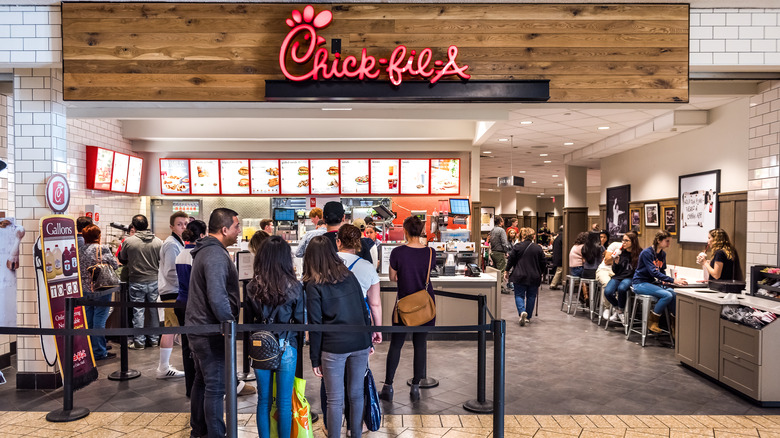 Andriy Blokhin/Shutterstock
Chick-fil-A selects franchisees who "show evidence of personal financial integrity and stewardship, proven business leadership and business acumen, an entrepreneurial spirit, a growth mindset, and strong character." To start the process, hopeful franchisees must enter their email address on the website's franchise page. If they are selected to move forward, the company will request a few more applications to be filled out regarding personal finances, leadership, community service, work experience, and education.
Once those applications are completed, potential franchisees must complete an online assessment and attend virtual and in-person meetings. Finally, once a lucky franchisee is selected, Chick-fil-A will provide several weeks of training. The whole process could take anywhere from one to two years. Per Chick-fil-A, "Franchising is not an opportunity for passive financial investment, working from the sidelines, or adding to a portfolio of business ventures. This business opportunity is a hands-on, life investment."
Business Insider interviewed Chick-fil-A spokesperson Amanda Hannah, who said, "The barrier to entry for being a franchisee is never going to be money. We seek to find the very best business partners who find great joy in making other people's days." Hannah also revealed that franchisees are not allowed to have more than one store, and this is to make sure they can devote all of their time and provide the best service possible to their store. Hannah also mentioned that out of approximately 20,000 applications a year, a mere 75 franchisee hopefuls get selected.