Bobby Flay's 'Favorite Day' On Bobby & Sophie Is Too Wholesome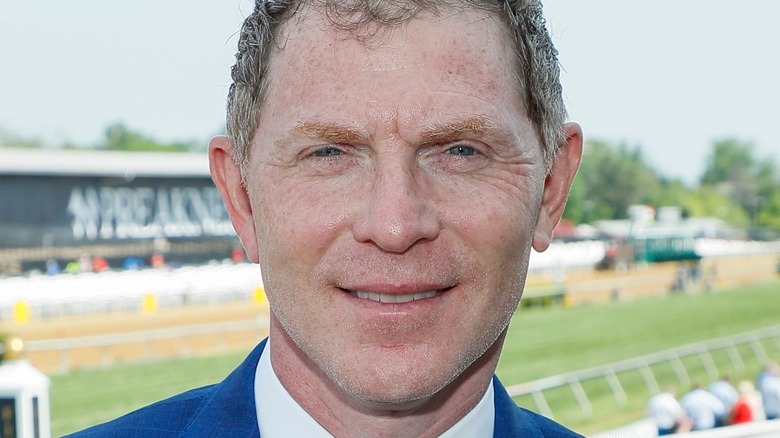 Paul Morigi/Getty Images
There are a couple of things we can confidently say about Bobby Flay. He loves his daughter Sophie. The two apparently get along so well that they've even begun to collaborate on entertainment projects, including their new show "Bobby And Sophie On The Coast." He's a fan of horse racing (via America's Best Racing), loves Southwestern flavors and Italian food (via Wonderwall), and he's a big cat person.
Flay has two Maine coon cats, Nacho and Stella. He's a committed cat dad, often sharing pictures of his feline friends on his Instagram page, and in 2021 he even announced a new project inspired by his cat Nacho: a line of cat food, called Made By Nacho. Apparently, the reason Flay loves cats so much is that there were always cats around him when he was growing up, and he developed a lifelong bond with felines as a result of that early exposure (via People). But Flay doesn't just love his own two cats, as fans of the chef may have recently seen in the first episode of "Bobby And Sophie On The Coast."
Flay loved visiting a cat cafe
The premise of "Bobby And Sophie On The Coast" is that Bobby Flay's daughter Sophie is showing her New Yorker father around the West Coast, where she's been living for years. Part of the food tour Sophie takes Bobby on in the first episode of the show includes a trip to a special kind of cafe (via Discovery+). And though America's first cannabis cafe is located in California, the cafe Bobby and Sophie go to is special in a different kind of way — it's full of cats.
Sophie brings Bobby to Crumbs & Whiskers, a cafe full of rescue cats that can be played with. Proceeds from sales at the cafe go toward covering adoption costs for the felines. As soon as Flay walks in, he says, "This is like my favorite day of the year." The father-daughter duo sits on the ground with pink shoe coverings on, sipping cappuccinos and playing with the cats. "Cats know when you're a cat person," says Flay, saying he was "raised by cats." Meanwhile, Sophie, surrounded by cats, asks, "Am I the cat whisperer?" Fans seemed smitten by the scene. "There is nothing more adorable than watching Bobby play with rescue cats," one fan shared on Twitter. Let's just hope Nacho and Stella didn't get too jealous watching the show at home!