Nico Norena's Creamy Tiramisu Pie Recipe - Exclusive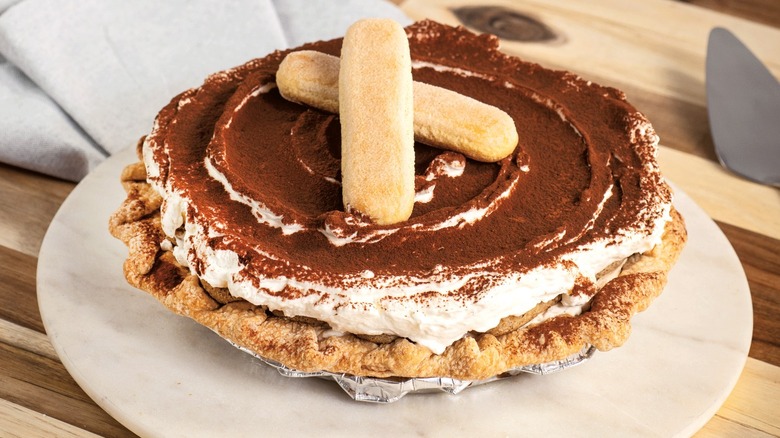 Anthony Nader
We may receive a commission on purchases made from links.
American playwright David Mamet wrote that "stress cannot exist in the presence of a pie." In this case, we'd argue, even the idea of one of Nico Norena's creations goes a long way towards assuaging any of the day's scrapes and bruises. If you're the kind of foodie who peaks into Instagram's cafe windows — scrolling to find your next sweet fix — you've likely hit upon Nico Norena's ambrosial profile before.
Now that he has curated a selection of his favorite pies, cookies, cakes, brownies, and ice creams for his first-ever cookbook, you can invite some of that energy into your kitchen. But there's no need to wait for your copy of "The Succulent Bite: 60+ Easy Recipes for Over-the-Top Desserts" to unwind over one of Norena's sweet treats; the food influencer shared his "Creamy Tiramisu Pie" recipe exclusively with Mashed. Happy baking!
Reprinted with permission from "The Succulent Bite" by Nico Norena. Page Street Publishing Co. 2022.
You can order Nico Norena's first cookbook, "The Succulent Bite: 60+ Easy Recipes for Over-the-Top Desserts," here. Make sure to follow Nico on Instagram & TikTok for daily content fixes and recipe inspiration.
Nico Norena's Creamy Tiramisu Pie Recipe - Exclusive
Bored of eating the same old tiramisu? Turn it into pie! This recipe is composed of a flaky pie crust, layers of velvety cream, and espresso-soaked ladyfingers.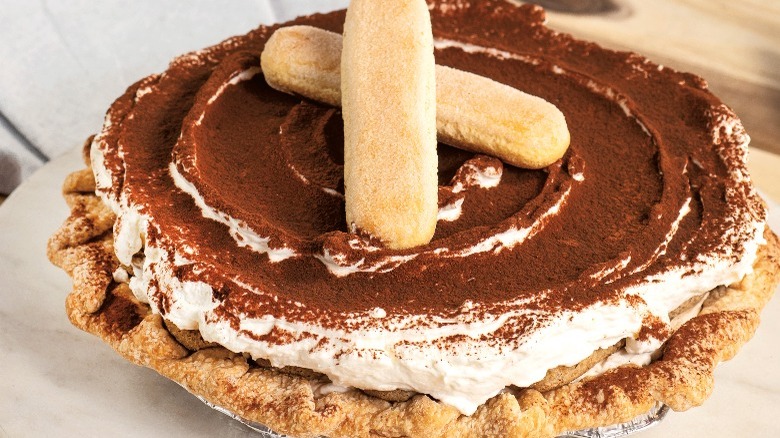 Total time: 3 hours, 25 minutes
Ingredients
1 pre-made pie crust
1 tablespoon (14 grams) unsalted butter, melted
½ cup (100 grams) plus 1 tablespoon (15 grams) white granulated sugar, divided
2 cups (480 milliliters) heavy cream
3 tablespoons (45 milliliters) vanilla extract
8 ounces (226 grams) mascarpone cheese
1 ½ cups (360 milliliters) espresso, cold
15 ladyfinger cookies, plus more for garnish
5 tablespoons (25 grams) unsweetened cocoa powder
Directions
Preheat the oven to 375 F.
Stretch the pie crust across a 9-inch pie pan, gently folding in the corners, and coat the crust with butter and 1 tablespoon sugar. Bake using pie weights in the center for about 10 minutes, then let cool completely.
To make the filling, in a large bowl, whip the heavy cream, remaining sugar, vanilla, and mascarpone until peaks form. In a small bowl, add the espresso and dip each ladyfinger into it quickly. Place a layer of the soaked cookies in the cooled pie crust. Dollop the cream mixture on top of the ladyfingers. Continue to layer the cookies and cream until you've used all the prepared ingredients.
Refrigerate the pie for 3 hours. Just before serving, dust the top of the pie with cocoa powder and top with extra ladyfinger cookies.
Nutrition
| | |
| --- | --- |
| Calories per Serving | 897 |
| Total Fat | 66.4 g |
| Saturated Fat | 36.7 g |
| Trans Fat | 0.1 g |
| Cholesterol | 185.0 mg |
| | |
| --- | --- |
| Total Carbohydrates | 70.0 g |
| Dietary Fiber | 2.2 g |
| Total Sugars | 23.5 g |
| Sodium | 471.5 mg |
| Protein | 8.2 g |