Original Paper Plane Cocktail Recipe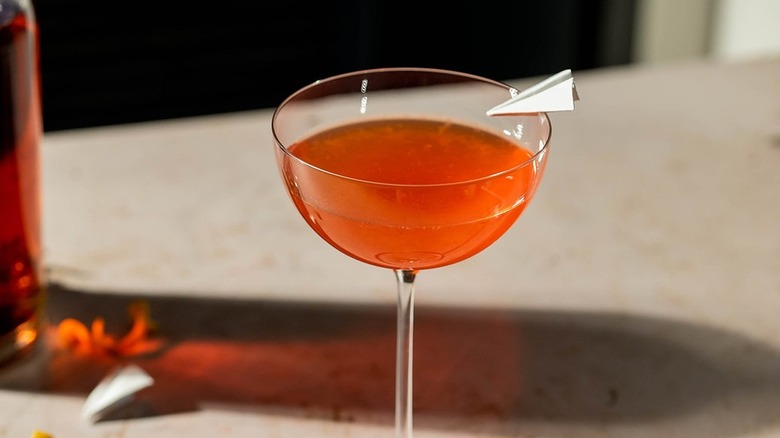 Michelle McGlinn/Mashed
If you like a cocktail that's "sour, sweet, and deeply bourbony," and even comes with an adorable little paper plane garnish, then you'll want to try this original Paper Plane cocktail, courtesy of recipe developer Michelle McGlinn. "The creator of this cocktail was apparently creating a riff on the Last Word, so I was expecting a very different cocktail," she explains, noting that the Last Word cocktail uses both green chartreuse and gin, making it "very herbal." 
So, if they have different flavor profiles, what makes the modern Paper Plane cocktail similar to the old-school Last Word? "While the two cocktails differ tremendously, the riff comes from their ratios: 1:1:1:1," McGlinn explains. Each cocktail utilizes three types of liquor and citrus in equal parts, enabling both to "deliver a delicate balance between sour, sweet, and bitter flavors." The Last Word is gin-forward, whereas the Paper Plane is bourbon-forward — but both strike a wonderful flavor balance, and if you're a fan of the former, then it's definitely worth giving the latter a try. McGlinn also describes the Paper Plane as being "similar to a whiskey sour but more sophisticated," so if you're looking to switch things up from a classic, you can't go wrong with this inventive new cocktail. 
Gather the right ingredients to make a Paper Plane cocktail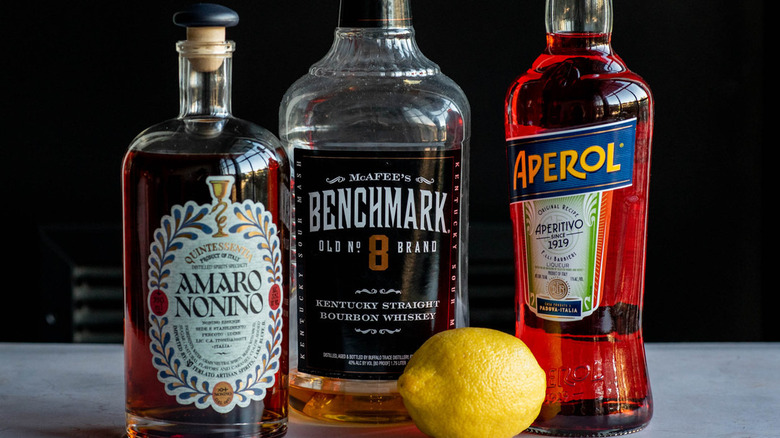 Michelle McGlinn/Mashed
Like McGlinn explained, there's a 1:1:1:1 ratio in the recipe, meaning that you'll need four ingredients to make it: bourbon, Aperol, Amaro Nonino, and fresh lemon juice. "Amaro Nonino is the bitter element of a Paper Plane and is a unique, richly delicious liquor," McGlinn explains. "It smells a bit like orangey triple sec, but with an undertone of warm vanilla and honey. Plus, it comes in a beautiful bottle!"
Shake up the ingredients in a cocktail shaker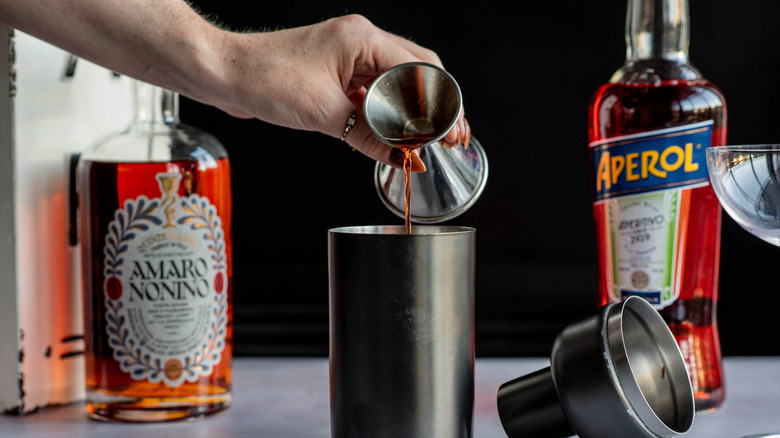 Michelle McGlinn/Mashed
Get out your trust cocktail shaker and add in equal parts (¾ ounces each) of the bourbon, Aperol, Amaro Nonino, and fresh lemon juice. Also, add two medium-sized ice cubes into the shaker, cover, and shake it all up until the liquid is nice and chilled. Then, strain (or even better yet, fine strain) the cocktail into a coupe glass. "I highly recommend fine straining AKA double straining because I found a lot of lemon seeds and bits slipped into the cocktail," McGlinn explains. 
Serve your Paper Plane with a little paper plane garnish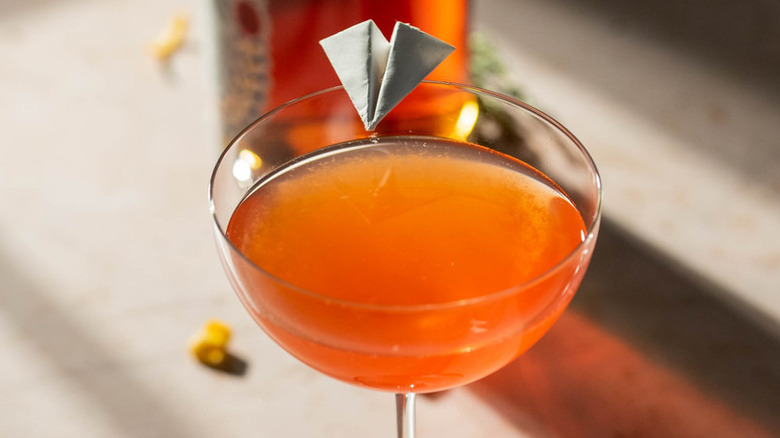 Michelle McGlinn/Mashed
Once you've strained the cocktail into a coupe glass, you can garnish it not with an orange peel, not with a cherry, but with a little folded paper plane. Hey, it is called a Paper Plane cocktail after all — just be sure not to accidentally eat it. All that's left to do is sip away and enjoy the refreshing flavors. "This recipe is expensive, but super simple to put together," McGlinn adds as a final note. So, if you're looking for an impressive cocktail to treat yourself with, the original Paper Plane will definitely do the trick. 
Potential ingredient substitution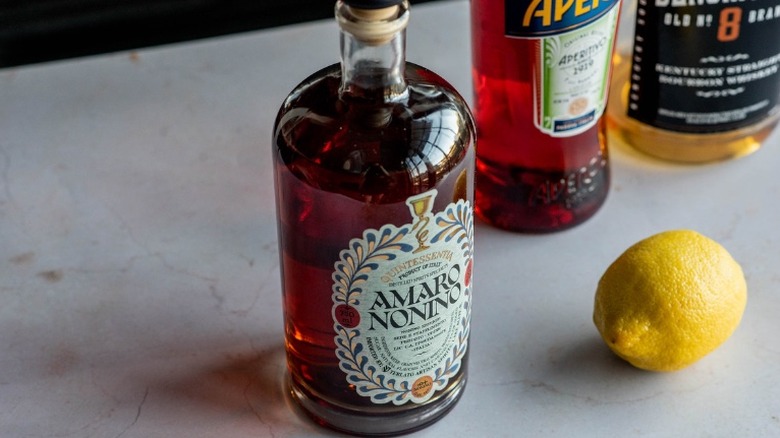 McGlinn strongly encourages the use of Amaro Nonino specifically, but if you aren't able to find it and have to seek out a different amaro, she suggests using Montenegro Amaro or Vecchio Amaro del Capo — the former being more bitter and the latter being more herbal in flavor. While this may affect the taste of your cocktail a little bit, the main notes of the beverage will remain the same.
Original Paper Plane Cocktail Recipe
Learn how to make this inventive cocktail with a flavor that balances between sweet, sour, and bitter that's sure to bring your party to new heights.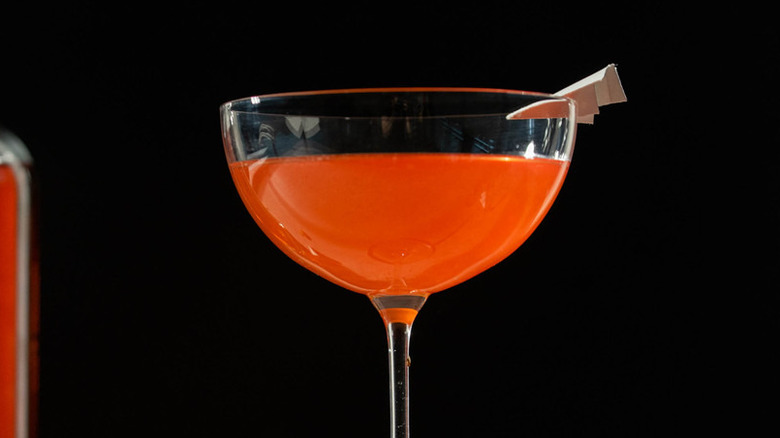 Ingredients
¾ ounces bourbon
¾ ounces Aperol
¾ ounces Amaro liqueur
¾ ounces fresh lemon juice
Directions
Combine all ingredients in a cocktail shaker with 2 medium ice cubes. Cover and shake until just chilled, about 15 seconds.
Strain into a coupe glass and garnish with a folded paper plane. For best results, fine strain to avoid any lemon seeds getting into the cocktail.
Nutrition
| | |
| --- | --- |
| Calories per Serving | 146 |
| Total Fat | 0.1 g |
| Saturated Fat | 0.0 g |
| Trans Fat | 0.0 g |
| Cholesterol | 0.0 mg |
| | |
| --- | --- |
| Total Carbohydrates | 12.0 g |
| Dietary Fiber | 0.1 g |
| Total Sugars | 8.9 g |
| Sodium | 3.0 mg |
| Protein | 0.1 g |