The Best Instant Pots Of 2022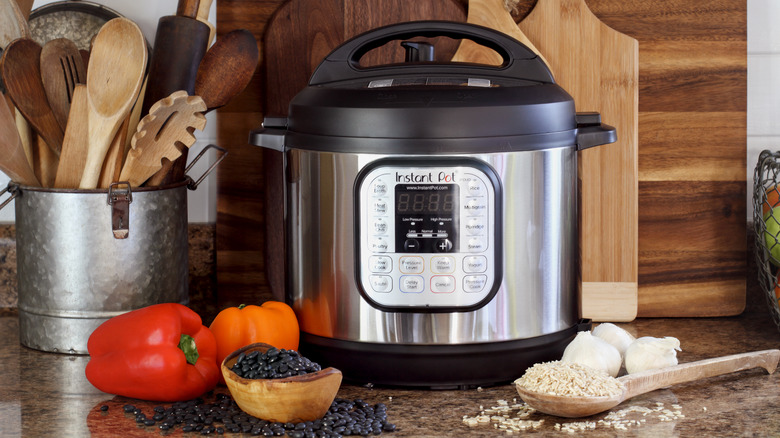 Stephanie Frey/Shutterstock
We may receive a commission on purchases made from links.
Ah, the Instant Pot, perhaps one of the most convenient and beloved gadgets to hit kitchens during our lifetimes. Combining all the benefits of a slow cooker, pressure cooker, air fryer, and oven into a single device, there's no doubt that the Instant Pot has revolutionized the cooking process. In fact, electric pressure cookers are one of the most popular items in the kitchen appliance market, with sales growing at an impressive pace (via New York Times).
The main advantage of an Instant Pot is the abundance of different features that it offers. The ability to efficiently pressure cook food or air fry it to crispy perfection in mere minutes is nothing short of life-changing. Digital interfaces with one-touch cooking programs along with WiFi connectivity have made cooking with an Instant Pot even more user-friendly. Some models offer up to 11 different cooking functions with a capacity of anywhere from three to 10 quarts. The bottom line? Instant Pots offer an unmatched number of options bound to make your life easier in the kitchen.
How we selected products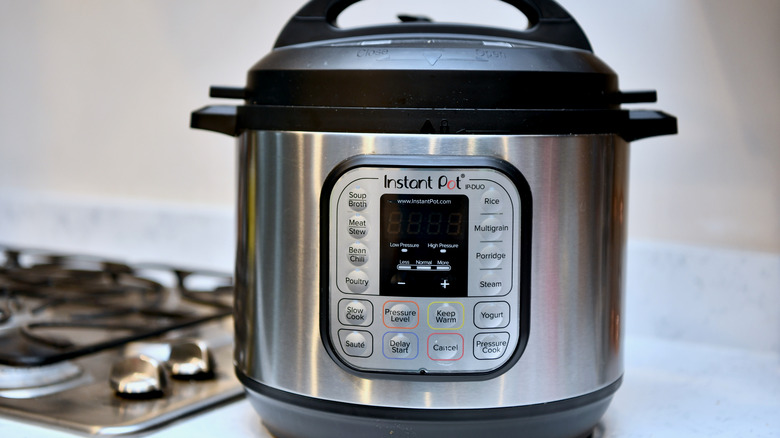 Jeramey Lende/Shutterstock
In order to provide you with the best possible collection of Instant Pots on the market right now, we took many different factors into consideration. For starters, we carefully evaluated customer reviews of verified purchases. We also looked at a wide range of high-quality options and sought out models that offer something unique, whether it's an exceptionally helpful program function or a special design feature.
Another crucial element was affordability. In order to make sure that there is an Instant Pot model on this list that's accessible to everyone, we provided options for a wide range of budgets. While the price tags on these models fluctuate considerably depending on their features and capacities, you can rest easy knowing that each one offers a high value for its cost. Whether you're looking for a smaller, simple unit or a bigger model with all the bells and whistles, we've got you covered. Here are the best Instant Pots of 2022.
Best overall Instant Pot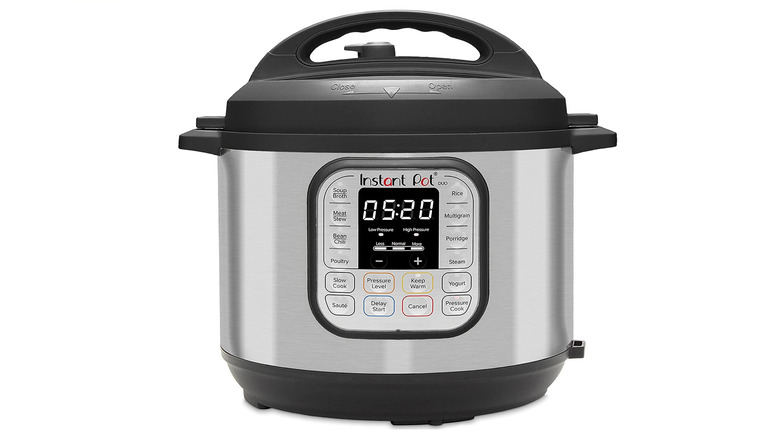 Instant Pot
Are you looking for an Instant Pot that checks all of the boxes? This model might be just what you're looking for. With seven different functions and a 6-quart capacity, this Instant Pot model offers a variety of cooking programs and plenty of space to whip up a generous batch of whatever's for dinner.
This model can function as a pressure cooker, slow cooker, rice cooker, yogurt maker, steamer, saute pan, and a food warmer. That may sound a little intimidating, but switching between these different settings is a breeze thanks to this machine's one-touch buttons and easy-to-use interface. Even better, the settings are programmable, so you can easily customize the finer details of timing and temperature. Made with durable stainless steel and designed to cook up to six servings at a time, this Instant Pot is a great choice for anyone with a family to feed or who's looking to prepare meals ahead of time. This Instant Pot model strikes the perfect balance between performance and price.
You can buy the 6-quart Instant Pot Duo on Amazon for $100.
Best budget Instant Pot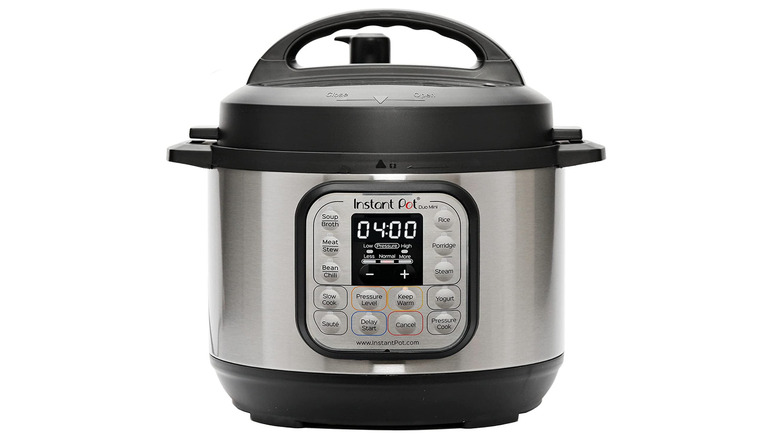 Instant Pot
Updating your kitchen with new appliances can get pricey, but there are great deals out there that give you a lot of bang for your buck. Enter: the three-quart Instant Pot duo. This model is very similar to our best overall pick, but it's half the size and offered for a cheaper price. Even though it's less expensive, it still offers the same functions of the larger models, just with a smaller capacity.
The Instant Pot duo comes with a lot of practical features to make the cooking process even easier. Case in point: the top of the unit comes equipped with a slot that's designed to hold the lid, so you don't have to make a mess or take up more counter space when you put it down. It also comes with a steam rack, so you're all set up to start cooking healthy dishes like steamed broccoli. There's no need to break the bank for a great Instant Pot, given that you're just a few clicks away from one of the best deals out there right now.
Purchase the 3-quart Instant Pot duo on Amazon for only $70.
Best high-tech Instant Pot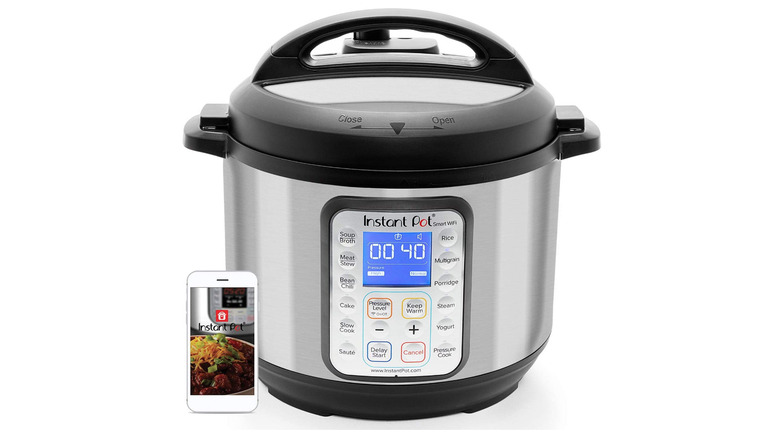 Instant Pot
There was a time, not all that long ago, when using cutting-edge technology in most home kitchens was unheard of. In fact, the notion that one day we would operate kitchen appliances from our phones seemed absurd. Today, we have gadgets like this 6-quart smart Instant Pot with Wifi connectivity that's also voice-activated through Amazon Alexa.
This model can connect to your phone through the Instant Pot app, which allows you to control the device and also grants you access to over 1,000 recipes. With a 6-quart capacity, this model has enough room to easily feed a small group. The inner pot is made with stainless steel and is dishwasher safe, which makes clean up a breeze. Imagine being able to relax with a drink in hand on the couch while you whip up a batch of Instant Pot carnitas, all controlled from the phone in your hand. Make that dream a reality by taking advantage of this phenomenal deal.
You can buy the 6-quart smart Instant Pot with WiFi on Amazon for as low as $119.
Best user-friendly Instant Pot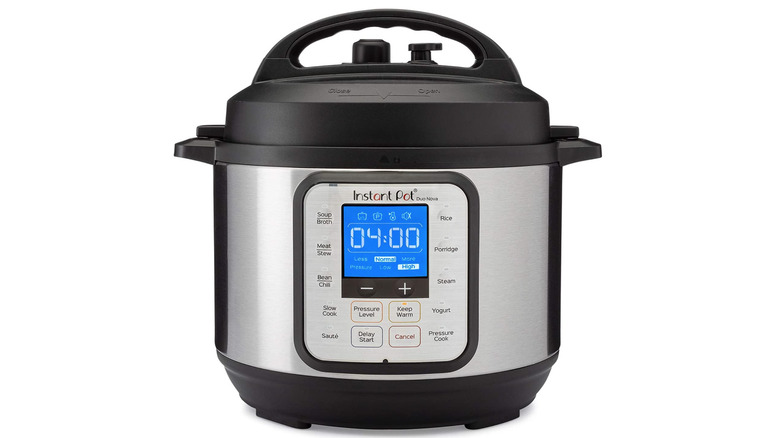 Instant Pot
Maybe you're not into all the bells and whistles. Maybe you just want an uncomplicated, dependable tool that's easy to use. No worries. This 3-quart Instant Pot duo nova is a great model for those of you sitting firmly in the "keep it simple" camp.
What makes this Instant Pot easier to use than other models? For starters, it has 14 different one-touch programs that seriously simplify the cooking process. All you need to do is drop your ingredients in the pot and then select the program. Not only can this model help you make soup, broth, and stews, it can also sauté veggies, make yogurt, cook beans, and much more. The microprocessor in this model will do practically all of the work for you, fine-tuning the pressure, temperature, and timing based on the program that you select. This Instant Pot also comes equipped with 10 safety features to ensure smooth sailing during operation. Between this model's ease of use and its four-and-a-half star rating after more than 36,000 customer reviews on Amazon, this is one deal you don't want to miss.
Purchase the one-touch Instant Pot duo nova on Amazon for $80.
Best Instant Pot bundle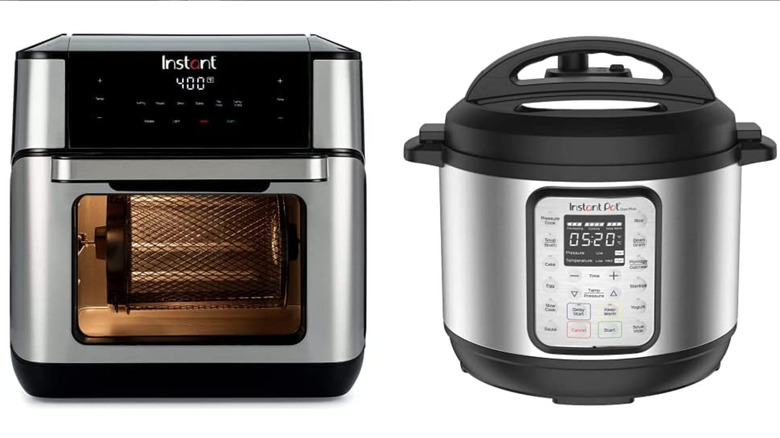 Instant Pot
For those of you looking for a major upgrade to your Instant Pot game, a bundle package might be your best bet. This deal comes with two different appliances: an 8-quart Instant Pot and a 10-quart rotisserie oven. Between these two gadgets, you can roast, simmer, steam, bake, and otherwise perfectly pull off just about any dish you can imagine.
One of the advantages to having a personal rotisserie oven like this is that it doesn't take much time to heat up. Simply switch it on and you'll be roasting in no time! The rotisserie oven is a generous size without being too bulky and it can hold up to four pounds of chicken at a time. Did we mention that the rotisserie oven also functions as an air fryer?
The Instant Pot that comes in this bundle has an 8-quart capacity, which makes it perfect for anyone who feeds large groups on a regular basis. How about some crispy chicken wings and a side of creamy macaroni and cheese? Or a pile of deliciously roasted vegetables with some fluffy rice? Between the pressure cooker and the rotisserie oven, you're all set to make a feast!
Purchase the Instant Pot pressure cooker and rotisserie oven bundle package on Amazon for $260.
Best versatile Instant Pot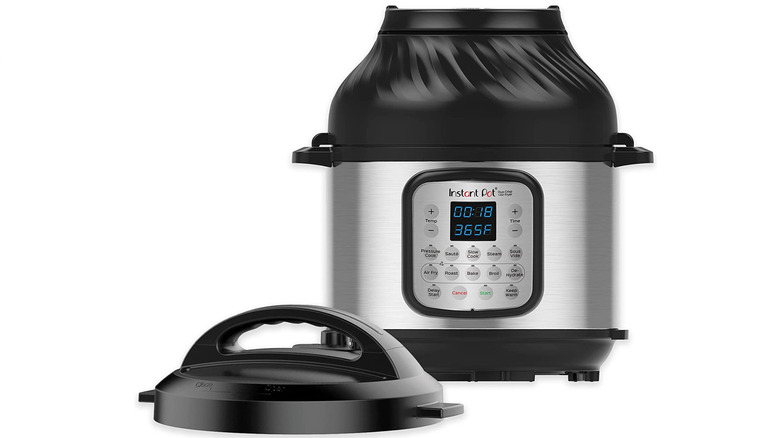 Instant Pot
Having a bunch of different appliances is great, but there's also an undeniable appeal in having one device that can do it all. The Instant Pot duo crisp model offers 11 functions and includes a special lid specifically designed for air frying. With the ability to bake, roast, air fry, pressure cook, dehydrate, steam, saute, and much more, this Instant Pot is like a one-stop shop for just about any meal.
If you appreciate the crispiness of fried food but want to eat healthier, then air frying is right up your alley. The air frying program in this model is designed to create amazing texture and crunch with 95% less oil than deep frying. According to EatingWell, air frying dramatically reduces the amount of oil absorbed into foods compared to other techniques like deep frying. Less oil in your food means less oil in your body, which lowers your risk of obesity and other health complications. Between the air fryer attachment and everything else that the pressure cooker can do, this Instant Pot is easily one of the most versatile models on the market right now.
You can buy the Instant Pot duo crisp on Amazon for $200.
Best mini Instant Pot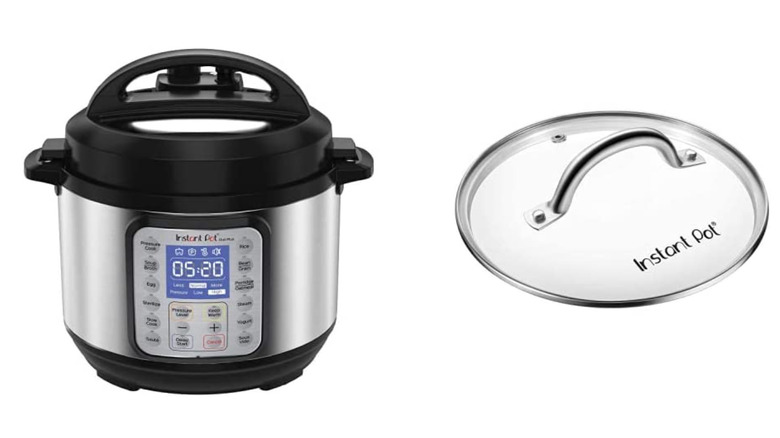 Instant Pot
Don't dismiss a smaller-sized appliance just because it doesn't take up a ton of space. Maybe you don't have a need to cook huge batches of food all at once or perhaps there's not enough space in the kitchen for a huge pressurized cauldron on the counter. Whatever the reason, a mini Instant Pot might be just what you're looking for, considering it can accomplish just about everything a bigger model can, just on a smaller scale.
This model can hold up to three quarts of food and has 15 smart programs that can be adjusted and customized to your specifications. The digital interface clearly displays pressure, temperature, and cooking progress. This Instant Pot also comes with a tempered glass lid equipped with a steam vent and a stainless steel handle to let you keep an eye on your food. The separate pressure cooking lid comes with a natural pressure release that takes the guesswork out of venting. Even though this Instant Pot is on the smaller side, it still packs a punch.
Purchase the mini 3-quart Instant Pot duo on Amazon for $83.
Best Instant Pot with air fryer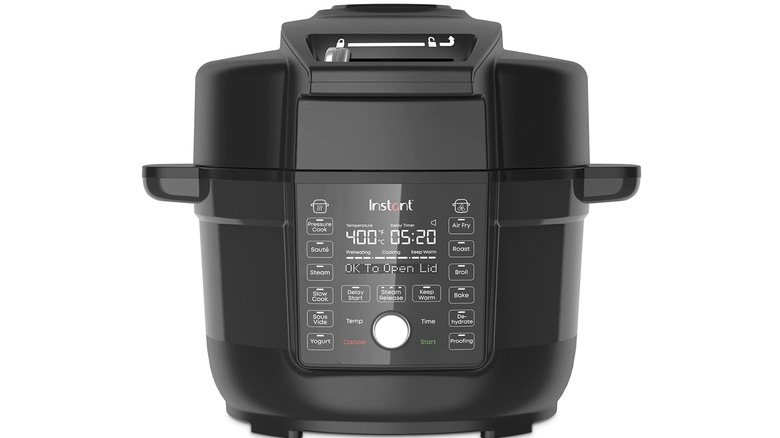 Instant Pot
If you're looking for an Instant Pot with an air fryer, then this model was made with you in mind. While it's true that other Instant Pot models are capable of air frying, there are a few features that set this version apart. For one, it provides step-by-step cooking instructions on an LCD display to assist you throughout the process. It also offers 13 different programs that include some uncommon and highly useful options for a pressure cooker, such as cooking things sous vide and proofing bread dough.
At 6.5 quarts, the size of this Instant Pot makes it a great choice for anyone who prepares meals for small groups or family on a regular basis. The lid works with all cooking programs and simply needs to be removed for air frying or broiling. Likewise, the rack works for both air frying and steaming functions. Between its recipe guidance and abundance of cooking programs, this Instant Pot is clearly one of the best finds on the market.
You can buy the 6.5-quart Instant Pot duo crisp on Amazon for $200.
Best Instant Pot for Star Wars fans
Instant Pot
If you dig Star Wars and are also looking for a pressure cooker, then the stars have aligned to bring you the device of your dreams. Behold, the 6-quart Star Wars Instant Pot! This model comes in five different design themes, including Darth Vader, Storm Trooper, and R2-D2.
Each model in this series comes with a 6-quart capacity, which suits all different types of lifestyles and circumstances. It features 13 different programmable settings, comes with a chemical-free stainless steel cooking pot, and also has a pressure gauge and easy one-touch controls. Downloading the Instant Pot app will grant you access to more than 1,000 recipes and other helpful freebies. If you want a device that can whip up a killer batch of meatballs but also showcases your love for the timeless, intergalactic battle between good and evil, then this one's for you.
Purchase the Star Wars Instant Pot on Amazon for $100.
Best mid-range Instant Pot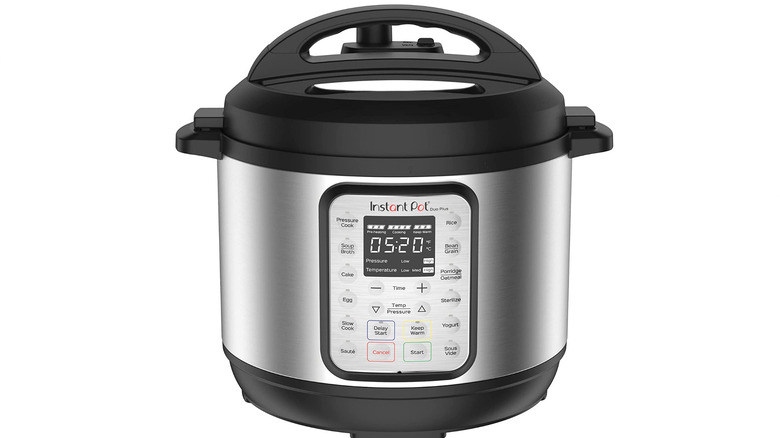 Instant Pot
Sometimes it's best to aim right for the middle when it comes to price. More expensive Instant Pots can feel overpriced if the performance doesn't justify the extra cost, while the quality of cheaper models may feel inferior. A mid-range gadget is often the sweet spot that strikes the perfect balance between cost and function.
This Instant Pot duo plus model comes with an 8-quart capacity and offers 15 different customizable cooking programs. The digital interface includes a display screen that shows a progress bar, too. Both the lid and the stainless steel cooking pot are dishwasher safe, which makes clean up nice and easy. Did we mention that it also has a nearly perfect rating after almost 50,000 Amazon customer reviews? At the end of the day, if you're looking for an Instant Pot that's well-reviewed, fairly priced, and highly efficient, then look no further.
You can buy the 8-quart Instant Pot duo plus on Amazon for $130.
Best 10-quart Instant Pot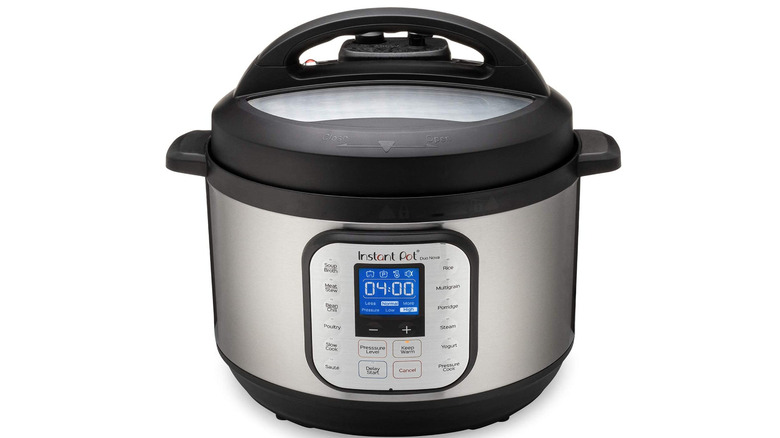 Instant Pot
If you have a small army to feed, then there's no doubt that this 10-quart Instant Pot is the way to go. With a capacity to cook up to 10 servings at a time, it's clear that this model can deliver a big batch of deliciousness all at once. Even if you don't necessarily have that many people to feed, a big model like this can make your life exponentially easier by enabling you to do some serious meal prep. Imagine all of the meals that you could prepare ahead of time and then freeze for future consumption. On those busier nights, all you'd have to do is warm it up and boom! Dinner's done.
The lid on this model comes equipped with an extra sealing ring to ensure that everything's fully enclosed when it's shut. With seven functions and 14 different cooking customizable programs, you'll have a wide range of meal options right at your fingertips, too. If you're looking for a good-sized Instant Pot that you can trust to consistently cook up big batches with ease, then this model is a match made in heaven.
Purchase the 10-quart Instant Pot duo nova on Amazon for $400.
Best stylish Instant Pot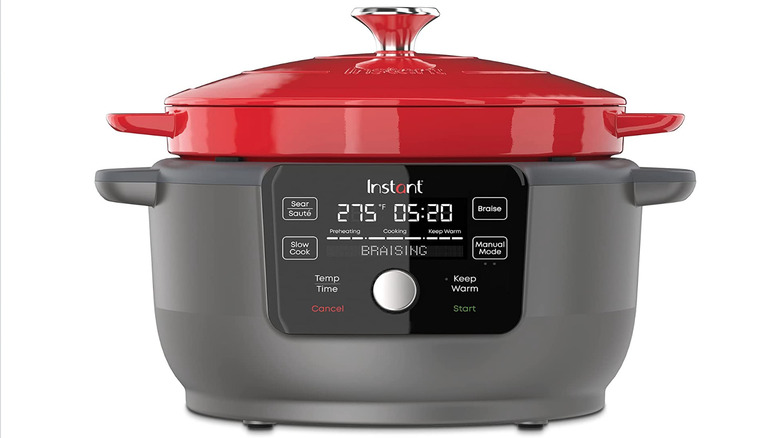 Instant Pot
The trouble with some kitchen appliances is that while they may be practical, they often lack a certain sense of style. While having the right tools to do the job properly is what matters most when it comes to making good food, sometimes it's nice to have an appliance that also compliments the aesthetic of your kitchen. With that in mind, you'll be pleased to learn that the lid on this Instant Pot electric Dutch oven has a simple yet classic look that's sure to bring a touch of style to your home.
Made out of gorgeous enameled cast iron, this model comes in red, black, blue, or green. The cast iron cooking pot is removable, so when the meal is done cooking, the result can be easily transported in its own vessel. With five different functions that include searing, braising, and slow cooking, this Instant Pot Dutch oven obviously isn't a pressure cooker. However, it's still capable of cooking large meals with impressive efficiency and some visual flair. If you're looking to add a little more color to your kitchen, why not get some meals out of it and start with this Instant Pot electric Dutch oven?
You can buy the Instant Pot electric Dutch oven on Amazon for $230.