Reddit Is Seriously Missing Dunkin's $3 Cold Brew Deal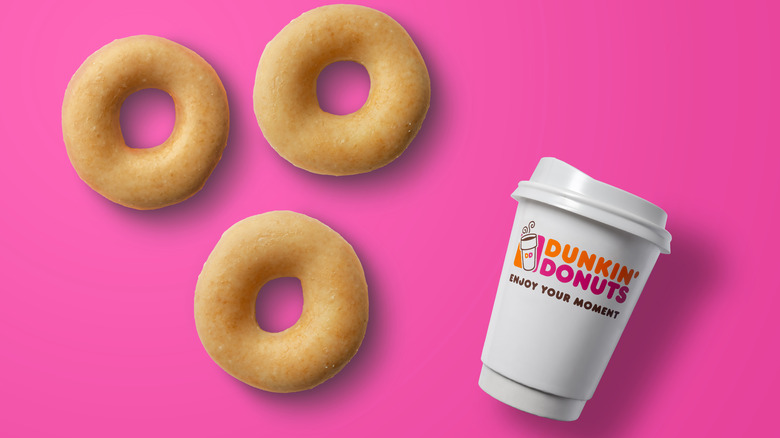 Nixx Photography/Shutterstock
The tragedy of coffee is that the amount of love you have for a cold brew in the morning can only be compared to the amount it costs to get your hands on one. In fact, according to The Krazy Coupon Lady, coffee lovers currently have to pay almost $5 for a grande-sized cup of their favorite Starbucks latte — so one Starbies drink can roughly cost the same as a Biggie Bag at Wendy's, which can come with a sandwich, chicken nuggets, fries, and a soda.
Thanks to a possible coffee bean shortage, your afternoon cup of joe may cost even more before the year's end. And if things couldn't get worse, one of summer's best coffee deals has finally come to a close and coffee fans are lamenting that the promo is no more on Reddit.
Reddit user KillinEmSnarkly took to the r/DunkinDonuts forum to commemorate the end of the Dunkin' coffee deal that had fed the U.S.'s caffeine addiction for less. Their post showcased a picture of an iced coffee spilled out on black asphalt, an image many users in the comment section thought looked like a work of art, and their caption touched the hearts of Dunkin' lovers across Reddit, "Pour one out for the end of what I was calling 'The Summer of ($3) Cold Brew' gone too soon."
Reddit is grieving Dunkin's $3 cold brew promo
In June, coffee fans were overjoyed when iced coffee icon Dunkin' announced it would be giving its loyal customers the chance to sip on a medium-sized cold brew for $3 (per Elite Daily). However, the deal, which even included the company's recently released Brown Sugar Cream Cold Brew, was only meant to last for a limited time. Reddit's self-described "summer of $3 cold brew" ended on July 19 and users of the online forum came together to commemorate the promo's short run.
There were plenty of Redditors expressing their sadness over the deal's end. One user wrote, "It's over. I did this on the way into the hospital for a 12 night shift. I may have cried a bit."
Another user, however, was filled with more anger than sorrow over the deal's disappearance, writing, "This infuriates me."
But although Dunkin's summer $3 coffee deal seemed to have drawn to a close, some Redditors claimed that the promo may reappear again at the end of August. However, while Dunkin' has released no news on renewing the summertime promo, the brand did announce a similar deal for autumn in honor of its 2022 fall menu lineup. According to the company's website, coffee lovers can get a medium-sized cup of one of two of its fall drinks, the new Pumpkin Cream Cold Brew and the returning Pumpkin Spice Signature Latte, for the same appealing $3 price tag until September 13.