Dunkin's Fall Lineup Includes A New Pumpkin Treat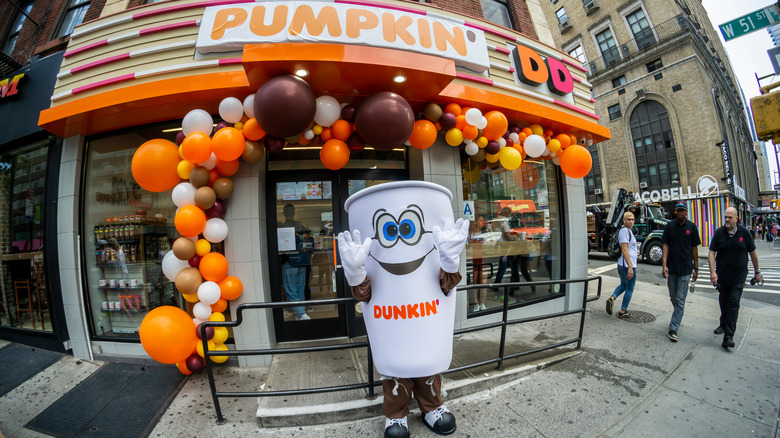 rblfmr/Shutterstock
For summer lovers, August is the beginning of the end. But for pumpkin spice fans, August is the beginning of what they wait all year for. Oreo just announced that its Pumpkin Spiced flavor is coming to shelves on August 15, and Sam's Club has released an apple pie granola. Halloween is even coming early with Mars' announcement of its new candy flavors for the spooky holiday.
And Dunkin', of course, is no exception. The popular coffee and donut spot has set the bar high with its recent releases. Its spring menu included some fan-praised faves, such as the Cake Batter Iced Signature Latte, the Butter Pecan Swirl iced coffee, and the Mango Pineapple Dunkin' Refresher. And the preceding few months have seen other favorites, including a salted caramel cold brew and signature latte.
So, what do fall-loving, pumpkin spice lovers have to look forward to at Dunkin' this year?
Dunkin' introduces Pumpkin Cream Cold Foam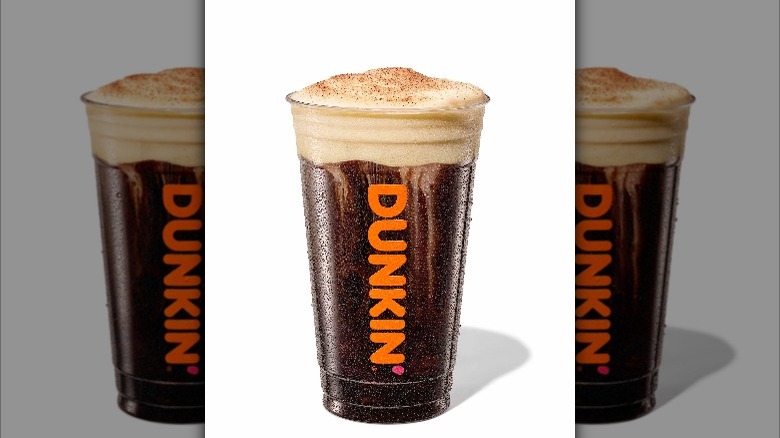 Dunkin'
Foamy drinks have been all the rage lately, with Starbucks releasing a new version of its already-popular Irish Cream Cold Brew. And Dunkin' isn't falling behind on this trend. The fast-casual brand just announced its fall lineup, and it's a pumpkin lover's dream. Fans can expect a Pumpkin Cream Cold Brew, topped with a new-to-the-menu Pumpkin Cream Cold Foam. 
While Dunkin' has only started experimenting with Cold Brew and foam mixtures this year, its endeavors, including a Brown Sugar Cold Foam and even the basic Vanilla Cold Foam, have been widely lauded. Because of this, we can assume that coffee and pumpkin lovers alike will be gushing over the new cold foam topping, which is just one of many pumpkin options. 
You'll also find a Pumpkin Spice Signature Latte and Nutty Pumpkin coffee creation on the fall menu, as well as some baked goods. Dunkin's press release states that there will be a glazed pumpkin cake donut option, pumpkin Munchkins, and even a pumpkin muffin. But there's more. Other fall menu items include some syrup-inspired goodies, including the Maple Sugar Bacon Sandwich and Maple Sugar Snackin' Bacon. Dunkin' also boasts a Blood Orange Dunkin' Refresher on its new menu.