The Costco Muffin Hack To Try On Your Next Special Occasion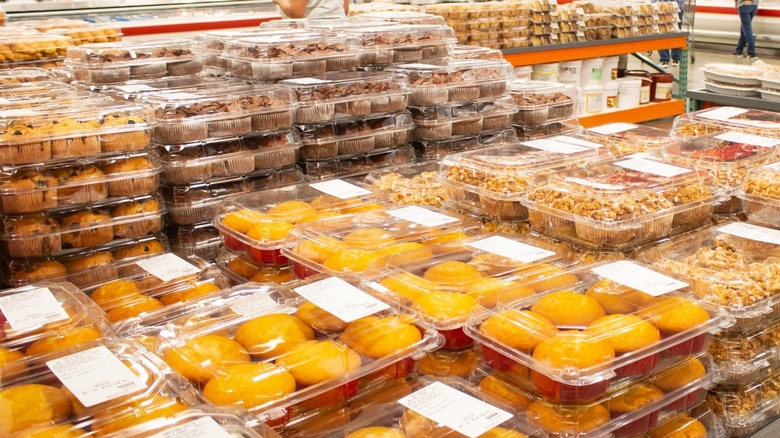 The Image Party/Shutterstock
Longtime Costco shoppers know there's more than meets the eye in the store's bakery section. For example, there's a lot to learn about Costco's sheet cakes; like how you can request over 20 different icing illustrations. Although there are many secrets of the Costco bakery you'll wish you knew sooner, some of the best bakery hacks come from social media.
Instagram user @neuroticmom (or Amy) posted a hack where she turned Costco muffins into a smash cake, and this has created a lot of online buzz. People are saying it's a great way to personalize a cake without making it from scratch, and it's all broken down step-by-step in the Instagram video.
Amy starts the process by cutting off the tops of the muffins to make them level before spreading frosting and jam between the two muffin layers. Then, the cake is covered in frosting, multi-colored sprinkles, and topped with cherries. In the caption, Amy explains "I do NOT leave the dowels/sticks in the cake! They are there to stabilize the cake while I frost and then I immediately take them out."
When you look at the end product, you never would've guessed that there's a muffin base, and even so, Costco muffins have a loyal following, with shoppers recently heading to the bulk-buy store to snag Costco's seasonal pumpkin streusel muffins.
Here's what Instagram is saying about Costco muffins turning into cake
This muffin-to-cake hack has gotten a lot of attention on Instagram, and @neuroticmom's video has gotten more than 620,000 likes. Multiple people called this trick "genius," and people are praising this idea for its balance of convenience and care. One person said, "I love this so much! So accessible for busy people who still want to make cake filled with love and respect."
If you think that Costco's muffins are already like cake, you're not alone. Another commenter wrote, "Hah! I'm always telling my kids that muffins are just cake without frosting! This proves my point hahaha"
Other folks in the comments are sharing ideas on the best times to make a muffin cake. For example, one person thought this could be ideal in situations outside of birthday cake and said, "Awesome idea! These would even be great for mini cakes at school bake sales or events." Another person had a way to use up bits of muffin that were cut off and said, "Ohhh and then use the scraps cut off for a couple cake pops!!"
Need more quick ways to make gourmet desserts? Here are some hacks for how to make a boxed cake mix feel homemade, and we've got a list of cakes that only take three ingredients to make.