The Faux Guy Fieri Movie We Wish Would Happen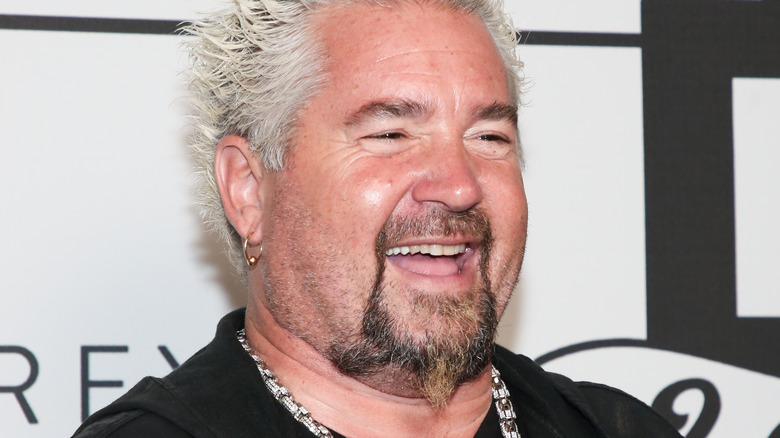 Paul Archuleta/Getty Images
Known for his frosted tips, goatee, and popular Food Network series "Diners, Drive-Ins and Dives," Guy Fieri is one of the food industry's most recognized personalities. A chef, restaurateur, and Emmy-award winning TV host, Fieri is also the face of celebrated series like "Guy's Grocery Games," "Guy's Ranch Kitchen," "Guy's Chance of a Lifetime," and others. Dabbling in big screen affairs, he also landed a cameo appearance in "The Interview," and according to The Hollywood Reporter, Fieri will join Tom Brady and Billy Porter in "Brady" — an upcoming comedy film about the football star.
Despite a laundry list of entertainment appearances, Fieri enthusiasts can never get enough of him. A man of the people, he gave fans just what they wanted when he took to Twitter to tease a faux movie poster for "Burger Train" — a play on the new Brad Pitt movie "Bullet Train." The movie poster, which is admittedly pretty convincing, replaces Pitt as the frontman with Fieri, and it boasts juicy burgers and crispy fries as its new frame. The post includes the caption, "Burger Train, coming to a diner near you," and fans were loving it.
Guy Fieri's new show airs August 31
Unfortunately, fans of Guy Fieri won't actually get a "Burger Train" movie. But that may be a good thing considering the original film only scored 53% on Rotten Tomatoes — sorry Brad Pitt! But there is exciting news for those of us who are eager for some new Fieri content: His new show "Guy's Ultimate Game Night" airs August 31 (via Variety). According to The Food Network, the new series puts a culinary twist on classic party games, as celebrity contestants compete for the chance to win prizes for their favorite charity.
Speaking on the upcoming show, Fieri says, "If you put a game show, late night talk show, and a food competition show in a blender, you get 'Guy's Ultimate Game Night.' It's the best dinner party you've ever been to ... filled with food, booze, off-the-hook games and the funkiest live soundtrack around" (via The Food Network). While we won't get to see Fieri play an up-to-no-good assassin alongside co-stars Bad Bunny and Brian Tyree Henry, maybe they or Pitt will drop by as a guest — hey, we can dream can't we?!