Guy's Ultimate Game Night: Release Date, Locations, And More - What We Know So Far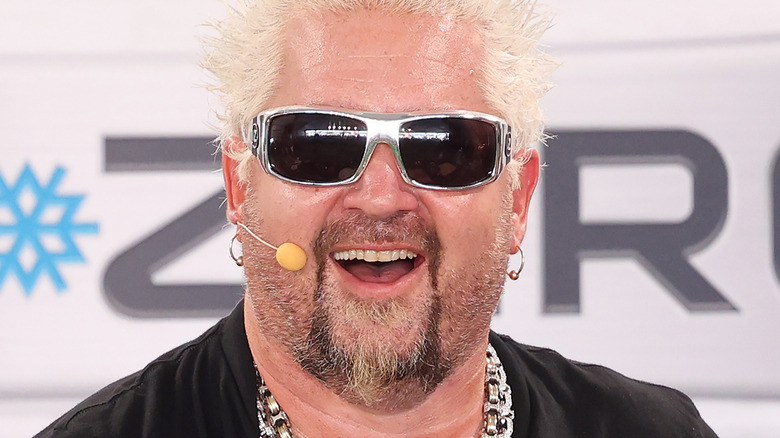 Alexander Tamargo/Getty Images
If there's one thing Food Network chef Guy Fieri has a lot of, it's TV shows. According to TV Guide, he's credited as host on a whopping 29 television titles, from long-running classics like "Diners, Drive-Ins, and Dives" to specials like "Guy: Hawaiian Style." But is 29 really enough? Fans and network execs think not.
But seriously, the guy (Fieri) who puts weird things in margaritas and has won over the heart and mind of fellow chef Andrew Zimmern is all about that regular programming. And if you thought "Guy's Grocery Games" and "Guy's All-American Road Trip" were just the tip of the Guy-ceberg (you're welcome), we're delighted to tell you that you're right. Next up on the TV Guy-de, from the people that brought you all that other Guy content, comes "Guy's Ultimate Game Night," a way to marry Guy's gift of gab with his talent behind the stove, plus plenty of games and celebrities (via TV Insider). Did we mention Guy is in it? So, 'nuff said; on to the details. We are pleased to bring you everything we know about Guy Fieri's newest show for Food Network.
When does Guy's Ultimate Game Night come out?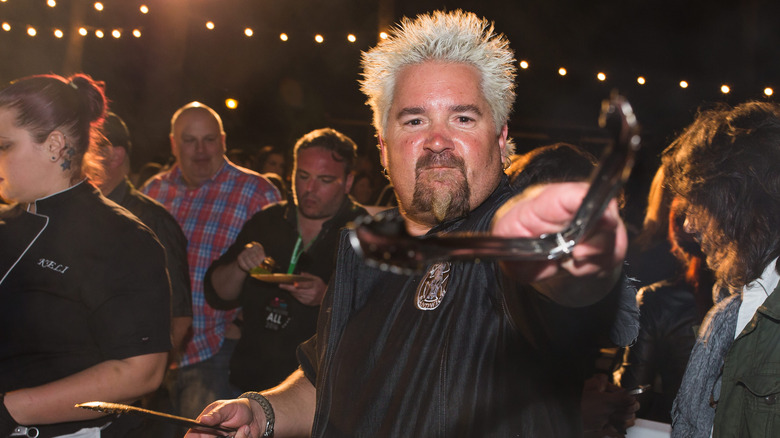 Dylan Rives/Getty Images
Fans of Guy Fieri won't have to wait too much longer to see those bleach-y spikes fill their television screens once again. First and foremost, because of all the aforementioned Fieri shows that already exist. But next, because "Guy's Ultimate Game Night," Food Network's newest Fieri-driven concept, premieres on August 31, according to Reel Screen.
Fieri's new show comes hot on the heels of "Guy's All-American Road Trip," a program that sees Fieri, along with his family and friends, visit places like, oh, say, Jim Belushi's cannabis farm in south Oregon (via Oregon Live). Television executives are betting that anyone who isn't interested in Fieri's highway exploits might enjoy joining him on the couch for "an evening of food-related games," as TV Insider describes "Guy's Ultimate Game Night." Preferably, audiences will want both. Luckily for anyone who does, "Guy's Ultimate Game Night" is slated for Wednesdays at 9 p.m./8 p.m. Central Time on Food Network, while "Guy's All-American Road Trip" is a Friday night kind of show; one that, according to Oregon Live, draws to a close with the cannabis-farming episode. Wednesday night game night, here we come.
Where will Guy's Ultimate Game Night take place?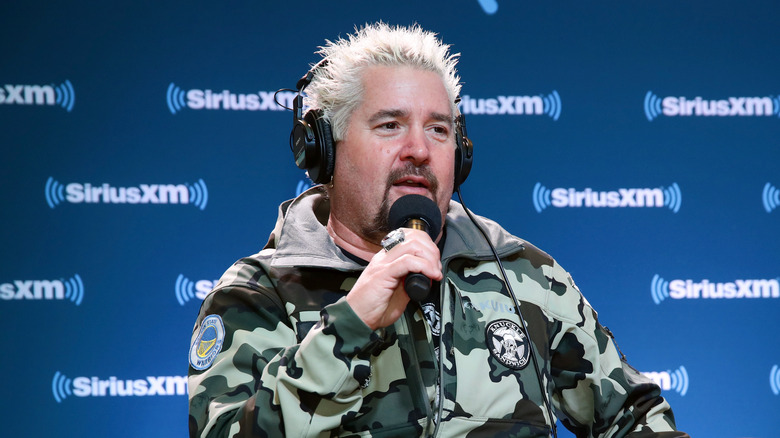 Cindy Ord/Getty Images
According to Reel Screen, the action of "Guy's Ultimate Game Night" will take place not in Guy's Downtown Flavortown restaurant, but in the Flavortown Lounge, where "an evening of food-related games, challenges, and trivia" await for Fieri and friends (of the celebrity variety), and the cash prizes all go to charity. And while we have no idea where Flavortown Lounge is, exactly (somewhere in the cool, jazzy district of downtown Flavortown?), Deadline's description of the new show gives us a taste: "If you put a game show and a food competition show in a blender, you get 'Guy's Ultimate Game Night.'"
The ideal setting for such a messy blender experiment — hopefully they cover the couch with plastic wrap — remains to be seen, but with games like "Charade the Pantry," "Dish Pics," and "The Guy-Q Test" (excuse me, we'll tell the Guy puns around here) on the agenda, the location starts to feel inconsequential (via Deadline). As long as the set is equipped to handle "Blind Baker," "Omelette Offs," and any other cooking challenges "Guys Ultimate Game Night" wants to throw our way, the show could take place on top of a Guy-ser, or in Papua New Guy-nea for all we care, we're still going to watch it. 
Guys, seriously.