Pink's Cheesecake Recipe That Went Viral For All The Wrong Reasons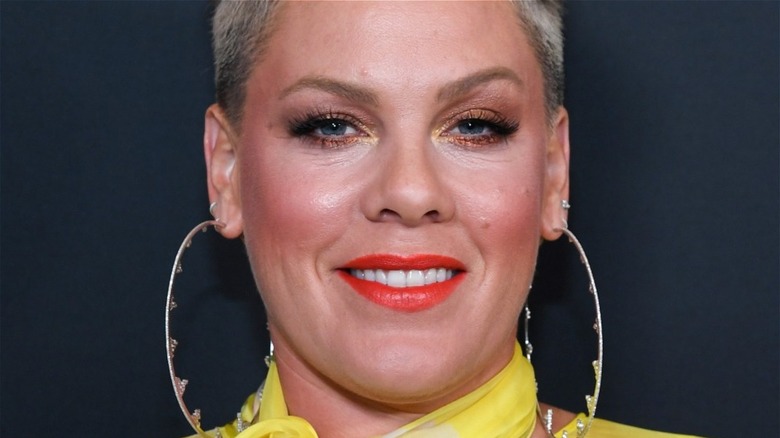 Kevin Mazur/Getty
Alecia Beth Moore (AKA Pink) has a public persona that seems a little incongruent with her cooking posts on social media. Who would have thought that a Grammy-winning pop star, whose new rock-influenced song throws up a "middle finger" to attacks on women's rights, would have time to make homemade sourdough bread in the kitchen? By scrolling through Pink's Instagram profile, however, you realize that behind her tough image are mostly quiet moments at home with her family. In the singer's everyday life, she is a mother of two and in a marriage that has lasted longer than many of those in the limelight (via People).
An avid home cook, Pink has shared photos of sourdough biscuits, ramen, and banana bread to her Instagram account, with many of her popular food posts exceeding 100,000 likes. One of her latest culinary efforts was demonstrated in a cheesecake photo that went viral — not because it was a screaming success, but because it was somewhere south of perfect.
Pink's exploding cheesecake
Pink's lockdown-era cheesecake photo depicted a round baking pan in the oven — with its fluffy contents expanding unevenly and far above the top of the tin. "Why is my cheesecake exploding," Pink captioned the picture. Netizens and fans happily weighed in with their suggestions and criticisms. One user recommended that Pink try a springform pan, baking sheet, and aluminum foil next time, while the gist was that her cheesecake needed more space to rise in a larger baking pan.
Many others suggested trying a bain-marie or water bath, which seems to be the most sound advice. Per Simply Recipes, a water bath helps cheesecake (which is really a custard) bake more evenly, giving it a silkier mouthfeel and smoother surface. When you don't use a water bath, your cheesecake rises and browns dramatically before collapsing, which is what seems to have happened to Pink's creation. 
Of course, this all would have been nice for the singer to know before putting her cheesecake in the oven. While most helpful criticism on her post pointed to the future, one comment was relevant to Pink's dilemma at that moment: "Put some frosting on it and no one will be the wiser!" joked one fan.