Simple Fluffy Sourdough Biscuits Recipe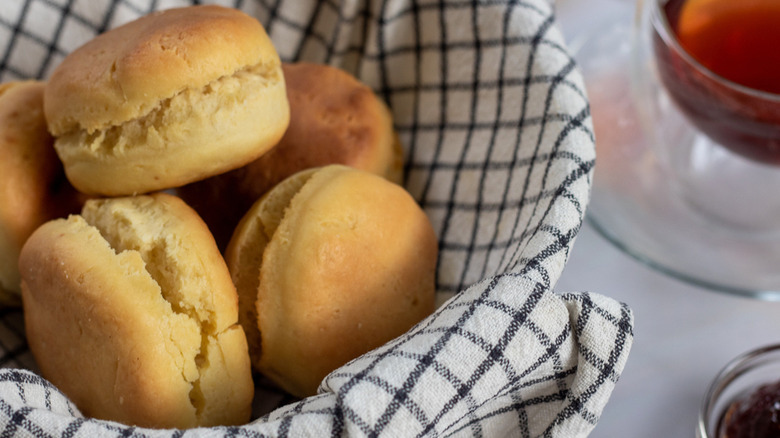 Tommy Leung/Mashed
When it comes to delicious comfort food, nothing quite compares to biscuits. Whether they're smothered in gravy or topped with your favorite jam, biscuits add something to just about any meal. They're perfect alone or as a side, and just about everyone loves them. 
If you want to up your biscuit game, try making them with sourdough. That's what makes this recipe for flaky, fluffy biscuits so delicious. 
They're quick and easy to make, but you will need a sourdough starter. You can make your own by following some simple steps, but keep in mind that you'll need to plan ahead as it takes a few days for the mixture to ferment. Recipe developer Tommy Leung told Mashed he used a mature starter for these biscuits.
If you don't want to make a sourdough starter or don't have one on hand, no worries! You can sometimes purchase one that's ready to use from a local bakery and you can definitely order one online. 
What is a sourdough starter?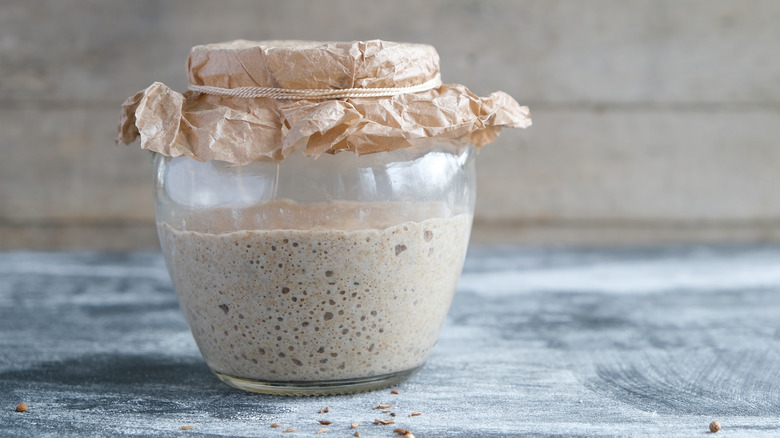 Shutterstock
In case you're unfamiliar with sourdough, a starter is a mix of flour and water that's "fed" more flour and water over time and allowed to ferment with natural yeasts (via Martha Stewart). The fermentation creates a combination of bacteria and yeast that eventually makes a slightly sour taste that you just can't get any other way.
Leung said that this recipe is great for beginners because the dough doesn't require any kneading and the baking powder is responsible for the rise. "It also comes together really quickly compared to other baked breads since there is no proofing," he added.
Gather the ingredients for your sourdough biscuits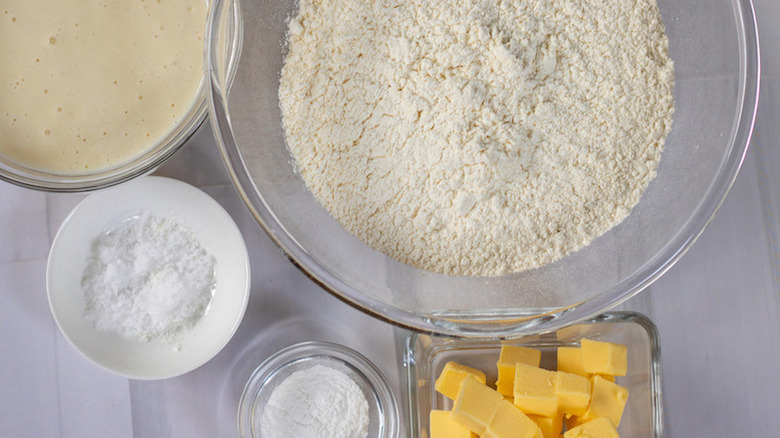 Tommy Leung/Mashed
One reason to love this recipe is that you will only need five ingredients to make it. While you might not have the sourdough starter on hand, you'll probably have everything else you need. Along with 1 cup of the starter, you will also need 1 cup of flour, ½ cup (one stick) of butter, 2 teaspoons of baking powder, and 1 teaspoon of salt. 
You don't need to cube the butter like in the photo, but you do need to set aside 2 tablespoons of it to brush on the biscuits after taking them out of the oven.
Combine the ingredients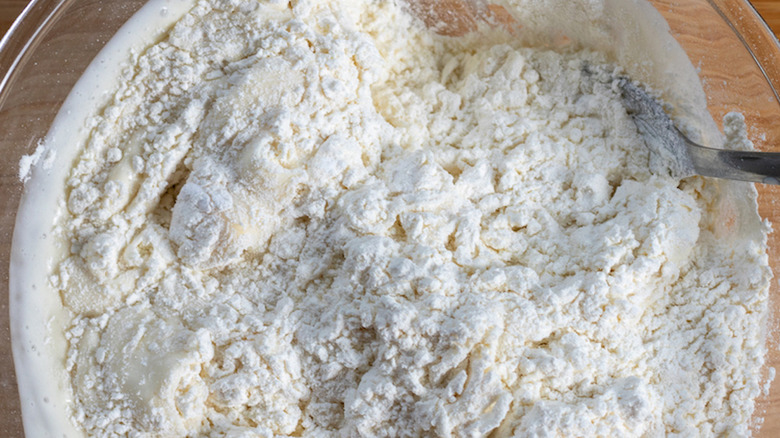 Tommy Leung/Mashed
How you mix the dough is important because it determines how your biscuits will turn out. The main idea is to not overwork or over-stretch the mixture. You won't need a mixer, and you don't have to knead this dough. Instead, combine the sourdough starter, flour, butter, baking powder, and salt by hand. Doing it this way helps you achieve a flaky texture, Leung said. If you find that your dough isn't coming together well, he suggests adding a splash of milk.
Stretch the dough and cut out the biscuits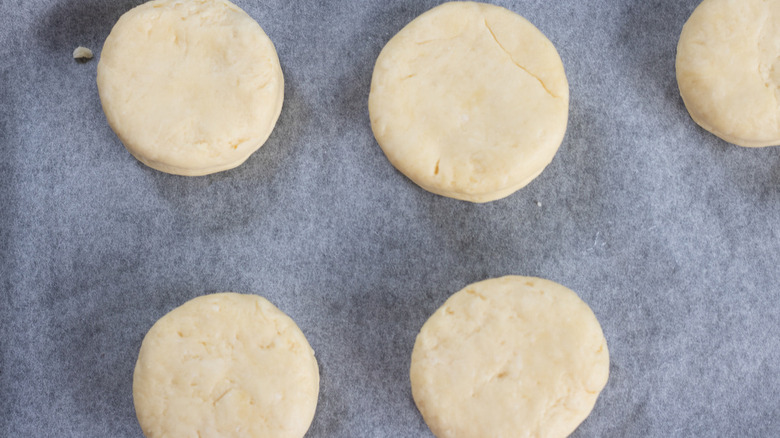 Tommy Leung/Mashed
Once mixed, stretch the dough into a rectangle that is about 11x8-inches on a piece of wax paper. Fold it in half and stretch it out again. Do this two more times to create layers that allow the biscuits to rise while baking. 
Now, you're ready to cut out the biscuits. Leung used a round cookie cutter for his biscuits, but you can also use a water glass or a mug. You should get about five biscuits from the mixture. 
Bake and serve the biscuits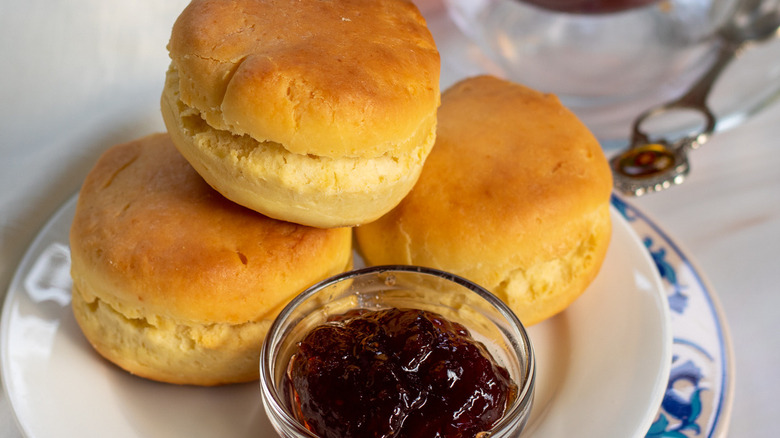 Tommy Leung/Mashed
Place the biscuits in a preheated oven at 410 F and bake for 20 minutes. Once removed, brush the remaining butter on top of the biscuits. 
These biscuits taste terrific right out of the oven or even better after they've cooled. Leung said he enjoys them plain, but they go well with honey, jam, or jelly. "I think they are wonderful for weekend breakfasts," he said, adding that they can also be served with sausages, ham and eggs.
Simple Fluffy Sourdough Biscuits Recipe
Nothing compares to the comfort of biscuits. If you want to up your biscuit game, try making this fluffy sourdough biscuits recipe that's the perfect side.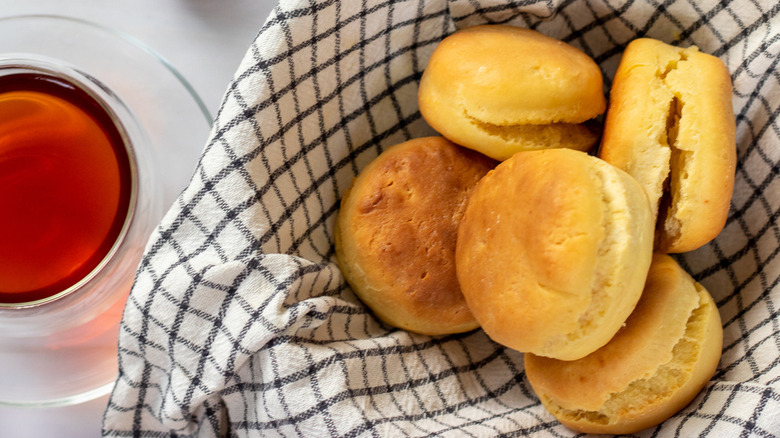 Ingredients
1 cup all-purpose flour
1 cup sourdough starter
½ cup butter
2 teaspoons baking powder
1 teaspoon salt
Directions
Set aside 2 tablespoons of the butter to brush over the cooked biscuits.
In a mixing bowl, combine the flour, sourdough starter, baking powder, salt, and the remaining butter.
Combine the dough together with your hands, but don't overwork it.
Stretch the dough into a large rectangle and then fold the dough over itself. Repeat this three times.
With a cookie cutter or water glass, cut out round biscuits and place on a baking tray lined with parchment paper.
Bake the biscuits in a 410 F preheated oven for 20 minutes.
Remove the biscuits from the oven and brush them with butter.
Nutrition
| | |
| --- | --- |
| Calories per Serving | 456 |
| Total Fat | 31.4 g |
| Saturated Fat | 19.6 g |
| Trans Fat | 1.2 g |
| Cholesterol | 81.3 mg |
| | |
| --- | --- |
| Total Carbohydrates | 38.6 g |
| Dietary Fiber | 1.4 g |
| Total Sugars | 0.7 g |
| Sodium | 317.3 mg |
| Protein | 5.9 g |