Why TikTok Adores The Pioneer Woman's Tumbler Cup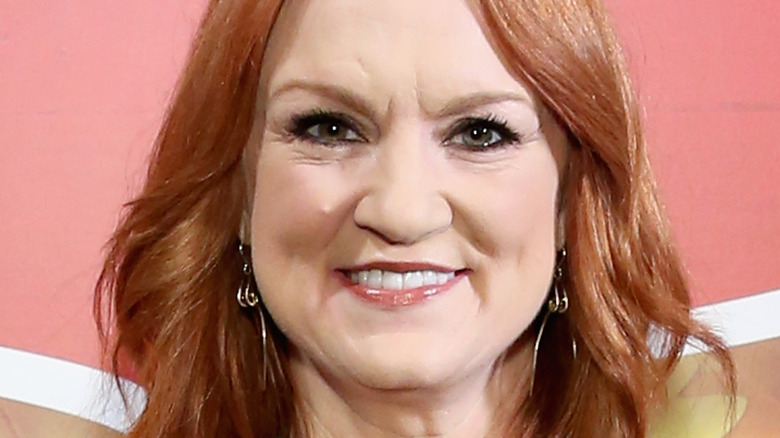 Monica Schipper/Getty Images
There seems to be an unspoken rule amongst culinary superstars — once you've achieved a certain degree of success, you must release a line of kitchenware. Rachael Ray has a line of cookware and cool gadgets, Gordon Ramsay boasts a collection of Royal Doulton dinnerware, and Wolfgang Puck offers a selection of stainless steel accoutrements. Martha Stewart, Geoffrey Zakarian, Robert Irvine, and Emeril Lagasse all sell their kitchenwares on QVC (per Reviewed). Giada de Laurentiis teamed up with Lagostina to create a Dutch Oven, Guy Fieri developed a line of Knuckle Sandwich knives, and Ayesha Curry's name appears on a comprehensive kitchen collection (per Delish). Yes, perusing the celebrity cookware lines at your local department store is like visiting a "Who's who" of the epicurean elite. 
And one of the best known kitchenware lines belongs to Ree Drummond, aka The Pioneer Woman. With patterns such as Wildflower Whimsy, Sweet Rose, and Flea Market, her products echo her appreciation of down-home country charm. Back in 2015, Business Wire shared that Drummond had entered into a partnership with Walmart to sell "an extensive collection of modern country housewares." And this summer, she joined Corelle to create a new line of dinnerware that will also be available exclusively at Walmart (per HFN). 
Clearly, this partnership has proven a success. Now, TikTok and others are raving about one of Drummond's newest releases — an insulated tumbler that is, apparently, magical. You might be surprised by what they have to say. 
The tumbler fits different sized cans
So, what exactly is this product that everyone is raving about? It's the Pioneer Woman Insulated Multi-Can Cooler, a handy tumbler that fits canned beverages of different circumferences. That's right. Never again do you have to put your lips on a bacteria-riddled can, endure wasps buzzing around your drink, or wind up with lukewarm cola. It keeps your beverage cool and comes with multiple reusable straws. No wonder TikTok is so enamored with it. 
When TikTok user Amber Michele posted her product unveiling video, responses poured in. Several said they need one, while others said TikTok had made them get it. When asked if it kept her drink cook, the poster responded "I used it today out on our boat. Stayed ice cold." Unfortunately, quite a few were dismayed that their local Walmart was sold out. 
Taylor Fantroy's demo video in TikTok received similar enthusiasm. One impressed commenter said, "I don't need another cup. *gets keys to go to walmart*," while another confessed, "My mom bought this and puts Cayman Jacks in it for my softball games because she doesn't like the drama." When one person said, "Cute cup but I never drink beer from a straw," it was quickly pointed out that she could put other drinks in it. The general consensus, however, was that many want one, but few can find them in stock. With TikTok clamoring to get their paws on this product, fans are hoping Walmart will replenish supplies soon.