Why You Never See Bobby Flay With Guy Fieri, According To Reddit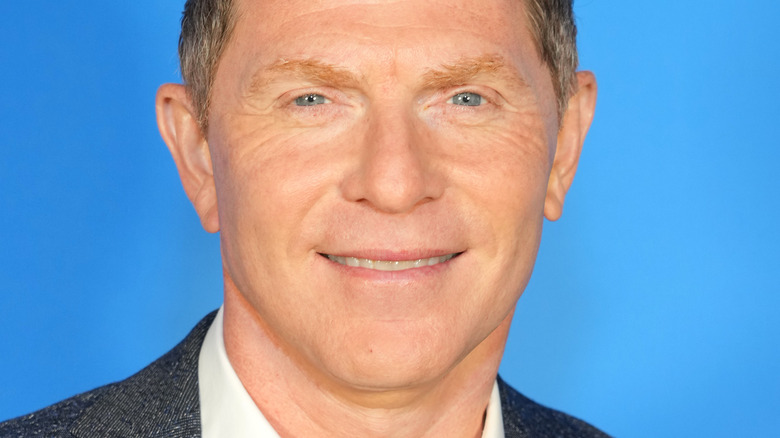 Kevin Mazur/Getty Images
In some ways, the chefs of the Food Network are like one giant family that eats really well whether alone or together. Bobby Flay shared the spotlight with Anne Burrell in "BBQ Brawl," while Guy Fieri shared an afternoon of calzones and pizzas with his fellow spiky-haired coworker on "Guy's Big Bite" (per Food Network). Flay has not only appeared on the "Rachael Ray Show," but Ray has been a guest on "Beat Bobby Flay" multiple times. She has also shared hosting duties with Fieri on "Rachael vs. Guy: Celebrity Cook-Off." Bobby Flay and Michael Symon have been buddies for years with Symon reprising Flay's former role in "Throwdown" (via People), while Fieri visited Symon's Cleveland BBQ restaurant in "Diners, Drive-Ins, and Dives." Scott Conant has participated in "Beat Bobby Flay," and has also shared a holiday meal on "Guy's Ranch Kitchen."
Clearly, these two culinary superstars travel in similar circles. Why, then, do you never see them together, brushing elbows over a jointly prepared feast? When Flay and the Food Network nearly parted ways in 2021, many speculated that it had something to do with Fieri's recently signed $80 million contract. People magazine reported that Flay was looking for around $100 million. While Flay and the Food Network have since inked a new deal, it is unclear whether these salary negotiations actually indicate bad blood between the two celebrity chefs.
The folks at Reddit, however, have their own take on why these two never share the small screen.
Is Fieri and Flay's lack of interaction a West Coast vs East Coast thing?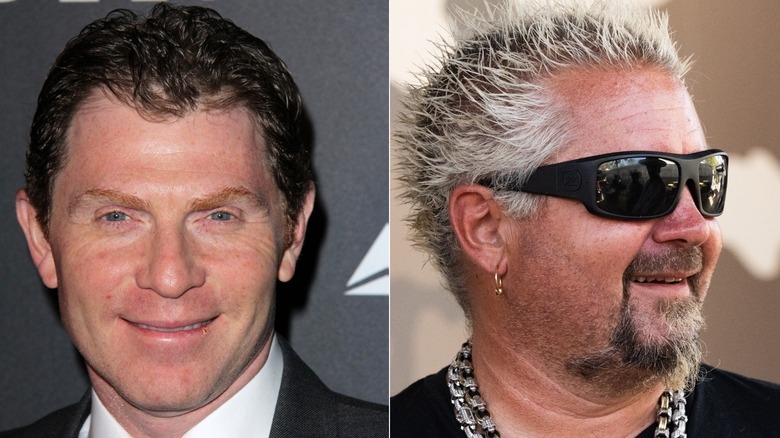 s_bukley/Shutterstock & Scott Dudelson/Getty
When Reddit user u/Girafarigno asked r/foodnetwork, "Do Bobby Flay and Guy Fieri not like each other?" citing that they have both been the two most prominent chefs on the Food Network for about 15 years, but never seem to talk about one another, possible explanations flooded in. The most popular comment offered that Flay once said that Fieri "wasn't even the best chef in his season of Food Network Star," but that he won because he is extremely entertaining. They went on to explain that it wasn't an insult and that not everyone can be an Iron Chef. Redditor u/GmaninMS said that Sunny Anderson believes they don't share the stage as they are both "alphas." One user posited that, "Guy is the "West Coast" crew, Flay is the "East Coast" crew," while another stated, "They just have different styles. Bobby Flay is a pretty straight laced good-at-food-man, Guy Fieri is more of a bombastic presenter." Any or several of these explanations sound plausible.
One thing the two Food Network personalities do have in common is that they both appear in a list of famous chefs who are jerks in real life. Interesting. Perhaps, it's high time the public gets to see these two renowned, but reportedly not-so-nice Food Networks stars together. Either sparks will fly or they'll get along smashingly. Now that's a wager cooking enthusiasts everywhere would probably like to make.