The Pioneer Woman's Simple Buttermilk Substitute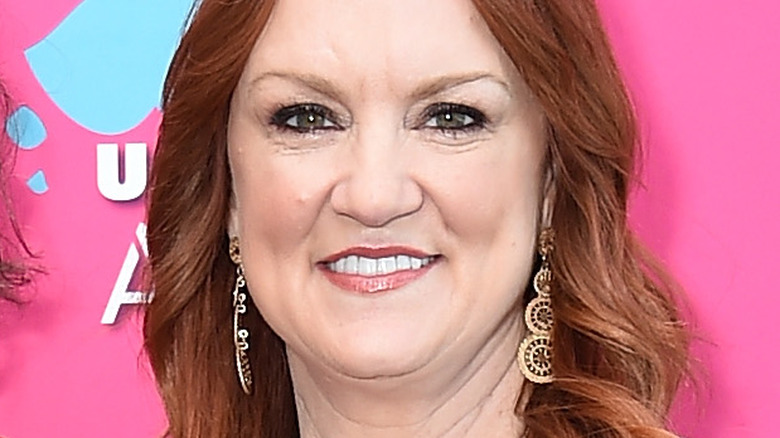 Michael Loccisano/Getty Images
Buttermilk is a versatile ingredient that is commonly used to whip up fluffy pancakes, waffles, biscuits, muffins, pies, and other bread-based dishes. It also frequently appears in frying batters, creamy soups, and salad dressings (namely ranch). The fermented dairy product has a clumpier, thicker texture than regular milk and possesses a subtly tangy flavor. But don't be fooled by these seemingly off-putting qualities, as buttermilk can often make or break the end result. Buttermilk serves as an emulsifier in a number of baked goods, and it is even known for creating a rich consistency and buttery flavor, according to Bakerpedia. The pale yellow liquid also provides some pretty impressive alleged health benefits, including improved bone health due to its high calcium and phosphorus content, plus potentially lower cholesterol and blood pressure levels, per Healthline.
Buttermilk is considered a kitchen staple for a number of reasons. Recipes that call for buttermilk are generally airier and more succulent than those made with traditional milk or water. This is why folks like Ree Drummond, aka The Pioneer Woman, love it so much. So, what does celebrated food personality Drummond suggest using if you don't have buttermilk on hand? The makeshift solution is easier to concoct than you may think.
Mix milk and lemon juice to create a buttermilk dupe
Save yourself a trip to the grocery store with this simple trick. When you're short on buttermilk, Ree Drummond recommends mixing milk and lemon juice. Say what? That's right! If your fridge appears to be buttermilk-less, your best bet is to fuse milk with something a little acidic. Milk (whether evaporated or in its natural liquid form), when incorporated with lemon juice, will naturally transform into a luscious, piquant, pleasantly creamy liquid. In an early step of Drummond's lemon blueberry pancakes recipe, for example, the two ingredients are combined in a bowl. The medley must then sit for a few minutes, giving it enough time to curdle and essentially become ad hoc buttermilk. The Pioneer Woman's blog also offers a basic step-by-step process to make your own buttermilk at home. While this solution may not be 100% the real thing, it performs the job just as well.
Other buttermilk substitutes people swear by include milk and vinegar, milk and cream of tartar, sour cream, plain yogurt, and kefir. At the end of the day, the slight tartness is what matters — it's also what makes celebrity chef Samin Nosrat's roast chicken from "Salt, Fat, Acid, Heat" such a hit.