Katie Lee May Have Just Invented Her Own Salad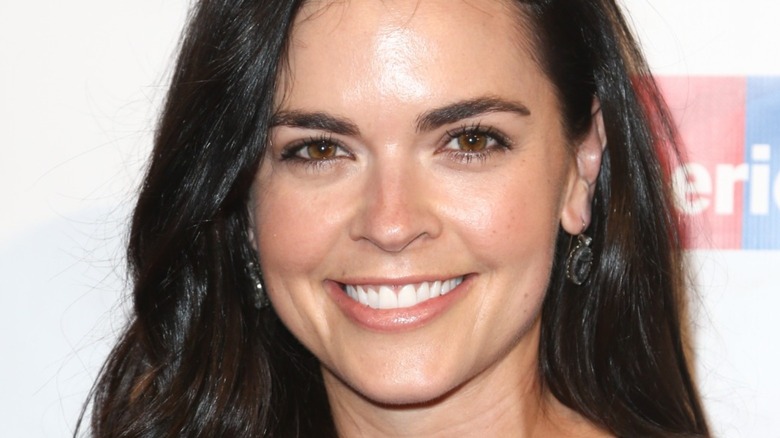 Debby Wong/Shutterstock
With her West Virginia accent, Katie Lee Biegel has become the face of homestyle cooking that's unpretentious, just sinfully delicious. Biegel, focusing solely on flavor, doesn't pull back for calorie counting or carb-conscious viewers but instead offers fans the most delicious version of her recipes.
According to her website, Biegel is the co-host of the Food Network's "The Kitchen," seen on "Beach Bites with Katie Lee" on Cooking Channel, and is a contributor on NBC's morning show "Today." However, her failed marriage to rockstar Billy Joel introduced Katie Lee to the world. After taking his name, Katie Lee Joel admitted to New York Magazine, "I'm the first person to say having that last name helped me get a foot in the door, but I feel like I can stand on my own two feet working toward my dreams." Since the two split in 2009, Biegel has gone on to pen a handful of cookbooks and prove that she can stand independently.
Growing up in a tight-knit family, Biegel told Huntington Quarterly about her Appalachian upbringing. As a child, Biegel spent a lot of time in the kitchen with her grandmother, where she learned the importance of cooking with seasonal ingredients. Those early lessons stayed with her as Biegel is a proponent of farm-to-table cooking, represented in the recipes she shares. In a recent episode of "The Kitchen," Biegel shares a seasonal salad she invented, combining two delicious dishes perfect for summer cooking.
The iconic Lobster Roll Panzanella
Dubbed a Lobster Roll Panzanella, Biegel introduced her co-hosts on "The Kitchen" to a salad combining two delicious summer dishes; lobster rolls and Italian Panzanella salad. Viewed by over 3,300 people on Twitter, Biegel, on team mayo, begins by creating a dressing for her salad with all the nuances of a traditional New England lobster roll made with mayonnaise (not butter).
In an oversized bowl, Biegel begins by building the salad on top of the dressing combining cherry tomatoes with celery and tarragon, usually associated with lobster rolls. Next, Biegel takes brioche hot dog buns and toasts them in butter in place of the traditional stale bread croutons in a Panzanella salad. While Biegel opts for buttery brioche buns in her salad, co-host Geoffrey Zakarian, reminiscent of the superfluous buns scene in "Father of the Bride," points out that many people have extra hot dog buns stashed away this time of year.
To finish the salad, Biegel adds chunks of lobster meat, which she points out is much less meat than if you were making individual rolls for everyone. Followed by crispy bacon bits and diced avocado, making Alex Guarnaschelli get "cobb salad vibes," while Zakarian suggests it should be renamed Lobster Chopped Salad. The hosts can all agree, however, that the lobster roll Panzanella (chopped salad, cobb salad, whatever you want to call it) is begging to be paired with a glass of rosé on a warm summer day, and we couldn't agree more.