Instagram Is Surprised By Emeril Lagasse's 'Teenage Dirtbag' Photos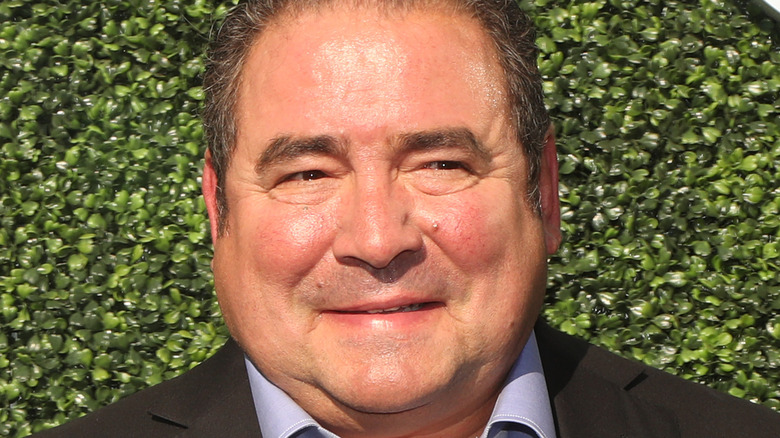 Leonard Zhukovsky/Shutterstock
Emeril Lagasse loves screaming "BAM!" and the truth is, we love screaming it with him. The OG celebrity chef was one of the first to captivate Food Network audiences and he paved the way for the many talented chefs who followed. For 11 seasons "Emeril Live" kept viewers' attention, but, to the shock of many, the popular cooking show was canceled in 2007.
While Lagasse had other business ventures, like his restaurant empire and selection of many cookbooks, the chef known for his Cajun cuisine is also musically inclined. Per CNN, Lagasse had a passion for percussions and was pretty good at it, too. In the end, he chose cooking over concerts and home chefs everywhere have become better for it.
We may not hear much from Lagasse these days, but every so often a social media post sparks excitement from his fans, and a recent "Teenage Dirtbag" captioned Instagram throwback has the comment section going bananas.
Instagram is impressed with Lagasse's big hair
The throwback picture montage posted by Emeril Lagasse has Instagram in stitches. The first pic, a current one, is captioned "Thinking back on my teenage dirtbag days." While looking through the photos of young Emeril that include him in a chef's hat and playing the drums, "dirtbag" may not be the word we would use to describe him. It seems fans concur, as the comment section is filled with the likes of "Awww love it!!" and "beautiful."
And while heart-eye emojis and likes abound, it's Lagasse's awesomely big hair that had most talking. Chef Matthew Jennings chimed in with "The Fro Knows, Chef. The Fro Knowsssss," and really, is he wrong? Designer Ty Pennington exclaimed "The Fro!!" along with a fire and laughing emoji. Fans couldn't help but comment on the Ragin' Cajun's post, and we can't blame them as we agree wholeheartedly with the statement "BAM!!! Love the big hair"