How GBBO Made An Olympic Boxer Cry
"The Great British Bake Off," or "The Great British Baking Show," as it's called in the U.S., is one of the most popular and beloved shows in the U.K. and abroad. The show started its rise to popularity with the first season in 2010, and now, Season 13 of GBBO is coming to TV screens on September 13, 2022 (per IMDb). Variety reports that a whopping 6.9 million people watched the Season 12 finale, which included bakers such as Crystelle Pereira, Chigs Parmar, and the Italian-born, Bristol-based engineer Giuseppe Dell'Anno, who was proclaimed the winner in the end. 
And although the baking show is beloved for its drama-free environment and well-behaved amateur bakers, there was a bit of drama in the past as the show moved from BBC One to Channel 4 in 2016. Judge Mary Berry as well as hosts Mel Giedroyc and Sue Perkins moved on, and they were replaced by judge Prue Leith and hosts Noel Fielding and Sandi Toksvig when the show started to be broadcast on Channel 4 (via Metro). Later on, Toksvig quit and was replaced by Matt Lucas as Fielding's co-host, Newsweek reported. But GBBO also had some sad moments that made people cry — there's even an Olympic boxer who cried his heart out while watching the endearing show.
An episode of GBBO made boxer Frazer Clarke cry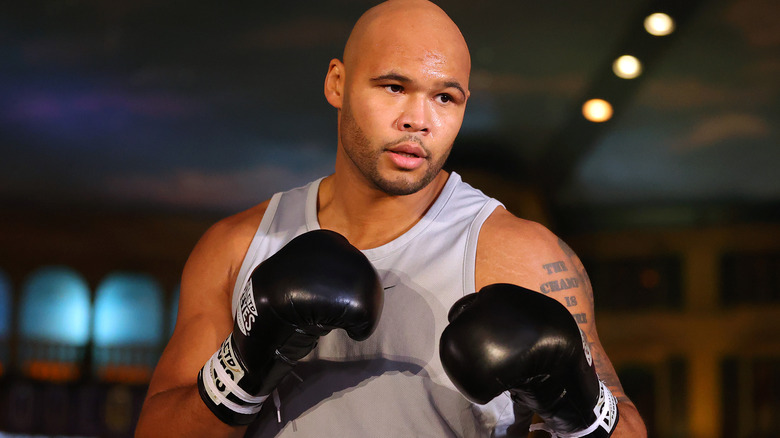 Alex Livesey/Getty Images
It's the truth — although "The Great British Bake Off" is a feel-good show, it had some quite sad moments. Radio Times made a list of some sad moments, such as the time when host Mel Giedroyc accidentally toppled one baker's showstopper cake; when baker John Waite replaced sugar with salt while making rum babas; or when Rob Billington's dangerously delicious chocolate cake kissed the floor before he got the chance to present it to the judges. And Good Housekeeping reported on the moving speech from baker Priya O'Shea when she was kicked out of the show. We guess that some sad moments on GBBO are just inevitable. 
Boxing News Online interviewed Frazer Clarke, an Olympic Boxer, and some of the things he revealed in the interview included his favorite meal, which is "a good steak," and the last TV show he saw, which was "Top Boy." When asked what was the last time he cried, Clarke revealed a surprising answer — he cried while watching GBBO, referring to a special episode of the show with a sad story that touched on cancer. The special is called "The Great Celebrity Bake Off for Stand Up 2 Cancer." In it, different celebrities bake cakes to help the SU2C charity. We can see why it could make anyone cry, and hey, more power to Clarke because crying is not something that anyone should be afraid of.