The Anti-Inflation Meal That Has Twitter Users Seeing Red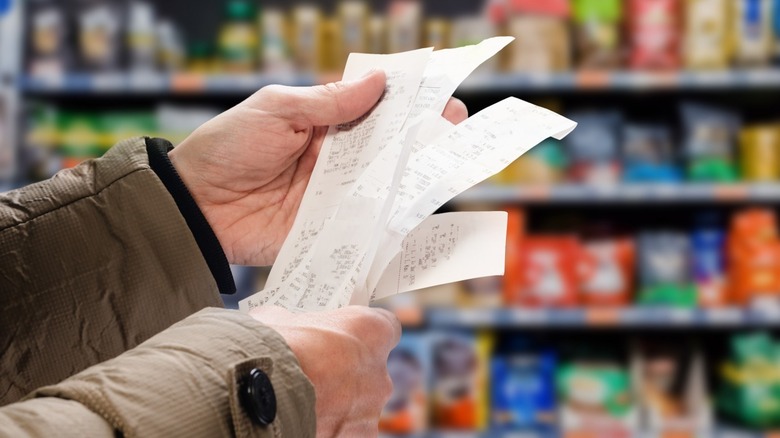 Denys Kurbatov/Shutterstock
As food prices increase due to inflation, many Americans are changing their grocery spending habits, according to NPR. From buying cheaper proteins, like eggs, to simply reducing the number of items in their shopping carts, these new behaviors mean people are seeing the impact of inflation on their dinner plates as well as at the gas pump.
USA Facts defines inflation as an increase in the overall cost of "goods and services in an economy." It's essentially a measure of how valuable your dollar is, and it fluctuates based on a number of factors in the global economy. As July came to a close, the United States inflation rate rounded out to 8.50%, Trading Economics reported. That indicates a slight decrease after it spiked to an all-time high of 9.1% in June.
Wells Fargo economist Tim Quinlan told NPR that a general slowdown in spending will eventually curb inflation. Since that slowdown extends to food shopping, social media is currently replete with advice on how to eat on a budget. Recently, one journalist's dinner-on-a-dime suggestion had Twitter users miffed, to say the least.
Twitter passes on journalist's inflation-curbing meal
Dining on a budget isn't a new concept, but as the food inflation crisis causes grocery prices to swell, many people are pinching pennies — although not enough to approve of a controversial inflation-fighting lunch circulating on social media. Last week, a number of Twitter users lost their appetites after journalist Steven Dennis shared his go-to budget-friendly meal on August 28. The Bloomberg congressional reporter mixed one can of tuna and its water with generic relish, spicy mustard, and Fiber One cereal — and put a picture of it online. When combined, as one Twitter user replied, the mixture looked like cat food. "I can't believe a beautiful tuna fish died for this meal," said another user.
"If we all ate this for lunch we'd save $$$ and smack inflation to boot," Dennis said in his original post. He also noted that this meal is high in both fiber and protein, while tasting delicious and costing only $2. "I'd rather eat avocado toast and be poor," replied one user. Dennis clarified that his "original recipe" uses Honey Bunches of Oats cereal and that "crushed potato chips might be best." Still, that image wasn't enough to convince one offended user, who said, "I hope you go to prison for this."