Papa Murphy's Has Good News For Fans Of This Specialty Pizza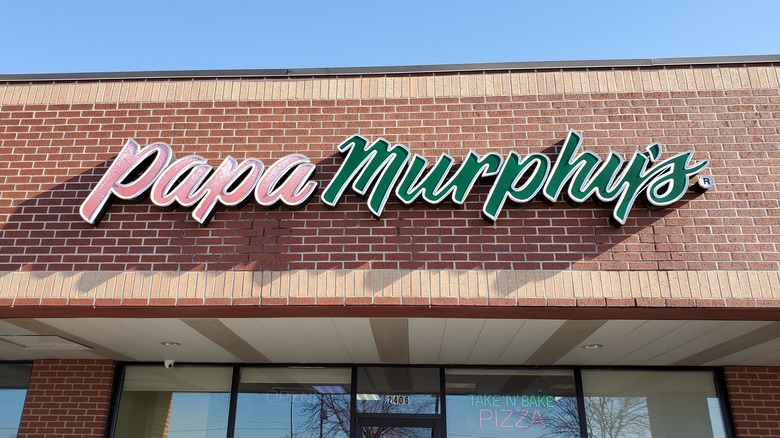 Jon Kraft/Shutterstock
What would Friday be without pizza? Starting the weekend with the delicious food just hits differently, especially when your favorite chains continue to roll out some specialty offerings. If your go-to pizza place is Papa Murphy's, then this one's for you. According to the Seattle Times, the brand was founded in 1995 and has been successful ever since. Although Papa John's, Domino's, and Pizza Hut beat Papa Murphy's in terms of sales, it still claimed the title of best pizza chain several years in a row (per Business Insider).
With competition never wavering, pizza companies are bringing back some of their fan-favorite menu items and even some new ones — have you tried Papa Murphy's dipping sauces? From the restaurant's classic cheesy bread to its chicken bacon artichoke pizza, customers have seen it all. Now, the chain has announced the return of a popular pizza that is sure to have pepperoni lovers excited, but one particular fan has even more of a reason to be excited about the returning menu item.
The Triple Pepp Pizza is back for a limited time
In a press release, Papa Murphy's announced the limited-time return of the Triple Pepp Pizza topped with three different types of pepperoni: giant, mini cup, and premium pepperoni. The pizza, which features the chain's iconic crust, red sauce, whole-milk mozzarella, and cheddar cheese, will be available until October 16th. Papa Murphy's even took the opportunity to honor a superfan and Utah resident Evan Arnold, who loved the menu item. It appears to be priced between $10.99 and $14.99 depending on what size you order, per Papa Murphy's.
When the Triple Pepp Pizza was originally removed from the menu, Arnold expressed his sadness on social media. The chain noticed and celebrated the return of the item by awarding him a $1,000 Papa Murphy's gift card and giving a free Triple Pepp Pizza to Salt Lake City residents named Evan who ordered in-store at a participating location on August 31. If you're ever upset about your favorite fast food brand taking off a menu item, letting people know on social media may inspire the chain to bring the food back just for you, as Papa Murphy's did for Arnold.