The Guy Fieri Appreciation Dance That's Lighting Up TikTok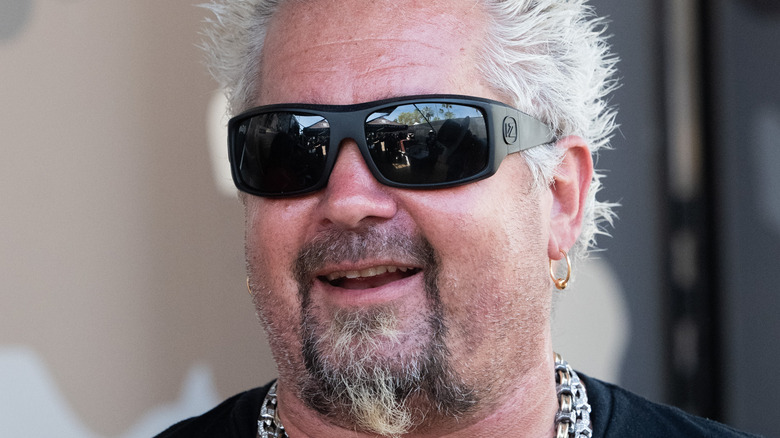 Scott Dudelson/Getty Images
All-American chef, restaurateur, and celebrated television host Guy Fieri is a culinary icon. As the host of the Emmy-nominated Food Network show "Diners, Drive-Ins, and Dives" and other lauded programs like "Guy's Grocery Games," "Guy's Ranch Kitchen," "Guy's Chance of a Lifetime," Fieri is a proper showman. More recently, he launched his new culinary game show "Guy's Ultimate Game Night," which sees celebrity guests compete in food-related trivia and games (per Variety).
When Fieri isn't enjoying dingy, delicious bar food or hosting game shows, he's operating the Guy Fieri Foundation — a disaster relief and culinary education program founded in 2011 (per Guy Fieri Foundation). The foundation often partners with the Salvation Army to power local initiatives and frequently honors American veterans across the nation.
As one of America's favorite entertainers and philanthropists, it comes as no surprise that Fieri has a loyal fanbase. With a whopping 5.4 million followers across Twitter and Instagram, it was only a matter of time until TikTok dedicated a dance to the Mayor of Flavortown.
University of Utah sorority gets down in the spirit of Flavortown
Every August at the start of the Fall semester, universities across the country take on one of the biggest weeks in Greek life — rush week. While fraternity brothers and pledges compete in keg stand competitions, sororities, on the other hand, take to dancing to welcome newcomers. While chanting and singing have long been a tradition during rush week, in a recent TikTok trend, sororities are taking it up a notch with choreographed dance routines to prove their chapter is the one worth joining.
While many of the sorority TikTok routines are colorful spectacles set to modern music, the University of Utah's Chi Omega chapter came out goatees blazing to distance themselves from the status quo with their Guy Fieri appreciation dance. The hilarious group of women banded together dressed in their finest Fieri swag buttoned up in flame shirts, visors, frosted-tip wigs, and faux facial hair for their recital.
Following the original post, the chapter's viral video was reposted by the official Flavortown TikTok account, proving they may just be the goofiest, albeit Flavortown-approved, sorority on campus.