Garlic-Roasted Marrrow Bones Recipe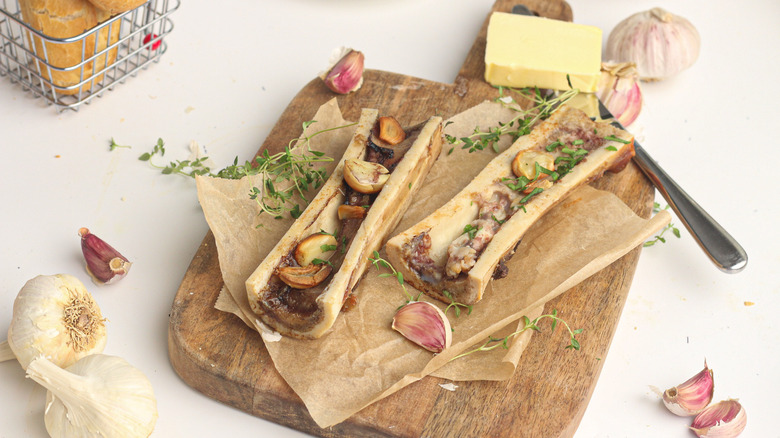 Susan Olayinka/Mashed
Simplicity is the winning formula behind some of the best recipes around, and that's certainly the case here. Mashed recipe developer Susan Olayinka from The Flexible Fridge loves preparing stress-free meals and shares that this dish is "just good old-fashioned marrow bones and garlic. Simple and delicious!" While it might not be the type of meal that you typically cook at home, there's no reason why marrow bones shouldn't be on your grocery list. 
Aside from its deliciously rich and subtly sweet flavor – Alton Brown described bone marrow as "seductive" – Olayinka loves that marrow is nutritious. She points out, "Not many people know it, it's got a ton of collagen and healthy fats." According to Healthline, while there aren't many studies focusing on its properties, it does contain some elements that may improve joint function and skin health as well as reduce inflammation. For a savory treat you can eat on its own or spread over a piece of toast, whip up these easy garlic-roasted marrow bones.
Get the ingredients for this garlic-roasted marrow bones recipe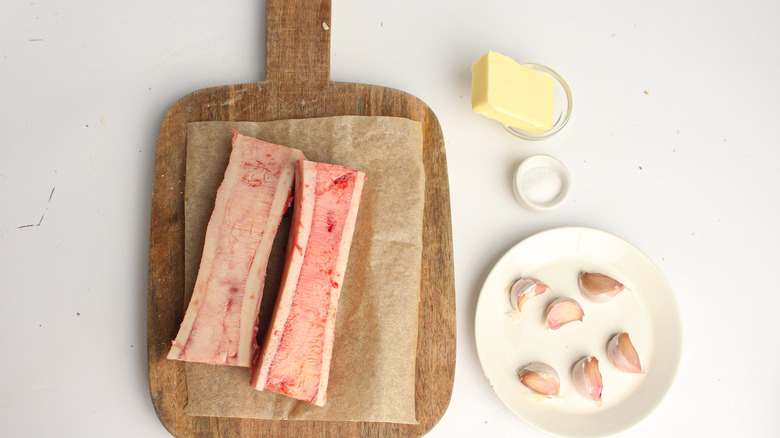 Susan Olayinka/Mashed
Not much is required to make this recipe, which adds to its appeal. For two portions, you'll need 10 ounces of marrow bones cut in half lengthwise. Next, six cloves of garlic and butter infuse plenty of flavor. A sprinkle of kosher salt – typically coarser in texture than table salt — is the final seasoning to complete this dish.  
Prep your ingredients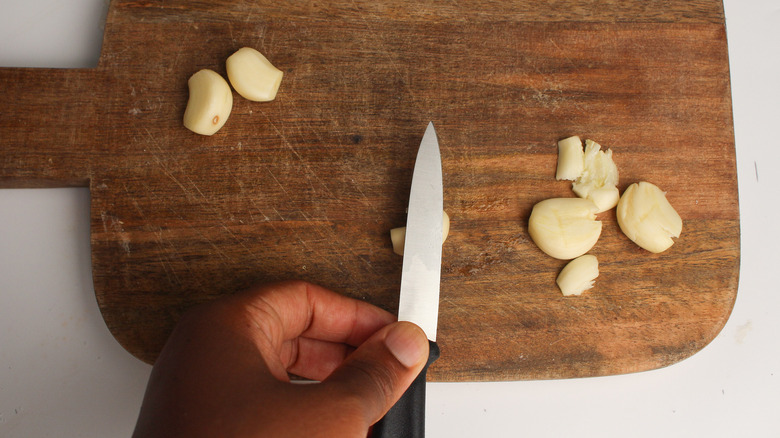 Susan Olayinka/Mashed
Preheat your oven to 375 F as you prepare the ingredients. Place the marrow bones on a baking sheet — line it with aluminum paper for an easy cleanup. Next, peel the garlic cloves and smash each one using the flat edge of a knife. Finally, melt the butter in a small bowl in the microwave. 
Season the marrow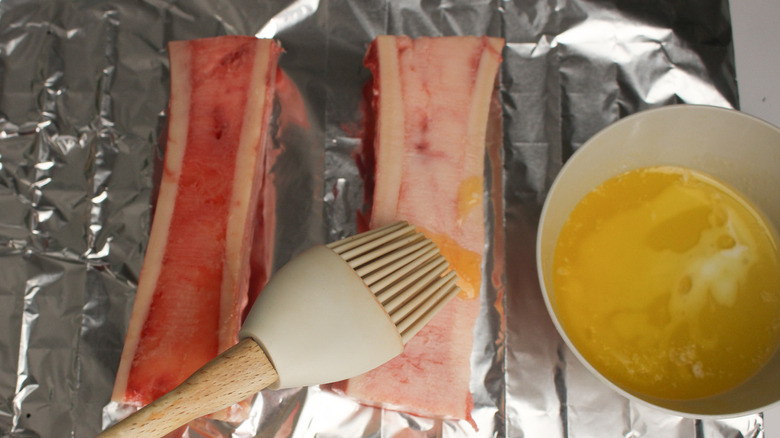 Susan Olayinka/Mashed
Once the ingredients are ready, it's time to season the marrow bones. Using a pastry brush, spread the melted butter across the surface. Then, sprinkle some kosher salt and distribute the smashed garlic over the top. 
Roast the marrow until soft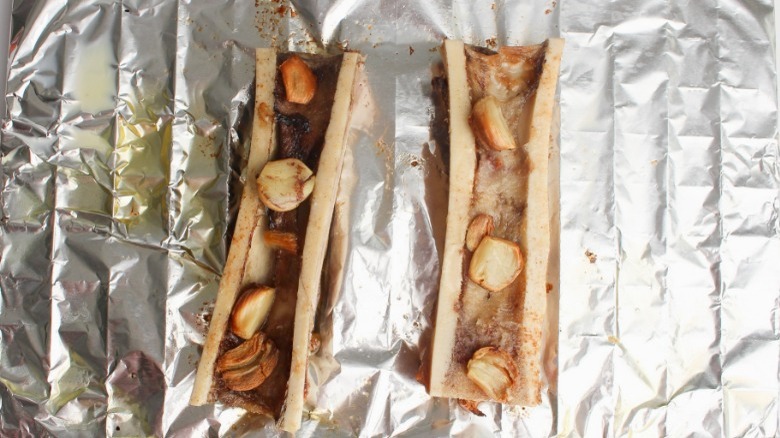 Susan Olayinka/Mashed
When your oven has reached the temperature, transfer the baking sheet onto a rack. Roast the marrow bones for about 30 minutes until the centers are soft and the garlic is golden. 
Serve the marrow bones immediately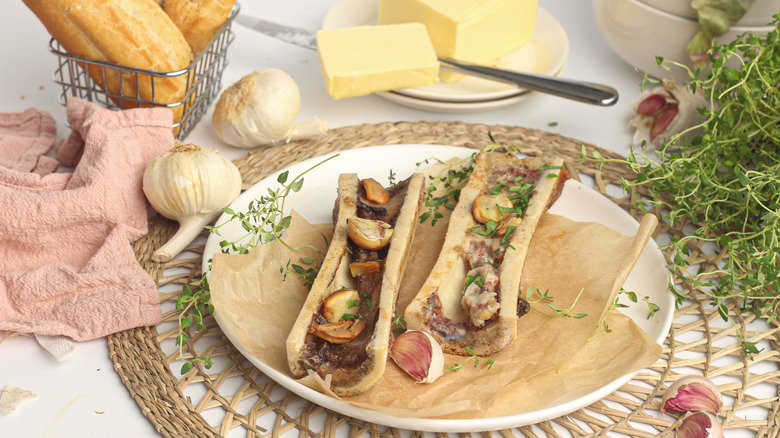 Susan Olayinka/Mashed
Olayinka notes that you'll want to serve the marrow bones hot. She explains, "The marrow will begin to solidify as it cools, so it's best to enjoy it while it's still nice and soft." If you've never prepared a similar dish before, follow Olayinka's suggestion and eat it "with a spoon, right out of the bone!" She adds, "It's also great on toast or crackers." 
While you're best off only cooking the amount you'll consume, our recipe developer advises to reheat any leftovers so that the marrow softens. Then, she likes to spread it over toast with a bit of salt as a delicious snack.
Garlic-Roasted Marrrow Bones Recipe
Learn how to make this garlic-roasted marrow bones recipe with just a few ingredients for an easy, delicious, and nutritious dish that's sure to impress.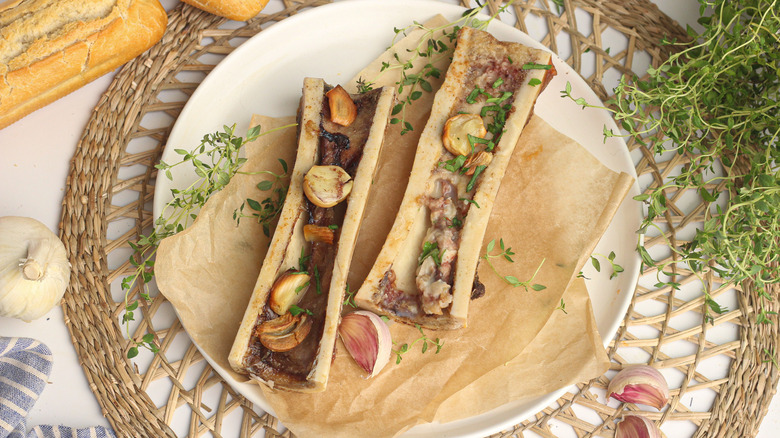 Ingredients
10 ounces marrow bones
6 garlic cloves
2 tablespoons butter
1 teaspoon kosher salt
Directions
Preheat the oven to 375 F.
Arrange the marrow bones on a baking sheet.
Peel and smash the garlic with the side of a knife.
In a small bowl, melt the butter in the microwave.
With a pastry brush, generously coat the marrow bones with the butter.
Season the marrow bones with salt and sprinkle the smashed garlic over top.
Place the baking sheet in the oven for about 30 minutes until the marrow is soft.
Serve immediately with a spoon.
Nutrition
| | |
| --- | --- |
| Calories per Serving | 1,361 |
| Total Fat | 146.2 g |
| Saturated Fat | 7.3 g |
| Trans Fat | 0.5 g |
| Cholesterol | 30.5 mg |
| | |
| --- | --- |
| Total Carbohydrates | 3.0 g |
| Dietary Fiber | 0.2 g |
| Total Sugars | 0.1 g |
| Sodium | 383.6 mg |
| Protein | 1.4 g |