Why Bone Marrow Is So 'Seductive,' According To Alton Brown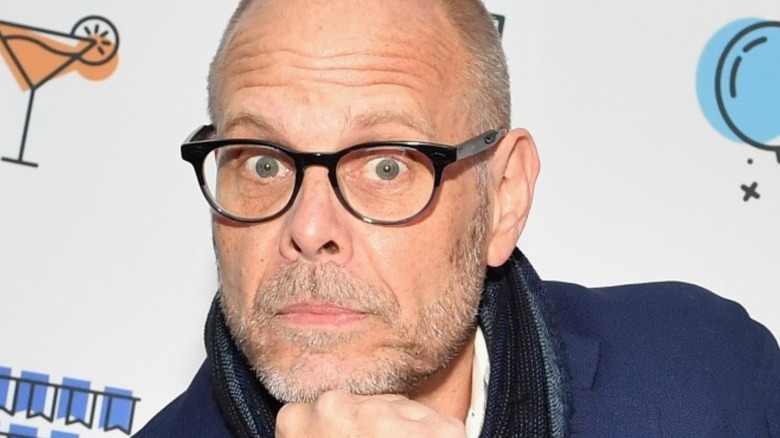 Noam Galai/Getty Images
If you've ever tried bone marrow, you know it's a flavor sensation that's quite unique and alluring. Marrow is not something you find too often on restaurant menus, nor is social media awash in fun new ways to prepare the ingredient. In fact, if anyone is doing anything at all with bone marrow, they mostly seem to be boiling the heck (and the marrow) out of the bones and using it to make bone broth. And while bone broth may be nutritious, it's not exactly something that could be described as "seductive."
However, if you actually leave the marrow in the bone and roast it, you're in for a whole different taste. Bone marrow is a food that some, including the late Anthony Bourdain, have called "God's butter" (via Grub Street), and even Alton Brown says he's been wanting to make a show about bone marrow for a decade or more. It took Food Network a while to buy into his pitch, but according to this Tweet, it's finally happening. 
Brown's "Marrow Minded" episode of "Good Eats: The Return" is finally airing on the Food Network (although according to comments, it was available on Discovery+ back in February). In this episode, Brown explains exactly why he thinks "bone marrow is one of the most seductive foods."
Marrow is 100% yummy fat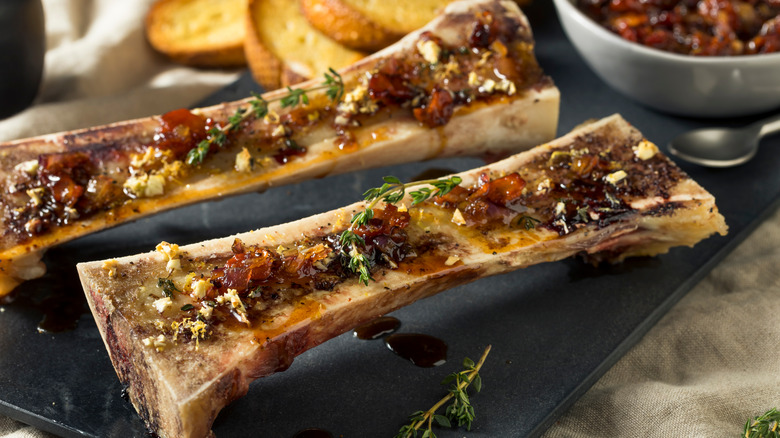 Shutterstock
So what makes marrow so amazing? "First and foremost," Brown says in the preview clip on Twitter, "it's fat ... fat from the middle of a bone." He describes the flavor as "the ultimate expression of beef" that no steak can even replicate, but admits that "you feel, while you're eating it, like you're kind of doing something wrong ... something very naughty." Well, a nutritionist might agree with that analysis. While bone marrow does contain protein, B vitamins, collagen, and iron, Healthline notes that it is quite high in calories as well as fat — in fact, 110 calories and 12 grams of fat are in each tablespoon of the stuff!
Still, if you're going to be seduced into a high-calorie indulgence, bone marrow is something you've just got to try. One of Brown's favorite recipes he's shared on his website is a somewhat traditional preparation of roasted bone marrow with parsley topping where the marrow is cooked in the bones and then spread on toast with a tart and slightly bitter salad to cut through the richness. More unusual, however, is a true Alton Brown original (via his website): a bone marrow panna cotta which uses sugar and gelatin to turn the meaty goodness of the marrow into a uniquely delicious dessert.