Long John Silver's Has Good News For Lobster Fans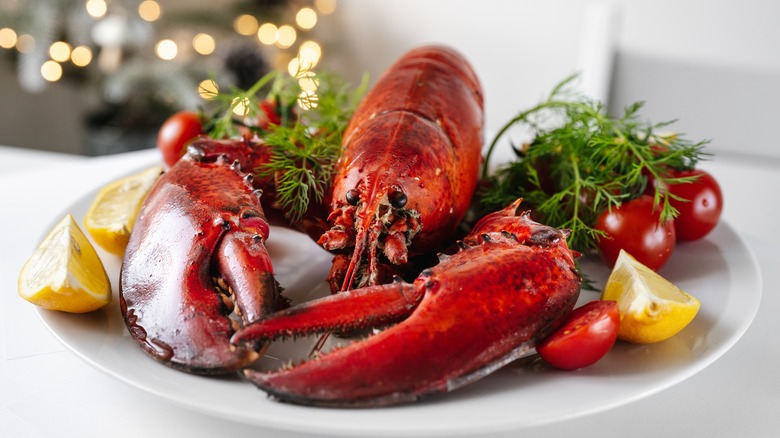 Kattecat/Shutterstock
Although you might associate lobster with high-end dining, you can prepare lobster at home with just a few ingredients. We've broken down how to cook the perfect lobster four ways, from covering it with a delicious butter sauce to grilling your lobster tails. But if you want to enjoy lobster without any extra work, it's easier than ever to find lobster on the menu — even at a fast-food chain.
According to QSR Magazine, Long John Silver's is bringing Lobster Bites back to the menu. This isn't the first time that the chain has brought back this fan-favorite — Long John Silver's put out a Lobster Bites menu last year with multiple ways to enjoy them. Similarity, Brand Eating reports that this time around, customers can order Lobster Bites on their own or with fried Alaskan pollock as part of the Lobster Bites and Fish Combo or Platter. If you're planning on feeding the whole family, there's also the option to purchase the Lobster Bites Family Feast, which comes with two Lobster Bite Tail Packs and eight pieces of fish or chicken tenders. How will you enjoy your Lobster Bites?
What people say about Long John Silver's Lobster Bites
If you haven't tried the Lobster Bites from Long John Silver's before, you may doubt that fast-food lobster can have quality ingredients. That's what Mike Thayer initially thought when reviewing the Lobster Bites last year for the website Bachelor on the Cheap. But in the review, Thayer has high praise for Long John Silver's lobster creation and said, "These things rock! You do get the sweetness of the lobster tail, the breading is perfectly light yet crispy and enhances the lobster flavor rather than smother it." Ultimately, Thayer gave the Lobster Bites five out of five stars and also mentioned that there is a good amount of lobster in each piece.
Long John Silver's also announced that its Lobster Bites were returning in an Instagram post that got a lot of positive reception. One person commented, "Get in my belly!!" Another fan said, "I'm so happy I'm literally floating." It's clear that people are excited to have Lobster Bites return, and if you love the meal, don't wait too long to head to your nearest Long John Silver's. QSR Magazine explains that this is a limited-time promotion, and while there's always the chance that the chain will bring them back, Lobster Bites won't stay on the menu forever.
Need more Long John Silver's flavor on your dinner table? Try our copycat recipe for chain's fish and learn the secret to crispy, yet light, breading on your fish.